United Way Day of Caring succeeds through efforts of volunteer army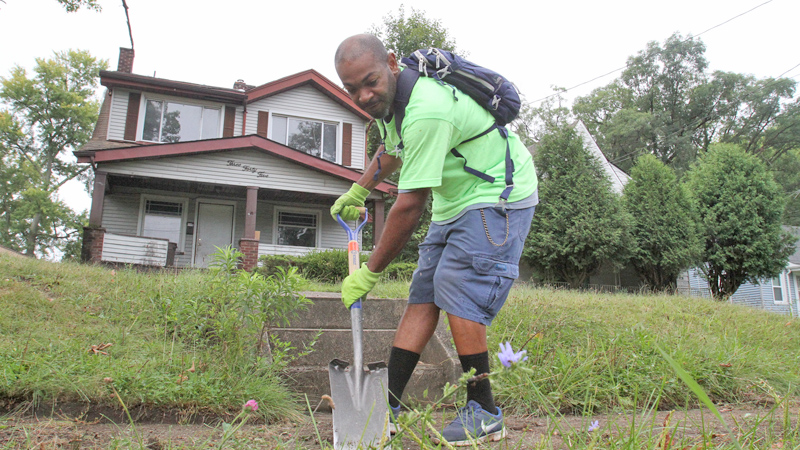 ---
By SAMANTHA PHILLIPS
sphillips@vindy.com
YOUNGSTOWN
Day Of Caring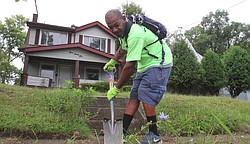 Video
Nearly 1,000 volunteers participated in hte 21st annual Day of Caring in Youngstown.
Many South Side residents will notice their neighborhoods are a little cleaner, and perhaps safer, thanks to the efforts made by 1,000 volunteers from schools, businesses and organizations for the 21st Annual United Way Day of Caring.
A sea of volunteers wearing lime green shirts gathered at the Covelli Centre for breakfast before the Friday event.
United Way President Bob Hannon said this year boasted the largest turn-out in the event's history.
Last year, there were 850 volunteers.
The volunteers' tasks varied. They did everything from landscaping to installing smoke detectors in homes.
Volunteers that weren't working in neighborhoods helped 18 nonprofit agencies around the city.
"It's just a day to feel good about the community," Hannon said. He thanked companies for allowing their employees to spend the day volunteering for a good cause.
United Way partnered with the American Red Cross, the Youngstown Neighborhood Development Corp., the city, Lowe's and Green Youngstown for the event. Huntington Bank and Hometown Pharmacy are among the sponsors.
Mayor Jamael Tito Brown told the crowd their participation is key to making better the lives of the families who live in the South Side neighborhoods where they worked.
Tonya Rhodes with the group Building Neighborhoods of Youngstown said the amount of volunteers was overwhelming.
"We're helping clean up the city, the neighborhoods and making it a better place to live in and to visit," she said. "It's wonderful to know everyone has a connected purpose for today."
Sisters Kaylin and Raegan Burkey, came with other Boardman High School students to help.
"It feels good to be able to help out in the community," Kaylin Burkey said.
Raegan added she hopes making the city prettier and clean will make people realize "Youngstown is not a bad place to live anymore. It's changing and getting better."
At least 750 volunteers, dedicated their efforts to the Taft Promise Neighborhood Project on the South Side.
In a neighborhood on Boston Avenue off South Avenue, they mowed the lawns and did landscaping at vacant homes, cleared the sidewalks of weeds and overgrown bushes and chopped down trees in hopes of beautifying the area and making it safer to walk through.
Patricia Dougan with Community Legal Aid, said, "We're here to give back to the community. Revitalizing the neighborhoods leads to a better place to live, cuts down on crime, and it lifts the entire community."
Ira Cross with the Taft Neighborhood Promise Project said the goal was to bring the neighborhood back to life and "show people living there people care."
More like this from vindy.com