Raiders' Yeagley achieves his 200th victory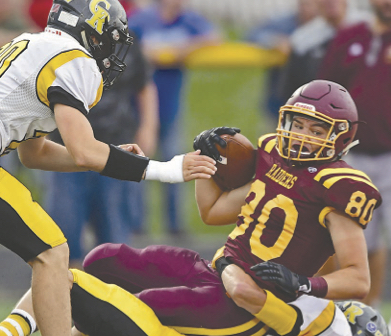 ---
Yeagley achieves his 200th victory
By MIKE McLAIN
NORTH LIMA
A 48-21 win over Crestview was more than another fun Friday night for South Range football coach Dan Yeagley.
As the final seconds ticked off the clock, the public-address announcer informed the crowd that the Raiders' victory was the 200th in Yeagley's career.
Like most coaches, the individual accomplishment wasn't all that important to Yeagley. The number he's most proud of is 24, which represents the number of seasons in which he's had a hand in developing the skills of the athletes in the system.
"It's about the program. It really is," Yeagley said. "I'm just so proud of my seniors and how they've brought this team together and the juniors. They're pulling together as a team.
"The program has been around 50 years now. I've been fortunate to have been around it for a while now," Yeagley said. "To me, beating Crestview is the most exciting thing because it's a great program. To beat a good program is huge."
While Yeagley took his 200th in stride, there was a sense it meant something to the players.
"It's really special," Raiders quarterback Isaac Allegretto said. "It should have been in Week 2 that we got the 200. Anyways, it's still a great feeling that our coach got 200 and we could share this moment with him."
The Raiders (2-1) spotted the Rebels (1-2) a 7-0 lead when Andrew Yanssens capped a 13-play, 76-yard march to open play with a 5-yard touchdown run.
Crestview used 7:24 of playing time, which kept the potent South Range offense waiting patiently for its turn.
The Raiders offense didn't waste much time in getting even. Taking advantage of good field position after the kick and a pair of 15-yard penalties on Crestview, South Range needed just two plays to score on a 21-yard pass from Allegretto to Jacob Gehring. Logan Weaver's point-after kick tied the score at 7-7.
"They took about eight minutes off the clock with their first drive," Yeagley said. "That's them. They can control it with their running game and their passing game. We had to answer that. To come down and answer it the way we did was huge."
The Raiders took a 14-7 lead on a 1-yard scoring run by Trent Harrold, but the Rebels tied the score on an 86-yard touchdown pass from Stephen Barr to Dylan Huff.
It was all South Range from then on. Allegretto, who passed for 316 yards and three touchdowns and ran for two scores, ran 2 yards for a touchdown early in the second quarter. Allegretto added touchdowns on passes of 57 yards to Dylan Dominguez and 8 yards to Chris Brooks to give the Raiders a 35-14 halftime lead.
"It was fun, for sure," Allegretto said of his big passing performance. "But that means all my receivers were making plays. That's why I had 316 yards. I wouldn't have had any if they didn't catch the ball."
Ryan Davenport caught five of Allegretto's passes for 142 yards, including a 76-yard play in the fourth quarter that set up a 5-yard scoring run by Allegretto to close out the scoring. Harrold led the Raiders ground game with 82 yards on 20 carries, including a pair of touchdowns.
"Our line was just phenomenal," said Harrold, who scored on a 4-yard run late in the fourth period. "I couldn't have asked for anything better."
Barr passed for 116 yards and added 121 rushing yards, including a 79-yard scoring run in the fourth quarter.
The Rebels suffered a blow when sophomore running back Ethan Powell suffered an injury in the first quarter.
More like this from vindy.com