Summary of recent criminal activity in Poland and Boardman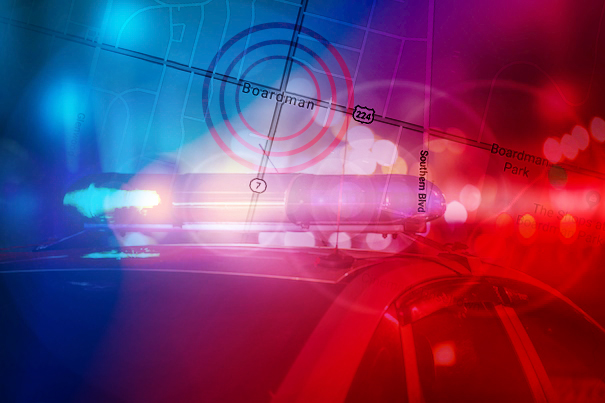 ---
POLICE CALLS
A summary of recent criminal activity in Poland and Boardman townships:
POLAND
Aug. 31
Drugs/child endangerment: A traffic stop on state Route 170 and Venloe Drive led to the discovery of 2 grams of suspected heroin. Also in the vehicle were two girls, 9 and 11, a report showed.
BOARDMAN
Aug. 31
Arrest: A traffic stop on Market Street resulted in the arrest of Jennifer J. Martin, 42, of Cohasset Drive, Youngstown, who was wanted on a city warrant accusing her of failing to appear in court on an aggravated-menacing charge.
Drugs: After pulling him over near McClurg Road, officers charged Abimael Vazquez of Tenney Avenue, Campbell, with possession of a controlled substance, a fifth-degree felony, after alleging having found a loose prescription pill in his vehicle. Vazquez, 37, also was wanted on nine Campbell warrants, including on a weapons charge.
Theft: Grisel Robles, 33, of Mabel Street, Youngstown, was charged with intentionally failing to self-scan 10 items valued at $46 while in Walmart, 1300 Doral Drive.
Theft: Police charged Jason R. Davis of Milton Avenue, Lake Milton, after alleging Davis, 30, had stolen a 60-inch TV, a vacuum cleaner and $123 worth of food, clothing and floor mats from Walmart.
Misuse of a credit card: An Ashtabula woman discovered an iPhone and a debit card missing from her room at a Market Street motel before the card was reportedly used to withdraw $750 from her Social Security account.
Theft: Two Austintown girls, 12 and 13, were accused of taking $224 worth of merchandise from Macy's in Southern Park Mall.
Theft: A South Avenue man told police a global positioning system and $40 had been removed from his two vehicles.
Theft: A man reportedly purposely neglected to self-scan 15 to 20 food items worth $100 while in Walmart.
Theft: A Grover Drive woman discovered someone had entered her car and removed a $65 book bag.
Sept. 1
Arrest: Officers were dispatched to Family Dollar, 4030 Market St., regarding a possible wanted person before taking into custody Billie L. Mohr, 40, of Southern Boulevard, Youngstown, on a complicity charge, related to an Aug. 26 shoplifting situation at the discount store in which $40 worth of property was stolen.
Breaking and entering: A Youngstown woman found out her storage unit at a Boardman-Canfield Road facility had been broken into and $1,150 worth of property that included clothing was stolen.
Harassment: Hubbard police handed to Boardman authorities Sherry L. Bowser, 42, of Liberty Road, Youngstown, who was wanted on a telecommunications-harassment charge, related to a July 25 incident in which a Red Tail Hawk Drive woman alleged Bowser had made 12 such calls to her, including some that contained veiled threats.
Identity fraud: A Macy's official told police a woman who had been arrested in a shoplifting situation Aug. 23 at the department store used her sister's name during the arrest.
Recovered property: A man found his wallet after having reported it lost or stolen at a Doral Drive big-box store.
Domestic violence: Joseph A.W. Balog, 28, of Price Road, Youngstown, was charged with the crime after police received a report of someone screaming at a woman in a vehicle near Rockdale Avenue. Later, the woman alleged that during an argument in her car, Balog grabbed her hair, pushed the accuser's head toward a window and squeezed her jaw area.
Theft: Canfield police exchanged custody of John H. Dandridge, 25, with township authorities. Dandridge, of Lowell Avenue, Youngstown, faced a felony-theft charge after a Campbell woman reported her purse stolen from her vehicle Aug. 3 as she visited a Market Street medical center.
Sept. 2
Aggravated menacing: Police responded to a possible fight at Southern Park Mall, where a man told them another man had threatened to have someone come from out of town to kill him.
Arrest: After stopping his vehicle near his Green Garden Drive home, authorities charged Gino Bryarly, 68, with failure to comply with police, resisting arrest, aggravated menacing and obstructing official business after alleging the Boardman man initially failed to pull over. In addition, Bryarly threatened to kill an officer and refused to get into a cruiser, then attempted to kick officers, a report showed.
Criminal damaging: An Appleridge Drive man noticed a tire was slashed on a vehicle he had been loaned.
Domestic violence: Austin F. Larsen, 20, of Garden Valley Drive, Boardman, was charged after his former wife alleged that as she gathered personal belongings, Larsen shoved her, then grabbed and dragged her down a flight of steps by her right leg. Also, Larsen twice choked the victim and punched her head, she further alleged.
Aggravated menacing: Authorities answered a call in the 200 block of Meadowbrook Avenue pertaining to a man with a knife before charging Thien Nguyen of Meadowbrook, Boardman, with aggravated menacing when his roommate alleged that after locking himself in a bedroom, Nguyen, 42, who was carrying a large kitchen knife, banged on the door and threatened to kill the accuser if he emerged.
Assault: A nurse with a South Avenue long-term-care center alleged a patient pushed a cart into her, apparently after becoming angered because of having to wait to use a phone. The victim was not injured, however.
Criminal damaging: An Austintown woman in the 5700 block of Sheridan Road saw that someone had poured an unknown solvent onto her vehicle's hood, causing severe discoloration.
Theft by deception: A Boardman-Canfield Road woman reported having received a Facebook message regarding being eligible for a $90,000 government grant with instructions to first buy $1,500 worth of Walmart gift cards and pay a $700 delivery fee. Later, the victim was instructed to buy an additional $2,500 worth of gift cards before learning that the social-media account had been hacked.
Criminal damaging: A Clifton Drive man reported damage to a storm-door window and his vehicle's front windshield, which totaled $550.
Theft: Yahaida Torres, 35, of Bright Avenue, Campbell, was charged with intentionally neglecting to self-scan $115 worth of items while in Walmart.
Theft: A man reportedly stole two wall thermostats and a sump pump from Home Depot, 7001 Southern Blvd.
Sept. 3
Arrest: Authorities took custody of Dawn M. Neeld, 39, of Raccoon Road, Austintown, who was wanted on an inducing-panic charge after a May 26 drug overdose in the 800 block of Cook Avenue. Neeld and another person admitted having snorted heroin beforehand, police alleged.
Arrest: Officers responded to a possibly intoxicated man walking in the 7100 block of Lockwood Boulevard, where they picked up Seth S. Robinson, 32, of Calla Road, Poland. He was wanted on a probation-violation charge from the Columbiana County Sheriff's Department.
Burglary: To a residence in the 5600 block of Erie Street, where a side door had been kicked in and sustained $300 in damage. The report, however, does not mention anything having been taken.
Theft: A woman in her mid- to late 60s reportedly stole $13 worth of merchandise that included two sticks of deodorant from Walgreens Pharmacy, 7295 Market St.
Theft: Carl Wallace, 50, faced theft and criminal-trespassing charges after authorities alleged Wallace, of Idora Avenue, Youngstown, had stolen four self-balancing scooters valued at $992 from Walmart. Also, Wallace was in the big-box store in violation of a Feb. 8, 2017, trespassing warning, a report stated.
Misuse of a credit card: A Poland woman found out her stolen debit card had been used without consent at multiple locations to rack up $493 worth of fraudulent charges.
Theft: A man reportedly stole three self-balancing scooters valued at $694 from Walmart.
Harassment: A Clifton Drive man told police he had received on Facebook a comment that was laced with obscenities.
Theft: Victoria King of Overland Avenue, Youngstown, was charged with stealing two items from Family Dollar, 4030 Market St. King, 73, also was wanted on a theft warrant after having been accused of taking a $3 bottle of hair gel last month from the store.
Theft: Francis J. Barbuto Jr., 23, of Aliquippa, Pa., and Laura R. Aller, 34, of Hookstown, Pa., faced felony-theft charges after $1,245 worth of merchandise, including numerous DVDs, was stolen from Walmart. While in a self-checkout lane, Barbuto placed a pack of gum under the items so as not to allow the scanner to read the bar codes, a report stated.
Sept. 4
Bad checks: A Monaca, Pa., woman told authorities she received four checks that totaled $2,790 as rent payment for a Jaguar Drive residence, but that the checks had been drawn on a closed account.
Burglary: Took place in the 5600 block of Erie Street via a front bedroom window. A $200 entertainment stand was reportedly damaged.
Identity theft: A Midwood Circle man discovered someone without authorization had tried to use his personal information to obtain a credit account and related services.
Possible theft: A township man noticed his $800 iPhone had been lost or stolen while he patronized a South Avenue restaurant.
Harassment: A South Avenue woman told officers her former boyfriend has made a series of such cellphone calls to her.
Theft: A woman reported a bag of prescription pills stolen that were to have been delivered to her Shields Road residence.
Theft: An Anderson, Ind., woman discovered a prescription and a handicap placard missing from a vehicle she had rented from a Market Street rental-car agency.
More like this from vindy.com