Cardamon receives a flag set from MSVC-MOAA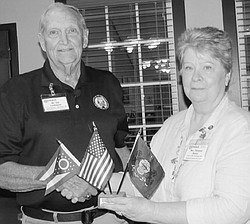 Photo
Neighbors | Submitted.Jim Cardamon is pictured receiving a flag set from MSVC-MOAA President Florence Hosler. Cardamon is an Army Veteran and former Sentinel at the Tomb of the Unknowns at Arlington National Cemetery.
Jim Cardamon, an Army Veteran and former Sentinel at the Tomb of the Unknowns at Arlington National Cemetery, was the guest speaker at the monthly luncheon meeting of the Mahoning and Shenango Valleys Chapter of the Military Officers Association (MSVC-MOAA).
Cardamon was drafted into the Army in 1956 and was honorably discharged in 1958. A friend who attended the Citadel taught him close order drill using a broom for a rifle. With this advantage, he was selected as squad leader during infantry Basic and Advanced Individual Training. After Basic Training and Advanced Individual Training he was assigned to the 3rd U.S. Infantry, "the Old Guard" at Fort Myer, Va.
He was selected to join the honor guard company whose three platoons include the Honor Guard, casket bearers or firing party and drill team. He chose the drill team. He ultimately was selected to become a Sentinel at the Tomb of the Unknowns, sometimes call be "Tomb Guard of the Unknown Soldier."
After practicing constantly with some of his friends who were tomb guards, he was given the opportunity. While some of those selected never made it to the tomb, Cardamon made it after just a couple weeks. Guards were usually first put out early or late in the day when there were few spectators at the tomb. His first call came for the noon changing of the guard, before the biggest crowd of the day.
People often ask Cardamon how he got to be a tomb guard. He explained that the army selects soldiers who fit a defined profile - certain height, military bearing, attitude and more. Only a fraction of those who fit, are selected. The all-volunteer army today has a difficult time finding soldiers to serve in the Old Guard, although it is inclusive in that women do serve as Sentinels.
One of his last duties as a Sentinel was at the interment of the Unknown Soldier from World War II and the Korean War. Cardamon was instrumental in forming The Society of the Honor Guard - Tomb of the Unknown Soldier, and has served as its president.
His presentation gave insights into what the duties of a Sentinel entailed and his experiences with the Old Guard. He emphasized the importance of the duty and how honored and rewarding it was to serve as a Sentinel at the Tomb.
The next meeting of the MSVC-MOAA will be on Sept. 27 at the Community Activities Center of the Youngstown Air Reserve Station, starting at 6 p.m. The guest speaker will be Janet Moy of SCORE. For reservations, contact Janet Oglesby at 330-568-4456 or access the MSVC-MOAA website at www.msvc-moaa.org.
More like this from vindy.com