Canfield-Fitch tie provokes irritation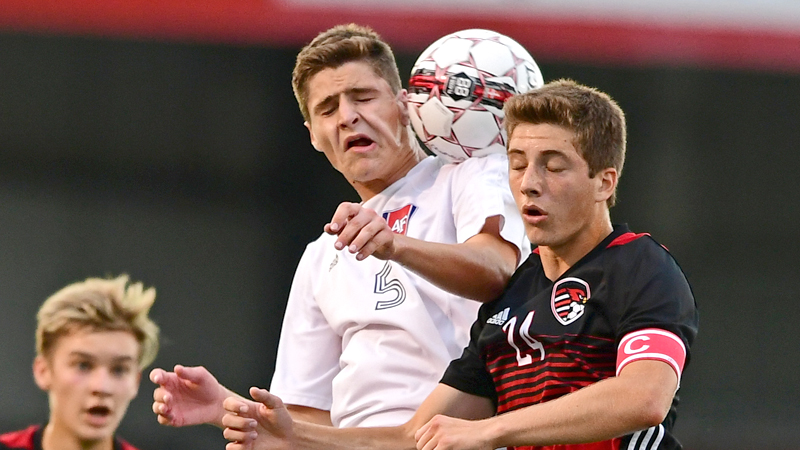 ---
By BOB ETTINGER
CANFIELD
Nobody is exactly happy with a tie. Usually, it means both teams feel like they could've, maybe should've, done just that little bit more that would've led to a victory. The could've, should've, would've aside, Austintown Fitch battled Canfield to a 1-1 draw Thursday night at Bob Dove Field.
"I think we can play better than we showed tonight," Fitch coach Tim Walsh said. "Canfield keyed in on our weaknesses in the first half and took advantage.
"They outplayed us a little bit," Walsh said. "Kudos to their coach and his staff. They were prepared. The thing I told the guys is there's another [matchup with Canfield]. That's the nice thing with playing teams twice."
Canfield coach Christian Silvestri was slightly happier with the result, but not exactly thrilled.
"I'm disappointed with the tie, but [it was a] good game," he said. "We're still working out the kinks and it's my first year as the coach. It's whatever. We've just got to get better."
The Cardinals (2-2-1, 0-0-1 All-American Conference Red Tier) broke through first on a goal in the 33rd minute of the first half off the foot of Mitch Mangie.
"We started to work the field and move the ball up the sides," Mangie said. "We got the ball up the left side and Aren Villano got me the ball and I went for the back post. The goalkeeper fumbled it and it went in."
Canfield held that lead for more than 20 minutes and it appeared as though the lead would stand.
"I definitely thought we had the advantage going into the second half," Silvestri said. "I saw they had switched up their formation a bit and we weren't playing our game. It seemed like we got sloppy and made some mistakes."
Walsh didn't like the direction things were headed, but the Falcons (1-0-1, 0-0-1) didn't share those concerns.
"From a coach's perspective, it's awful," Walsh said. "From the players' perspective, we always seem to let in the first goal.
"It's something we've been working on for weeks. I don't want to say they're playful about it, but they're resilient. Being young, they know there's way more soccer to be played."
Dom Foley took a feed from Alex Sorrells and planted it in the net to knot the score, 1-1, in the 15th minute of the second half.
"One of our players was dribbling and a defender stole the ball," Foley said. "I ran up behind him and stole the ball and scored. I like scoring. I saw it was open and just took it."
It wasn't quite that simple, but it was still a goal."
"It looked like a combination play," Walsh said. "We got a mismatch. The ref did a nice job letting us play through the advantage. Canfield-Fitch games are notoriously high-energy and the ref did a nice job."
More like this from vindy.com