This hibiscus is hardy in our winters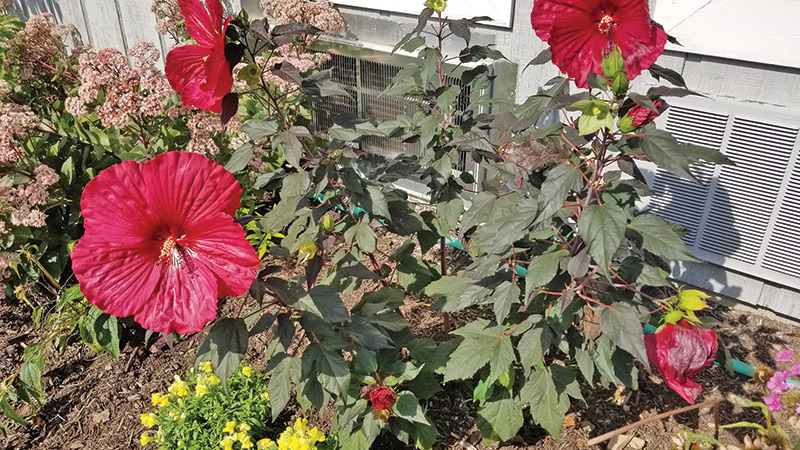 ---
By Marilyn McKinley
OSU Ext. master gardener volunteer
CANFIELD
Looking for a late summer show-stopping "WOW" flower? Tropical-looking, yet surviving winter in our zone 5? Well, the hardy hibiscus may be just what you are looking for. Don't mistake this perennial for the tropical nonhardy hibiscus sold inside garden centers, mostly in spring.
Be sure to check the label if you are looking for a beautiful plant that will come back year after year. This plant produces large blooms which only last for a day, but they are abundant, flowering from late June through October.
Hibiscus make a wonderful border or backdrop for other perennials such as peonies, iris, and coneflowers. Colors range from white to pink to deep red to lavender blue. I have a deep red variety with dark leaves (Mars Madness), which is my favorite. I also have and really like Lady Baltimore with its pink blooms with deep magenta centers, and Ballet Slippers, white with tinges of pink and a small deep magenta center, are also nice.
Hibiscus are easy to grow and require little upkeep. Plant in spring after the last frost date, in well-drained fertile soil. You can wait till fall, too. They like heat, full sun and fairly moist soil. Using mulch around the plants will help ensure even moisture. I planted mine on the south side of our home; they seem happy there.
Hibiscus will grow up to about 5 feet tall and 5 feet wide, but many of these new ones stay under 3 feet. I don't fertilize, but I do side dress with compost in late spring.
I have successfully divided hibiscus by digging up the entire plant, then cutting it in half and replanting: Voila! Two beauties. Pruning after blooming has completed will give you a tidy plant and will promote even larger flowers.
Cut down to about a foot. In early spring, just after emerging, you can trim and shape, if desired. One word of caution – every spring I think my beautiful plants didn't make it through the winter. They are slow to emerge, usually not appearing until June. Don't give up on them.
I have never spotted any insects on my hibiscus plants, but if the plant looks like it might be under attack, check for spider mites. If grasshoppers are abundant, they can really do significant damage.
Now to answer a question for the observant gardener. Yes, rose of Sharon is a hibiscus. Both hibiscus and rose of Sharon are members of the mallow family. The flowers of a rose of Sharon are smaller and this woody shrub may reach 12 feet high and 8 to 10 feet wide. Rose of Sharon is tolerant of poor soil and less light. Be aware that rose of Sharon can become an enthusiastic grower. It easily reseeds rapidly.
To learn more about growing these show-stopping plants, go to http://go.osu.edu/hardyhibiscus.
More like this from vindy.com