Youngstown Playhouse opens with Fosse musical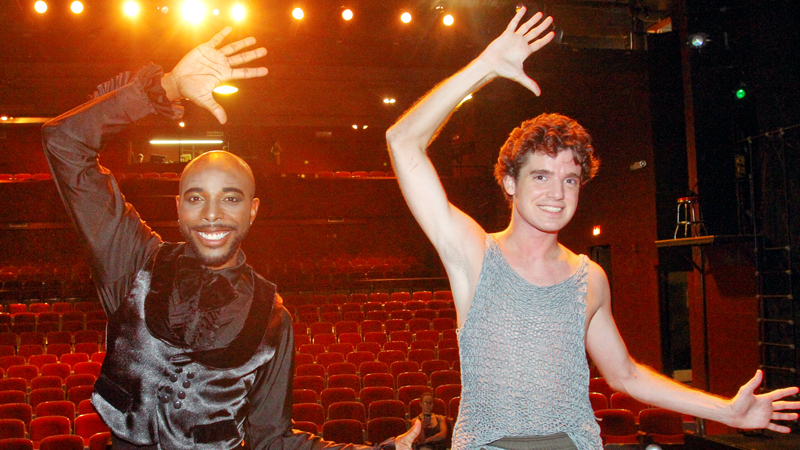 ---
By GUY D'ASTOLFO
YOUNGSTOWN
The Youngstown Playhouse will begin its season this weekend with "Pippin," the musical that racked up multiple Tony Awards for both its original Broadway run and its 2013 revival.
While the reboot got an eye-popping makeover with an acrobatic flair, the Playhouse production will mirror the original version.
That's the one flavored by the distinctive choreography of the late theater legend Bob Fosse.
Not surprisingly, David Jendre is directing the Playhouse production of "Pippin" – a show that he knows well and appreciates.
"This is one of Fosse's masterpieces," said Jendre, who specializes in dance-centric musicals.
He saw the musical shortly after in premiered on Broadway in 1972, directed and choreographed by Fosse.
"They did a revival in 2013 that changed the concept to give it more of a Cirque du Soleil feel," said Jendre. "I am trying to go back to the original concept of the show, which was basically a group of traveling medieval players telling the story of Charlemagne's fictitious son, Pippin, and his journey to find his place in life."
Regardless of its makeover, Jendre feels that the "Pippin" story is timeless.
"It's about finding your journey through life," he said. "It's as relevant today as it was in 1972."
Pippin, played by John Monroe, goes down some wrong paths as he tries to figure out what he wants to do with his life. He is led by the traveling troupe and its chief character, known as The Leading Player (James Major Burns), who serves as both Pippin's conscience and a devil's advocate.
"The group of players surrounding [Pippin] are leading him through right and wrong," said Jendre. "They are his tormenters, in a way."
Pippin seeks fulfillment in the battlefield, through sexual conquests and in political intrigue.
While the story's ultimate message is open to interpretation, Pippin finds that happiness lies in the routine of day-to-day life.
Jendre, who appeared in the Playhouse's only other production of "Pippin" in 1982, said he is sticking to most of the original choreography for the upcoming show.
"It's really character driven and you don't have to be a great dancer to be in it, but you do have to bring great character to the dancing, he said.
Assisting Jendre with choreography is Joanna Andrei.
The revival version, with its professional-level acrobatics, is all but impossible for community theaters to stage, and that is fine with Jendre.
"As a choreographer, I am proud ,to do Fosse whenever I can," he said. Jendre made a few changes in the choreography due to script changes, but it is largely the same as the original version.
The medieval costumes in the musical were made by Therese Pitzulo. She also made the outstanding feline outfits in the Playhouse's 2015 production of "Cats," which Jendre also directed.
As far as scenery, the stage will be left blank, with set pieces – a castle, thrones – entering and exiting by the fly system or on wheels. "We're using a piece left over from the production of 'Pippin' we did here 36 years ago," said Jendre. The piece was made at the time by Paul Kimpel, who is getting a credit for it.
Chad C. Kendall is the music director, and will lead a small ensemble consisting of just two keyboards and a drummer.
Rounding out the cast are Alan McCreary, Roz Blystone, Christopher Wilson, Regina Rees, Sarah Demetruk, Mikey Zoccali, Cheyenne Carr, Janerral Brown, Kiara Jones, Michzel Cotton, Mikayla Moore, Trevail Maurice, Anne Sopher and Reece Xavior.
Leslie Brown is stage manager. Jendre and Brown designed the sets, with Ellen Licitra providing the lighting and Johnny Pecano serving as technical coordinator.
IF YOU GO
What: "Pippin"
When: 7:30 p.m. Friday and Saturday, and also Sept. 14 and 15; 2:30 p.m. Sunday and Sept. 16
Where: Youngstown Playhouse, off Glenwood Avenue
Tickets: $15, $12 for senior citizens and students; call 330-788-8739
Caution: This show is intended for mature adults and it is advised that small children do not attend.
More like this from vindy.com