Baldwin rebounds as YSU left tackle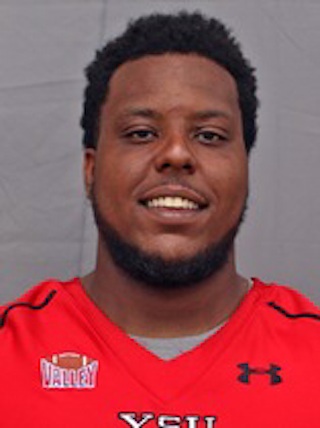 Photo
By BRIAN DZENIS
bdzenis@vindy.com
YOUNGSTOWN
Charles Baldwin's path to Youngstown State's football team is one that raises eyebrows and he knows it.
YSU (0-1) is the senior starting right tackle's fourth school since high school.
He has come back from repeated setbacks — some were self-inflicted and some weren't — but so far, he's shown he is somebody who can be trusted to help keep Montgomery VanGorder upright and the run game going smoothly.
"I want people to know that nobody's perfect," Charles Baldwin said. "Everybody makes mistakes, but it's how you bounce back from them the mistakes you make."
Baldwin and the Penguins first connected with each other during the summer of 2016. Earlier in the spring, he arrived at Alabama is one of nation's most prized junior college prospects of of ASA College in Brooklyn, N.Y. Various media outlets including ESPN and rivals.com listed him as high as No. 1 and no lower than No. 3, but he never saw fall practice with the Crimson Tide.
In a terse, one-sentence statement from Alabama coach Nick Saban, Baldwin was dismissed on May 13, 2016 for "a violation of team rules."
Head coach Bo Pelini and offensive line coach Carmen Bricillo offered him a spot on the team, but he declined, choosing to go to Kansas. After sitting out the 2016 season due to NCAA transfer rules, he left the Jayhawks during the 2017 season.
When it came time for round two with YSU and Baldwin, the offer didn't come until after the coaching staff sat down with Baldwin to address both his Alabama dismissal and his Kansas departure.
"He admitted his faults and said, 'I made some mistakes' and who hasn't?" Bricillo said. "He was interested in a second chance and in getting better at a new place and that was a turning point for me. "He was a frank young person admitting fault when he screwed up and when he did that, I was on board."
Bricillo declined to say what it was that caused his dismissal from Alabama. Baldwin addressed his issues with Kansas and Alabama in more general terms.
"As things played out, there were certain scenarios where things weren't going the right way," Baldwin said. "I needed to make some adjustments. I appreciate what Alabama did for me. I appreciate what Kansas did for me, but at the end of the day, it wasn't the right fit for me."
Baldwin was a late addition to the Penguins — he was still on the Kansas roster during the Jayhawks' spring practices — but still managed to win a starting role.
"It was a little weird, but coach Carm and [center Vitas Hrynkiewicz] made the transition easy," Baldwin said. "It's a brotherhood here. It's a family here. They knew I was coming into help and I knew that my coming here could help my career."
Last Saturday's 23-21 loss to Butler was his collegiate debut. As a unit, the offensive line had a decent performance on paper: 235 rushing yards, no sacks conceded and just one holding penalty. It isn't just numbers with Bricillo.
"We had way too many mental [errors]. It's not the standard for a YSU o-line," Bricillo said. "It doesn't matter what you're doing or who you're playing — you could be playing Alabama or whomever — you have to play a clean game."
Bricillo calls Baldwin "a pleasure" to work with. On Wednesday, Baldwin was spotted putting in some extra work after practice. His career hasn't panned out the way he planned, but he has a clean slate and the trust of his coaches and teammates. It's the platform he needs to show why he was so highly-coveted back in 2016.
"I didn't [see myself playing FCS football], but everything happens for a reason and I'm happy to be at Youngstown State," he said.