Growth at Canfield Fair is something to crow about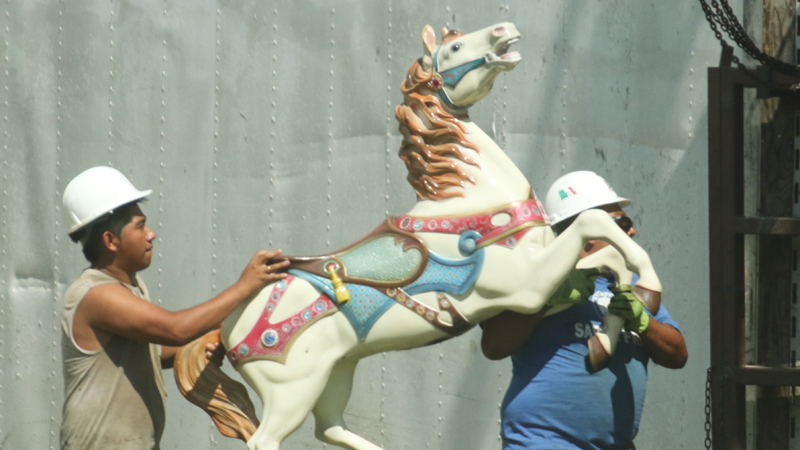 ---
It's official. The 172nd edition of the Canfield Fair will go down as one of the most successful in the long and glorious history of the largest county fair in Ohio.
Number crunchers on the Fair Board report just shy of 300,000 people attended the six-day agricultural extravaganza, a statistic that will keep the fair's premiere standing solidly intact. That figure is about 11,000 more than attended the 2017 fair and close to levels seen 50 years ago when 70,000 more people populated the home county of the fair.
In looking for reasons for this year's bump, one might point to the addition of a new set of bigger and arguably better thrill rides throughout the midways.
One might also attribute this year's success to the diverse lineup of major grandstand entertainment that ranged from contemporary Christian artist Matthew West to country superstar Toby Keith to traditional favorites of demolition derbies and harness racing.
To be sure, Mother Nature played a starring role in the success with gorgeous, sunny, mild and rain-free weather for most of the fair. Had monsoon-like rains not drenched the fair on Wednesday or had scorching temperatures in the 90s not baked the fair on Monday, this year's impressive numbers undoubtedly would be higher yet. Those numbers will help ensure the 173rd edition of the fair will be just as awesome.
Many of the patrons who passed through the gates no doubt concur. Those who ooh'ed and ahh'ed at baby farm animals, cheered on the return of mule races, enjoyed star-studded concerts, raved about exquisite art and yummy baked goods, and twisted and shouted on myriad amusement rides would use similar superlatives to describe this year's exposition.
KUDOS TO BOARD, VOLUNTEERS
As another Canfield Fair gets etched into the history books, all associated with maintaining its proud blue-ribbon legacy for Mahoning County deserve a hearty pat on the back. They earned it.
To be sure, overseeing 353 acres of rides, concessions, animal barns, displays, grandstand seating, arenas, parking lots and more is no mean feat. Once again, the board of directors of the fair, led by President David Dickey, orchestrated the magic that put smiles on so many faces as summer ebbed once again into fall.
But board members and fair administrators could not do it alone. Hundreds of volunteers labor throughout the year to ensure the expo goes off without a glitch. They, too, should take a bow.
They can't rest on their laurels for too long, however, as planning for next year's exposition already is about to begin.
They'll clearly have a tough act to follow, but we're confident they will rise to the challenge to make the 2019 Canfield Fair something to crow even louder and longer about.
More like this from vindy.com