Diocese to publish names in sex-abuse allegations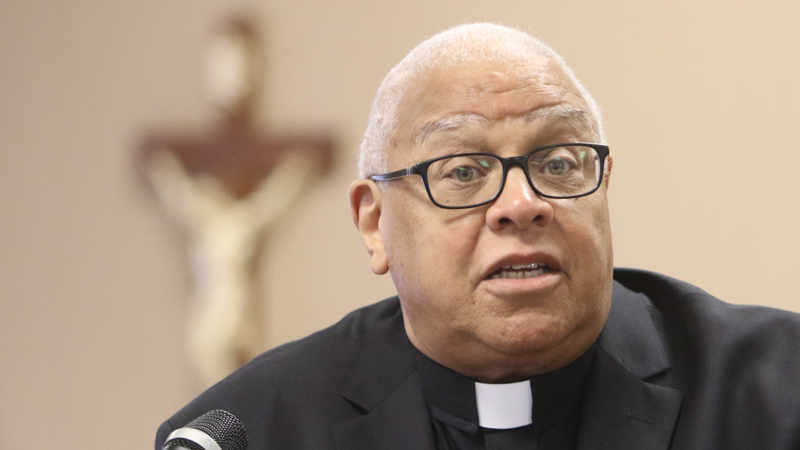 ---
By JUSTIN DENNIS
jdennis@vindy.com
YOUNGSTOWN
The Most Rev. George V. Murry, bishop for the Catholic Diocese of Youngstown, was back at work Tuesday, and he announced the diocese will soon publish names of priests dismissed for credible sexual-abuse allegations.
Bishop Murry addressed media at St. Columba Cathedral, speaking on his recent leukemia treatment and recovery and his return to part-time work.
"I am now 100 percent cancer-free, and my energy levels are almost back to normal," he said.
Bishop Murry said he would "ease" back into full-time work within the next two weeks.
Addressing recent Catholic church sex-abuse reports, Bishop Murry said the diocese will publish on its website the names of all priests who have been dismissed due to credible sex-abuse allegations.
The last such investigation into a priest who worked within the local diocese was Brother Stephen Baker, a Franciscan friar who taught at John F. Kennedy High School in Warren.
"One of the problems that we had – and it's a problem that comes up in these situations over and over again – the [victims] who came forward to make the claims admitted publicly that none of them had brought this to the attention of the authorities," Bishop Murry said.
"It's the thing I always worry about: is there someone out there who's behaving inappropriately and I don't know about it?" he added.
The diocese has its own victim's assistance officer: Delphine Baldwin-Casey, now in her second year with the diocese. She's a former Youngstown Police Department investigator who's worked on rape and assault cases.
"I use that same process when an initial complaint comes in," she said. Baldwin-Casey can be reached at 330-718-1388.
The bishop also said he's connected with Mahoning County Prosecutor Paul Gains to develop new transparency efforts in the diocese.
The diocese will collect and publish personnel files on its priests in the coming months, should they be sought in church sex-abuse investigations. Those records include priests' academic and ministerial certifications, their parish assignments and any claims of inappropriate behavior – substantiated or otherwise.
Bishop Murry said the diocese contracts with an independent investigative firm comprised of former FBI agents to review allegations of impropriety in the diocese.
"Some [accusers] don't want to prosecute," Bishop Murry said. "We may find the allegation is completely sustainable and credible. ... They say they just want that person out of ministry. We take that person out, but I can't force them to prosecute it."
Gains said his office has not received any complaints or evidence of sex abuse in the Youngstown diocese that could be heard in court.
Other cases, however, have run up against the 20-year statute of limitations, he said. Those complainants were referred to civil attorneys, he said.
He urged complainants to reach out to local law enforcement first.
"If we have the ability to prosecute it, we will," Gains said.
Bishop Murry also said the diocese has a priest in mind to replace Rev. Lawrence Frient, pastor of St. Paul the Apostle Parish in New Middletown, who resigned after admitting to having a sexual relationship with a married woman.
Bishop Murry said Father Frient initially denied the allegations, until a diocesan inquiry produced evidence.
More like this from vindy.com