Viaduct renamed in honor of Justin Leo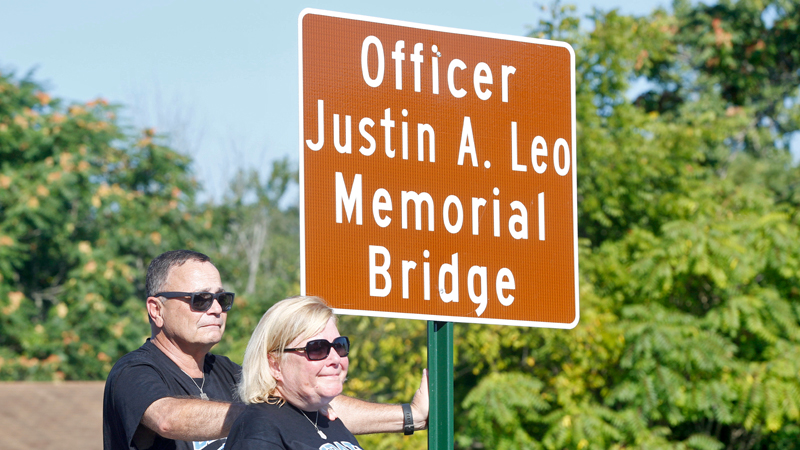 ---
By SEAN BARRON
news@vindy.com
GIRARD
A big smile crossed Pam Harasyn's face as she remembered having received spontaneous and humorous text messages from one of her closest friends.
"I met him in middle school, and in high school we became closer and ran cross country," the Westerville, Ohio, woman said about the late Justin Leo, who served five years on the Girard Police Department. "He always made everything more fun."
Harasyn, a 2005 Girard High School graduate who also shared some classes with Leo, fondly recalled that later, he often sent her text messages that contained quotes of lines from the popular TV series "The Big Bang Theory," which was one of their favorite shows. The beloved officer also sent her such correspondence from certain movie comedies, she remembered.
Officer Justin A. Leo Memorial Bridge dedication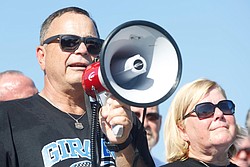 Gallery
"He had extreme selflessness, humor and a sense of caring. He was a light in everybody's life," Harasyn continued.
Leo also was lovingly remembered and honored by hundreds of people of all ages who attended a dedication ceremony Monday morning in which the Girard-McDonald Viaduct was renamed the Officer Justin A. Leo Memorial Bridge.
A second ceremony followed at Girard City Hall, where a marble monument that had been donated anonymously to honor Leo was unveiled with the inscription, "It's not how this officer died that made him a hero, but how he lived."
Leo, 31, was shot to death Oct. 21, 2017, after he answered a domestic-violence call at an Indiana Avenue residence.
Leo graduated in June 2009 from the Youngstown State University Police Academy. Before starting at the Girard Police Department in July 2012, he worked for the Mahoning County Sheriff's Department and the Vienna Police Department.
Since his death, Leo has been the recipient of numerous recognitions. He was among the fallen officers honored at the National Law Enforcement Officers Memorial Ceremony in Washington, D.C.; also, the Youngstown Phantoms hockey team chose him as this year's Hometown Hero, Girard Intermediate School dedicated a bench to him and elected officials honored Leo during a ceremony at the Ohio Statehouse in Columbus.
In addition, proceeds from the Justin Leo Scholarship Fund Golf Outing go toward scholarships for eligible Girard High seniors.
Despite the accolades, Leo should be remembered most for his compassion, selfless nature and willingness to serve and help anyone who sought his assistance, Mayor James J. Melfi told the crowd at the bridge.
"He was all of that. There really was not a mean bone in that man's body, ever," Melfi said. "We must always remember the sacrifices he made for our community."
At the second ceremony, Melfi urged attendees to emulate Leo's example largely by acting kindly toward others daily.
"This community has been the rock we've stood on for 10 months," said Leo's father, Dave Leo, a longtime educator who added that his gratitude also extends to the likelihood many young people will remember his son in positive ways, including as a role model.
Also expressing deep appreciation for how people in the Mahoning Valley and beyond have come together to rally for the family was Leo's mother, Pat Leo, who said the outpouring of love, kindness and compassion is consistent with how the community responds to those dealing with tragedies.
"Anyone in need, Girard is there to support them, she added.
Also at the ceremonies was Ray Schwabe of Columbus, who took a ride in Leo's honor across the bridge and back on the Ohio Blue Line Bike, a motorcycle that acts as a traveling tribute vehicle for police officers in Ohio who have been killed in the line of duty since 2016.
So far, the families of 10 officers, including Leo, have placed tribute decals on the motorcycle that lists their names, departments on which they served and the dates of their deaths.
"It's something near and dear to my heart," said Schwabe, who added his daughter and many friends are in law enforcement. "Every day they go to work, they place their lives on the line. It's one of the most dangerous jobs in the world."
Despite the inherent dangers he faced, Leo served with integrity and humor, Harasyn explained. He also never hesitated to try to lift others up – even when writing speeding tickets, she added.
"He would take care of someone before they even knew they needed taken care of," Harasyn said.
Before the two events, a free 2-mile memorial run/walk took place through downtown Girard in Leo's honor. Members of the Girard High School cross-country team partnered with the police department and Dave Leo to set up the walk/run to recognize that Leo was on the school's team.
More like this from vindy.com