Keith concert brings Canfield Fair to an end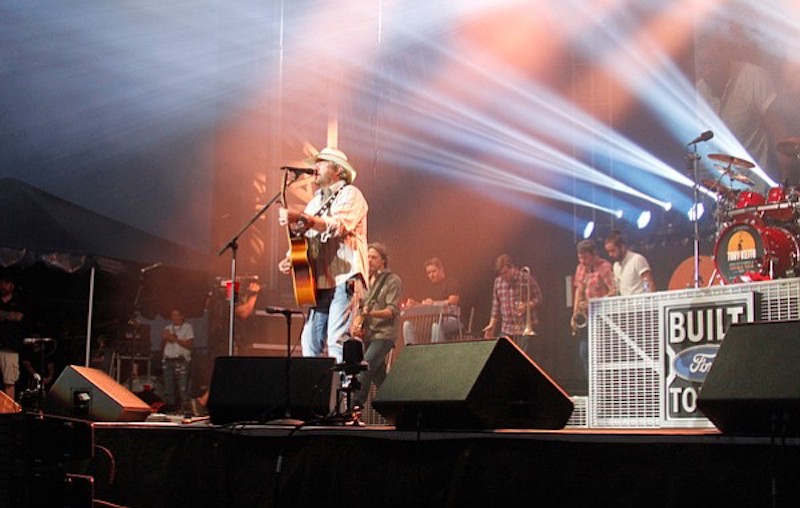 ---
By JORDYN GRZELEWSKI
jgrzelewski@vindy.com
CANFIELD
Monday's sweltering heat and rain clouds disappeared just in time for one of the 172nd Canfield Fair's main attractions: Toby Keith.
The country music star headlined a packed grandstand concert Monday night as part of his Should've Been a Cowboy XXV tour.
Fair officials said about 8,000 people were expected to attend the show, which appeared to be a sellout.
Toby Keith at the Canfield Fair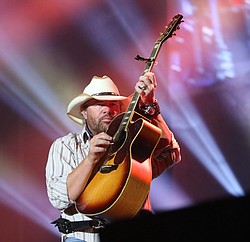 Gallery
Keith came on about 8 p.m., following opener Craig Campbell. Keith opened the set with his 2008 song "God Love Her," followed by "American Ride," "Made In America" and "Whiskey Girl."
Among those who attended the show were friends Terri Sebastiano, Brandon Defibaugh and Mariah Wright. All three wore Toby Keith T-shirts they got with their concert tickets.
"I'm thrilled," Sebastiano, of Youngstown, said of Keith playing at the fair.
It was the first time at the Canfield Fair for Defibaugh and Wright, both of Wooster, but Sebastiano said she's been coming for more than 20 years with patients at the nursing home where she works.
"The fair is absolutely beautiful this year," she said. "They made some real positive changes."
Also attending the show were cousins Jewel Casciato and Christy Eiler of Beaver Falls, Pa.
They, too, said they were excited to see such a big-name act perform at the fair.
"We were excited. It's the biggest person here in awhile," Eiler said.
The concert capped a full fair week for the pair, who park a trailer on the fairgrounds during the fair. They've been coming to the fair every year since they were born, and said their favorite part is the food.
Amanda Brenner of Hubbard and Stephanie Brunswick of Struthers also were excited to see Keith play. Brunswick wore a "Red Solo Cup" T-shirt, a reference to one of Keith's hit songs.
Brenner said they're fans of country music and of the fair, which they attend every year.
"Best county fair in all of Ohio," she said.
Fair officials were hoping a big-name grandstand show on the closing night of the six-day event would help boost overall attendance at the fair, and signs seemed to indicate it would.
Not counting Monday's numbers, which will be available today, the fair drew 248,543 visitors. That was an increase of 21,041 tickets sold during that period last year.
Last year, a total of 284,556 people visited the fair, with Monday drawing about 57,000 people.
More like this from vindy.com