Yellowstone Forever trains Boardman art teacher in STEAM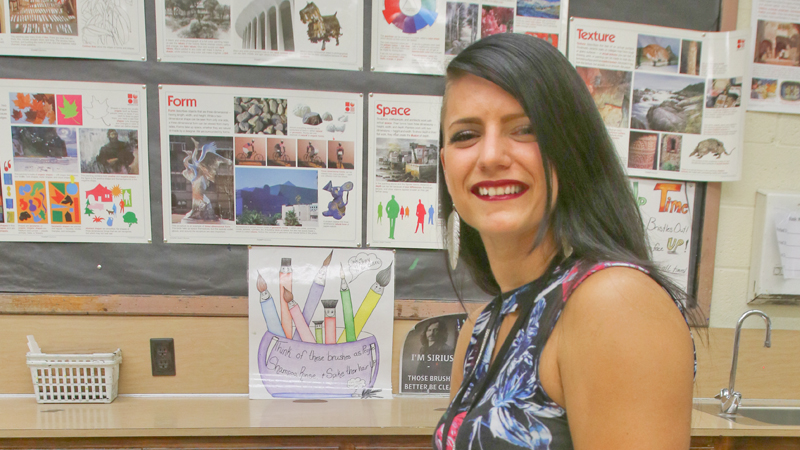 ---
By Jessica Hardin
BOARDMAN
When the prospect of steep budget cuts loomed over the Boardman school district last spring, Glenwood Junior High art teacher Chelsea Wisbar decided to make herself more valuable.
As a professional whose job is acutely vulnerable to budget decisions, Wisbar understands the value of art advocacy. "It's extremely important for me to advocate for the department, and the more professional development I can get, the better," she said.
This summer, Wisbar's advocacy for art and art teachers led her to Bozeman, Mont., where she joined 11 educators from across the country for Yellowstone STEAM. The program, funded by the park's nonprofit partner Yellowstone Forever, trains teachers on incorporating art into STEM lessons.
For Wisbar, STEAM is more than a variation of the education world's favorite buzzword.
"It's about connecting the dots," she said. "Making sure [students] understand that art is integrated into every thing they do every day."
Yellowstone STEAM presented this cross-curricular approach using Yellowstone National Park as a studio and laboratory.
Wisbar's favorite activity during her week in Bozeman has roots in a Japanese artistic tradition called "gyotaku" – a form of nature printing that was used by fishermen to record their catches but has also become an art form of its own.
"We painted with a dead fish. After painting with them, we dissected them," she said. "The whole time I was texting the science teacher, like, 'We need to do something like this!'"
Yellowstone STEAM participants were required to put down a $200 deposit that they could recoup if they implement any of the workshop's projects. Based on her enthusiasm, Wisbar can count on getting that money back.
"These are all of my ideas for projects," she said as she displayed sketch pad pages filled with notes.
"I can just imagine what's going to be popping from this part of the building," said Amy Radinovic, communications coordinator for Boardman schools.
Wisbar has plans to partner with the technology teacher whose classroom is next to hers.
One of her ideas involves studying light pollution. She wants students to design and 3-D print keychains that can combat light pollution.
This idea was inspired by the work of a landscape architect who used design to reduce light pollution in Yellowstone.
In planning her lessons for the year, Wisbar is prioritizing the practical application of STEAM through exposure to careers that integrate science and art.
Students in her art class can expect to see some unexpected professionals in the art studio this year.
"I'm going to have a cake baker come in and a special effects makeup artist. [Students] don't realize that's art," she said. "I want to bring people in to show them what's possible."
More like this from vindy.com