Air Force hero honored at Canfield Fair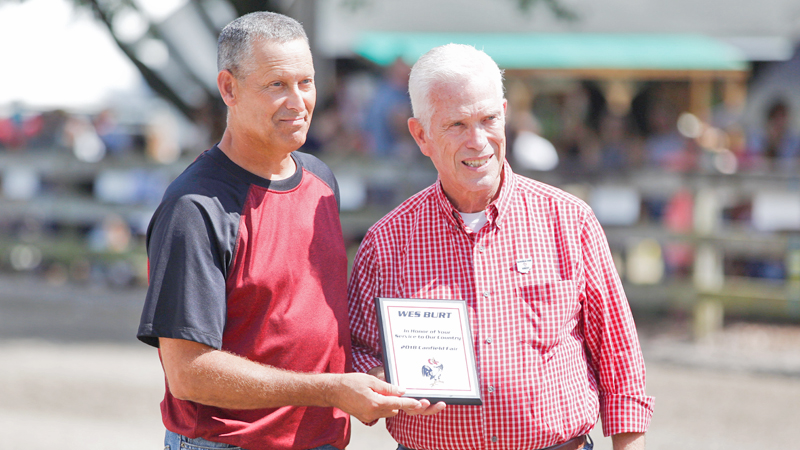 ---
By AMANDA TONOLI
atonoli@vindy.com
CANFIELD
A soldier received a surprise honor at the 172nd Canfield Fair on Sunday afternoon.
U.S. Rep. Bill Johnson of Marietta, R-6th, helped honor the local man for his years of service in the Air Force.
Wes Burt, of Lisbon, has 27 years of service in the Air Force and returned from his most recent tour the first week of July.
Burt thought he was accepting an award for the best decorated pony stall but was surprised to find Johnson presenting him with an award for his combat service.
"Wes Burt spent four tours in Iraq and Afghanistan," Johnson said. "He is a husband and a father, and I am extremely proud of his dedicated service. Wes is the epitome of the strength of our nation."
Pony-show announcer Mike Rudloff said both he and his wife had been wanting to honor Burt for awhile – they wanted to do it as soon as last year but were unable – and were happy to do it this year.
"This guy still comes here and he never complains – he never complains about anything," Rudloff said. "He just does it because that's his job."
Burt, who still serves in the Air Force, thanked both Rudloff and Johnson for their sentiments.
"I've just been coming here [to the fair] my whole life, and I can't be more thankful for this honor," Burt said.
He welcomed his children and wife to stand with him in the South Ring to share the honor.
"[Burt] represents the 1 percent of Americans who put on that [military] uniform and march off into harms way to protect our freedom," Johnson said. "It's not our government or our institutions that make us great; it's the indomitable spirit, the heartbeat of the American people."
Burt is the father of Brittany and Dale and husband to Tammy.
More like this from vindy.com