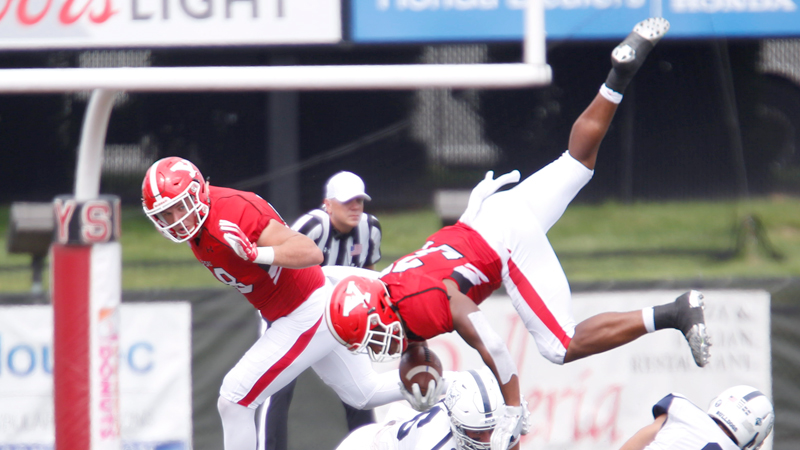 ---
By Brian Dzenis
YOUNGSTOWN
With no timeouts and seconds ticking down, Butler lined up for a 44-yard field goal near the end of Saturday's contest against Youngstown State. The setup was sloppy and kicker Drew Bevelheimer's kick resembled a wounded duck, but it just got over the bar to stun Stambaugh Stadium.
Butler, a team with no scholarship athletes and a 35-and-a-half-point underdog, defeated YSU, 23-21.
"It was mind-blowing to me," Pelini said. "We didn't deserve to win that game and it almost would have been a shame if we did because that team outplayed us."
The Bulldogs stole the Penguins' home opener in the fourth quarter, which they entered trailing 21-7.
Quarterback Will Marty mounted an 80-yard drive where he completed every pass and capped it with a 6-yard touchdown pass to make it a one-possession game.
The two sides then traded punts and when it was YSU's turn to receive, a holding penalty pinned the Penguins at the 8.
YSU went three-and-out and Mark Schuler punted the ball just 28 yards. With less than two minutes to go and having the ball at the Penguin 42. Marty made three consecutive passes to the same wide receiver — Pace Temple — ran a short distance himself before finding tight end Sam Yeaton to bring the Bulldogs within a point of tying the game with 1:20 to play.
Butler coach Jeff Voris elected to go for it, using the player who gave the Penguins fits, Temple. But defensive end Antoine Cook sacked Marty to keep the score at 21-20.
"There wasn't a whole lot going through my mind. I was just hoping he would get open and he would catch it," Voris said. "They did a great job defending it and we thought we had an opportunity to take the lead there."
Voris' team had another opportunity to take the lead after an onside kick, which safety Terray Bryant couldn't get his hands on, but Temple did.
"First of all, our guy should have let it go. The ball would have went out of bounds," Pelini said. "If you go for it, you have to catch the ball. It was terrible. You're supposed to let it go to the back line and we didn't do that."
Starting from near midfield, Butler advanced 27 yards before Bevelheimer's field goal won the game with four seconds left.
YSU (0-1) is 2-1 all-time against Butler with the last meeting against the Bulldogs in 2014 ending in a 44-13 victory under previous head coach Eric Wolford, who was fired at the end of that year.
"We were all expecting to win and maybe that's the problem. We were expecting it and weren't preparing for it," defensive tackle Savon Smith said. "Maybe we didn't take the game seriously."
Butler's offensive game plan was simple: throw the ball to Temple. He caught 14 passes for 167 yards and two touchdowns and was instrumental in drawing pass interference calls from corners Will Latham and DJ Smalls.
"We had guys there and we couldn't make the play. We'd have him covered and we'd panic and interfere," Pelini said. "We didn't play technique. I went into the game saying we've got to play technique. Sometimes we clouded him and he still made the play."
Should YSU fall at No. 17 West Virginia next Saturday, the Penguins will start a season 0-2 for the first time since 2008.
"I thought we were ready to play and obviously, I was wrong. The comedy of errors that happened out there is hard to describe," Pelini said. "It was one guy after another. [Butler] executed and made good plays.
"Anybody will beat you when you don't respect this game."
More like this from vindy.com