Area veterans enjoy, appreciate Honor Flight to Washington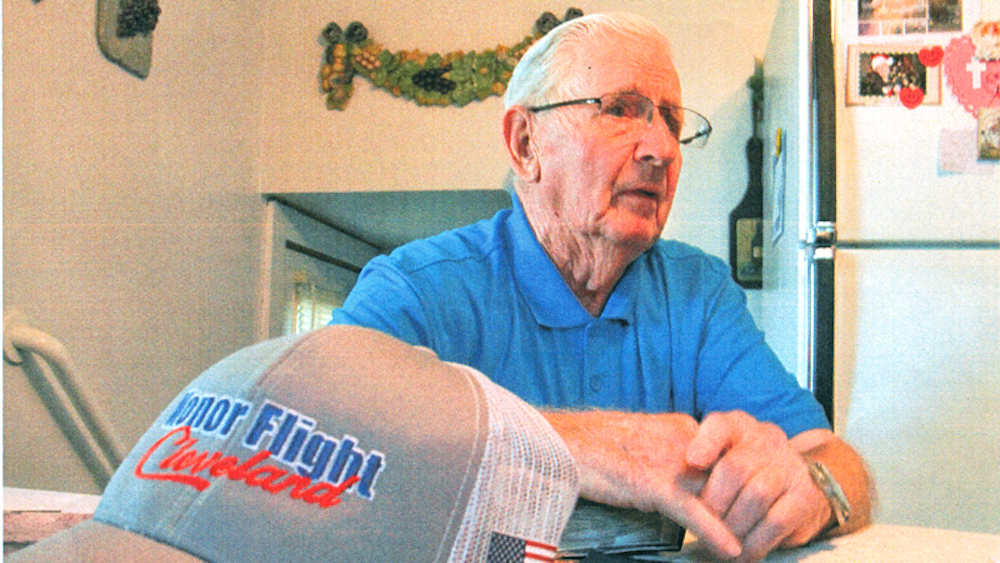 ---
YOUNGSTOWN
Two area military veterans who fought in different wars, and different branches of the military, were given an experience by the Honor Flight Network that left them awed, impressed and grateful.
Honor Flight is a nonprofit organization created to honor America's veterans for all their sacrifices by transporting them to Washington, D.C., to visit and reflect at their memorials. Top priority is given to the senior veterans – World War II and Korean War survivors – and veterans who are terminally ill.
A woman came up to Alfred "Al" Walker of Hubbard while he was looking at the Korean War Veterans Memorial and said she had lost an uncle in Korea.
"It was very emotional. I shed some tears," said Walker, a Korean War veteran.
Walker said the Korean War Veterans Memorial depicts sculptured lifelike soldiers carrying weapons and dressed in battle gear walking through what he said looks like a rice paddy.
"The expressions on the soldiers' faces are something to see. They have very cautious looks on their faces," said Walker, 90, who served during the Korean War from April to November 1951, primarily with the 52nd Field Artillery Battalion of the 24th Infantry Division.
"It is awesome," said World War II Navy veteran Erwin "Irv" Schwartz, a resident of Heritage Manor Rehabilitation & Retirement Facility in Youngstown, of the World War II Memorial.
The purpose of the World War II Memorial is to honor the 16 million who served in the U.S. armed forces during WW II, the more than 400,000 who died, and all who supported the war effort from home.
Schwartz, 94, enlisted in the Navy in 1942 just after graduating from South High School in Youngstown. He served aboard the Destroyer USS Mervine (DD-489) escorting troop and equipment carriers from New York City and Norfolk, Va., across the Atlantic Ocean to Europe, Africa and Italy, and seeing combat in the Mediterranean Sea.
"The Honor Flight was exhausting but wonderful. It's hard to explain," said Schwartz.
"As we walked down the aisle to board the plane in Cleveland and off the plane in Baltimore, people stood up and applauded and thanked us for our service. That was really something. I never had anything like that happen to me before," said Schwartz.
"It makes you feel good, like you did something worthwhile fighting in the war," said Walker, who was 19 when he enlisted in the Army in 1947 out of Butler, Pa., "just after we dropped the bomb" on Japan. He was part of the United Nation's occupation force in Korea when it was ordered out of Korea in 1948 to Japan.
He was sent back to Korea, and his unit, Task Force Smith, was the first to engage the North Koreans.
The city of Osan, South Korea, annually commemorates the U.S. soldiers who came to the defense of South Korea, and more specifically, Osan, to block and delay the North's advance as reinforcements were assembled.
At the time of the war, Walker admitted he thought South Korea was a worthless country, "very poor." Japan had controlled it for many years and stripped it of anything valuable, Walker said.
But the next time Walker saw South Korea, about four years ago as the guest of the city of Osan and representative of Task Force Smith, he said he "couldn't recognize anything. The war had left them literally starving. It was a miracle to see what they have done ... the difference," he said.
Walker said his unit, the 52nd Field Artillery Battalion of the 24th Infantry Division, eventually pushed all the way from Busan, formerly known as Pusan, north almost to the Yalu River, before being driven back when Chinese forces entered the war.
As a member of an artillery unit that provided support from battle to battle, Walker fought in five major battles and was awarded the Bronze Star for meritorious service.
"I didn't get a scratch," said Walker, a mechanic in the motor pool. He had the rank of corporal when he was discharged in November 1951.
Walker came back home and moved to Youngstown in 1955 where he worked at the former Republic Rubber Co. for 26 years, then became a cross-country steel hauler, eventually buying his own rig, and held a private pilot's license.
"I strongly doubt it," said Walker when asked if he thought North and South Korea would ever be united. "I believe it would take a revolution in the north," he said.
Walker said he would have "mixed emotions, after all the blood that was shed, if the country went Communist."
Schwartz returned to Youngstown after he was discharged in 1945 and went to work at Republic Steel Co. in Youngstown. He attended the Rochester Institute of Technology on the G.I. Bill and then owned and operated Modern Litho, a job-printing business, for 30 years at the corner of Midlothian and Southern boulevards.
In the Navy, he worked in the ship's engine room making fresh water out of sea water. He also had a combat station, a 40 mm gun that he manned when the convoy was attacked.
When the convoy was attacked off the coast of Africa, Schwartz remembers "picking up survivors all night long."
In the middle of the war, Schwartz was fortunate to meet up with his brother, Oscar, who was serving in the Army in Italy when Schwartz's ship landed there. The brothers spent an afternoon together. "It was good to see him," Schwartz said.
Walker and Schwartz got on the Honor Flight in different ways.
Walker said he filled out an application for an Honor Flight about four years ago, but for some reason never sent it in. Then he applied about 18 months ago and received an Honor Flight seat for Aug. 11.
"We had wheelchairs everywhere we went. It was very nice. They couldn't do enough for you," he said.
Schwartz said people at the retirement center helped him fill out his application.
"The Honor Flight was excellent. The way people were clapping and came up to us and said thank you, It made me feel like I did something for my country," Schwartz said.
More like this from vindy.com