Summary of recent criminal activity in Poland and Boardman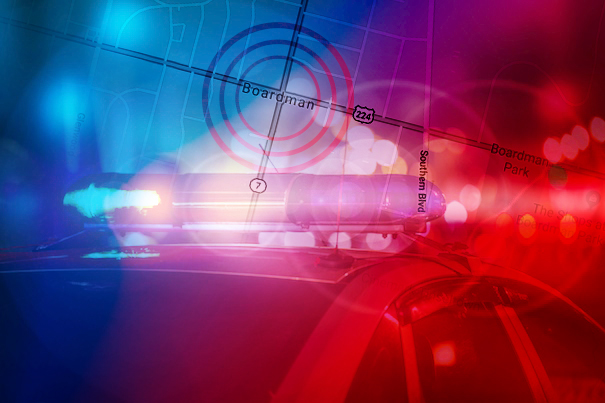 ---
A summary of recent criminal activity in Poland and Boardman townships:
POLAND
Aug. 23
Burglary/criminal damaging: Someone broke into a residence in the 3000 block of Heatherbrae Drive, then damaged a queen-sized mattress cover and eight pillows.
Theft: A woman reported a purse, several over-the-counter medications and $165 stolen while she was at an East Western Reserve Road church.
Aug. 24
Burglary: To a home in the 3000 block of Spitler Road by unknown means. Miscellaneous oil paintings valued at $6,000 were stolen.
Aug. 26
Harassment: A Via Sienna Drive woman said she has been the victim of telecommunications harassment.
BOARDMAN
Aug. 24
Arrest: An officer conducting a security detail at a Boardman High School football game responded to two fights, after which two Youngstown boys, 16 and 17, were charged with disorderly conduct. The younger teen also faced a resisting-arrest charge after reportedly failing to comply with police.
Criminal damaging: A Washington Boulevard woman noticed several scratches on the sides of her rental car as well as a large one on the front fender area. Damage was calculated at $500.
Drugs: Police received information that a woman near Market Street and Shields Road was asking people if they wanted to buy drugs before charging Latoya M. Martin, 35, of Cordova Avenue, Youngstown, with trafficking in a counterfeit controlled substance, a fifth-degree felony, possessing drug paraphernalia, obstructing official business and resisting arrest. Martin, who had a suspected crack-cocaine pipe, admitted having tried to sell 49 Acetaminophen pills in a bottle marked for Tramadol; in addition, Martin failed to comply with officers' commands, in part by refusing to remove her hands from her pocket, a report showed.
Theft: Lisa A. Voegele, 53, of Ohlin Drive, New Middletown, was charged, accused of stealing $562 worth of merchandise from Macy's in Southern Park Mall.
Theft: Numerous items that included a flip phone and prescription medication were missing from an apartment in the 5700 block of Sheridan Road. The loss was estimated at $2,122.
Criminal damaging: A Rockdale Avenue man saw that a key had been used to scratch his vehicle's finish in several places, resulting in a $1,000 damage estimate.
Theft: Police charged Dennis B. Sinkovich of East Philadelphia Avenue, Youngstown, after alleging Sinkovich, 46, had stolen a refrigerator and a set of headphones from Target, 417 Boardman-Poland Road.
Fraud: A Cedar Way woman found out her debit-card number had been used without her consent to place a $25 food order from a restaurant in Carol City, Fla.
Identity fraud: A Deer Run Drive woman told officers she received a letter indicating a change of address that someone had apparently made in the victim's name but without her authorization.
Theft: A Buchanan Drive man discovered a $400 push mower missing from his back yard.
Theft: A man and a woman reportedly stayed overnight at Days Inn, 7393 South Ave., without permission before a housekeeper discovered a $300 TV was missing from the room.
Theft: A township man noticed his $250 iPhone missing while he was at a Boardman-Canfield Road discount store.
Aug. 25
Aggravated menacing: An East Liverpool man and a township man reported having been threatened with bodily harm at homes in the 80 block of Homestead Drive and the 100 block of Mayflower Drive.
Burglary: To an apartment in the 30 block of Shields Road, from where two men in their 20s were reportedly seen fleeing. A door frame was damaged, though the report made no mention of anything having been stolen.
Theft: Someone entered an unlocked truck in the 1900 block of Wingate Road and removed eight pairs of pliers, $5, an ashtray and another tool.
Criminal damaging/illegal dumping: A Yakata Doro Drive man reported damage to his fence and another resident told police someone in a blue tractor pushed cinder blocks, four large bags of concrete pipes and other debris onto his property.
Theft: A 13-year-old Youngstown boy was accused of stealing 10 articles of clothing valued at $353 from Macy's.
Theft: New Middletown police handed John M. Doyle, 41, to township authorities. Doyle, of Douglas Avenue, Youngstown, was charged with stealing about $100 worth of property Sept. 16, 2017, from Walmart.
Auto theft: A 2006 Chevrolet Equinox was stolen in the 1800 block of Canavan Drive.
Trespassing: Authorities responded to a complaint about an intoxicated man at Camelot Lanes, 628 Boardman-Canfield Road, before charging Zachary W. Wright, 29, of North Ellsworth Avenue, Salem, with criminal trespassing and disorderly conduct. An intoxicated Wright refused several times to leave the establishment, became belligerent and caused a scene, a report stated.
Theft: Debora A. Shannon, along with a 17-year-old Boardman boy, was charged with stealing $57 worth of snack foods and other items from Walmart, 1300 Doral Drive. Shannon also was charged with contributing to the delinquency of a minor.
Aug. 26
Arrest: A traffic stop in the 5200 block of Market Street resulted in the arrest of Shanae K. Adams, 27, of Idlewood Avenue, Youngstown, who was wanted on a bench warrant accusing her of failing to appear in Youngstown Municipal Court.
Assault/aggravated menacing: A Sigle Lane man alleged that during an argument, another man struck his face and left arm, then, when the accuser returned to his home, a second person shoved him several times into the side of a car and threatened to get a gun to kill the victim.
Domestic violence: Austintown police surrendered custody of Ryan P. Davis, 27, to township authorities. Davis, of South Meridian Road, Austintown, was charged with domestic violence and theft after his fianc alleged Davis grabbed his arm and threw the accuser to the ground, then shoved him backward before taking the victim's house and car keys.
Theft: Two women reportedly stole $40 worth of merchandise from Family Dollar, 4030 Market St.
Theft: A West Boulevard woman reported several of his girlfriend's undergarments were taken from a dryer in a laundry room.
Domestic violence: Heather M. Windsor of Sigle Lane, Boardman, was charged with the crime after her husband alleged that during an argument pertaining to his son, Windsor, 45, struck him, causing his glasses to fall and break, then bit the accuser's left arm.
Aug. 27
Arrest: Youngstown police in the 3700 block of Market Street handed to Boardman authorities Jeanna M. White, 40, of South Hubbard Road, Lowellville, who was charged with failure to comply with police after a shoplifting situation Aug. 9 at Walmart. A short time later, officers attempted to stop White's vehicle before she led them on a pursuit, a report showed.
Assault: A Struthers man alleged that while at a Doral Drive big-box store, a Youngstown woman, 23, sprayed a chemical in his eyes, causing a burning sensation, and nearly struck him with her vehicle.
Theft: A woman in the 200 block of Boardman-Canfield Road reported her change purse, a cellphone, her identification card and credit cards stolen.
Theft: A man reportedly stole a $100 car stereo from Walmart.
Menacing: A township woman alleged a man's wife, of Melrose Avenue, made implied threats, including having someone assault the accuser.
Theft: A man discovered 25 anti-depression pills missing from his South Avenue apartment.
Stolen property: Police took Nyasia I. Lopez, 23, into custody at her place of employment at a Doral Drive big-box store. Lopez, of East Lewis Street, Struthers, was wanted on charges of receiving stolen property and misuse of a credit card after a co-worker reported having received a notification earlier this month that a stolen debit card was used to make two fraudulent purchases.
Theft/criminal damaging: An official with Preston BMW, 7830 Market St., told authorities someone broke a vehicle's passenger-side window, then removed a $500 touch-screen radio.
Theft: Someone removed political signs from two yards in the 60 block of Arlene Avenue.
Menacing: Officers arrested Kevin A. Terlecky, 22, at his Shelby Road home on a menacing-by-stalking charge after a neighbor alleged the Boardman man has engaged in a pattern of harassment and making threatening statements, causing the accuser to fear for his safety and that of his family.
Aug. 28
Attempted theft: Police received a report that someone in the 500 block of Boardman-Canfield Road had tried to remove a $250 catalytic converter from a vehicle.
Arrest: After stopping his car near Afton and South avenues, officers took into custody Maurice H. Hasley, 29, of Cook Avenue, Boardman, who was wanted on a Campbell warrant charging him with violating a court order. Also, Paul H. Champley, 44, of Columbia Street, Leetonia, was cited on a charge of having an open container of alcohol in a motor vehicle.
Arrest: Authorities answered a call about someone trying to enter vehicles at a Doral Drive big-box store before charging Robin J. Moore, 57, with attempted theft. Moore, of Martin Luther King Jr. Boulevard, Youngstown, also was wanted on a bench warrant accusing her of failing to appear in Youngstown Municipal Court.
Theft: A woman reportedly conducted a short-change scam at Lowe's, 1100 Doral Drive, resulting in a $218 loss.
Theft: A man reportedly stole about $1,424 worth of tools and other property from Lowe's before leaving in a Nissan Altima with Pennsylvania license plates.
Menacing: A Market Street man alleged his roommate threatened to harm him during an argument related to running an air-conditioning unit.
Theft: Police were dispatched to Boardman Area Court on Market Street to take custody of Angela M. Orr, 56, of Gluck Street, Youngstown, who was charged with taking about $116 worth of men's socks and undergarments Aug. 6 from Ollie's Bargain Outlet, 385 Boardman-Canfield Road.
Theft: A Griswold Drive woman returned to her vehicle and noticed a $600 iPhone missing.
Theft by deception: A Meadowbrook Avenue man told authorities a caller who claimed he had a computer virus tricked the accuser into buying $1,700 worth of Google gift cards, supposedly to fix the problem.
More like this from vindy.com