200-plus luminarias represent those lost to overdoses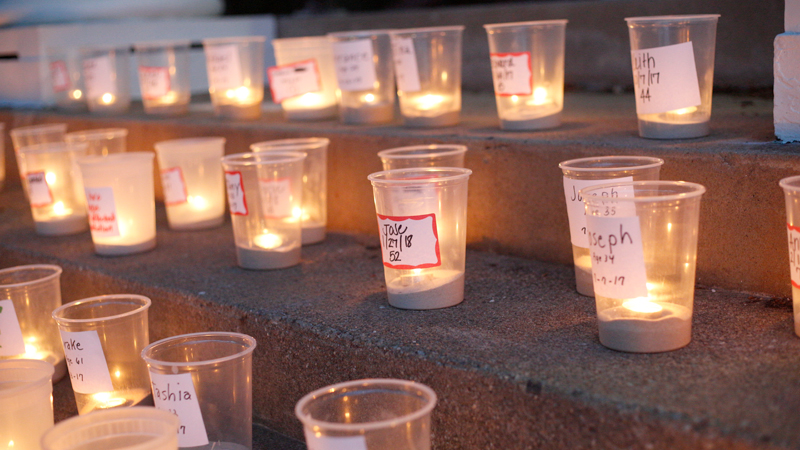 ---
YOUNGSTOWN
Each luminaria at the Unitarian Universalist Church of Youngstown Friday night told a person's story – name, birthday and the date he or she overdosed.
There were more than 200 luminarias, each representing someone from Mahoning County.
The event was Ohio Change Addiction Now's fourth annual International Overdose Awareness Day's "Light Up the Night."
Hope Lovrinoff-Moran, Ohio CAN Mahoning County coordinator, said 112 overdoses occurred in Mahoning County in 2017.
Ohio CAN wants people to remember the loved ones they lost from drug addiction and provide support to those loved ones left behind, Lovrinoff-Moran said.
"We want to give hope to those struggling with active addiction," she said. "We want to be here to help support and encourage them through recovery."
A large group of people came and talked to each other about drug addiction and how it has touched their lives, whether they were addicts or lost someone to the disease.
Jeff Burgos of Youngs-town said he has struggled with addiction himself, and people don't understand the pain that comes with it.
Keynote speaker Linda Ogden, founder of PROJECT3MP, an outreach program for sex-trafficking victims, told attendees the story of her drug addiction, which followed years of neglect, abuse and being sex trafficked.
"Recovery is not about being selfish ... we are selfish when we have an active addiction because we don't care about anything else," she told the crowd.
Earlier in the day, the Mahoning County District Board of Health had a naloxone distribution and training session. Naloxone is a medication that reverses the effects of an opioid overdose.
More like this from vindy.com