Daniels ignites Hubbard romp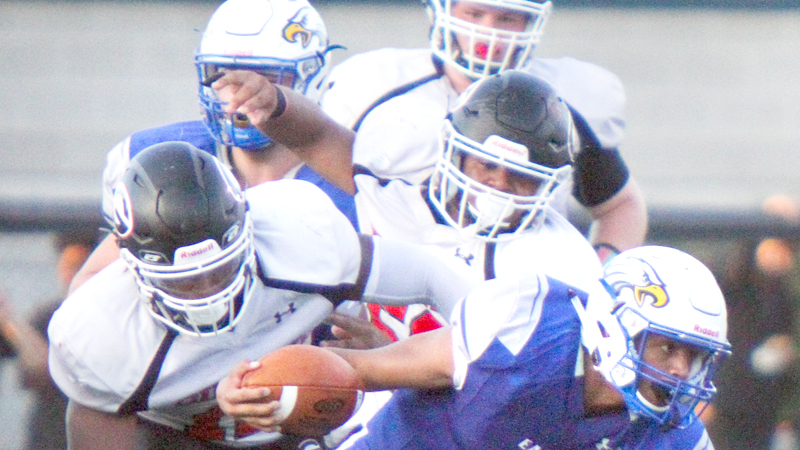 ---
Girard's Waid picked off 3 times
Girard v. Hubbard football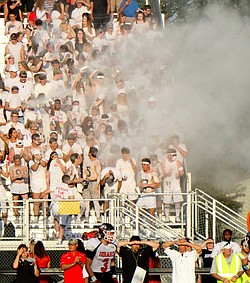 Gallery
HUBBARD
Being the cousin of a former NFL player can have its advantages, especially at the high school level.
Such is the case for Davion Daniels, who ran for three touchdowns and passed for three more in Hubbard's 48-32 shootout win over Girard.
Daniels' cousin is Brad Smith, the former Chaney quarterback who played wide receiver for the New York Jets. Daniels said the key to the win was stopping Girard quarterback Mark Waid, who was 23 of 36 for 265 yards with three interceptions.
The pickoffs were by Hubbard's JayQuan Odem, Jamie Thomson and Cam Resatar.
"We had to stop their quarterback," said Daniels, the Eagles' quarterback who ran 28 times for 223 yards and was 9 of 10 for 116 passing.
His TD throws were two to Odem and one to Sam Mauk.
"We had a lot of good 3-and-outs, but they scored a lot so we had to capitalize and improvise to stop him from getting all their points," Daniels said of Waid. "We got the job done to stop him."
Daniels was among Hubbard's strong defensive backfield, along with Bray Donlow, Odem, Resatar and Thomson.
Daniels' TD runs covered 1, 64 and 55 yards.
Defensive end Mark Jones stopped the Girard quarterback on an attempted conversion run that preserved Hubbard's 28-26 lead with 4:17 remaining in the third quarter.
In the first quarter, Jones teamed with Rafael Morales to throw Girard running back Morgan Clardy for no gain when them Indians closed in near Hubbard's goal line.
"I was told they were going to run it up the middle, so I tried my hardest to get through and did what I was told to do," Jones said.
Hubbard lost two-way player Rafael Morales, who was ejected for unsportsmanlike conduct on the last play of the first half. He'll be required to sit out next week's practice and the next game and possibly another game. It's the second straight week that Morales played one half (last week's win was a romp over Alliance).
Hubbard coach Brian Hoffman said that he provoked his players at halftime.
"I challenged the group of guys by saying, 'Look, this team is not about one or two guys, it's about team. So, guys are going to have to step up and we're going to have to play our best football.' And you know what? They rallied around that, came out, faced the adversity, and we played good football the second half.
"We played a lot of guys — a lot of different guys contributed and I'm extremely proud of them. I can't say enough about the way we bonded tonight."
Girard coach Pat Pearson's Indians couldn't capitalize on the momentum they gained after battling back from an early 21-0 deficit.
"We had a really good second quarter and had momentum going into the half," Pearson said. "We felt good coming out for the third quarter, then we had them in 3rd-and-9 and 3rd-and-11 situations, but they converted on them.
"We had a couple missed assignments. They have a lot of athletes and they play as an explosive group. But I'm proud of my kids for battling back and they showed that to the end. It was a heck of an atmosphere tonight, but we came up short. I promise you that we'll be back."
More like this from vindy.com