Canfield Fair's demolition derby is smash hit for Hodgkinsons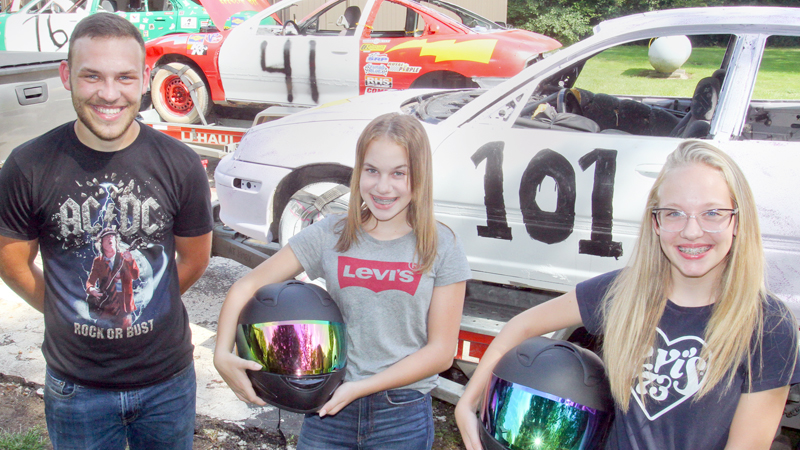 ---
By AMANDA TONOLI
atonoli@vindy.com
NEWTON FALLS
A family of four participated in the 172nd Canfield Fair's Demolition Derby on Friday night.
A father, his 18-year-old son and two 13-year-old daughters dressed up two cars to wreck them in the evening's festivities.
Son Tristen Hodgkinson said last summer he participated after his father, Matt, told him about his time in the demolition derby when he was younger.
Tristen is a first-year criminal-justice student at Youngstown State University and an Austintown Fitch High School graduate.
"I figured I'd try it out," he said.
From the time of his decision, Tristen had to decorate the car and rip out its interior.
"You have to basically take everything out of it and give it a nice paint job," he explained. "It only takes a couple days."
This year he dressed his demo car up as Lightning McQueen.
Tristen's efforts inspired his twin sisters, Ashley and Emma Hodgkinson.
Ashley and Emma are Austintown Middle School students.
"It just seems like fun," Emma said.
Emma and Ashley are allowed to participate with an adult passenger in the car.
Ashley said she's nervous to get hit but ready to win first place.
And Tristen said he likes the adrenaline rush he gets from participating in what will now be his second year at the demolition derby.
"If you haven't had your first car crash, it's a good way to see the worst of it without flipping," he said.
In his spare time, he also likes to work on his truck and cars with his dad.
"We work on stuff together all the time," Tristen said. "I like doing that stuff ­– I like hands-on and learning about cars."
Working on demolition derby cars is worth it for the whole family.
"I just think that this project demonstrates such a wonderful bond between three siblings to create a memory that will last a lifetime together," said Kathryn Samsa, mother of Tristen, Emma and Ashley.
Matt Hodgkinson, Tristen, Emma and Ashley's dad, put in a lot of hours over the summer working on the cars with his children, said Tami Evans, Matt's girlfriend.
"He's a good dad," she said.
Samsa echoed Evans' sentiment.
"Of course, it could not have happened without their dad," she said.
CHAMPIONS
Demolition derby
First place: Jason Ford
Second place: Vincent Barbo
Third place: Ryan Peterson
More like this from vindy.com