Local officials tour new Lordstown Energy Center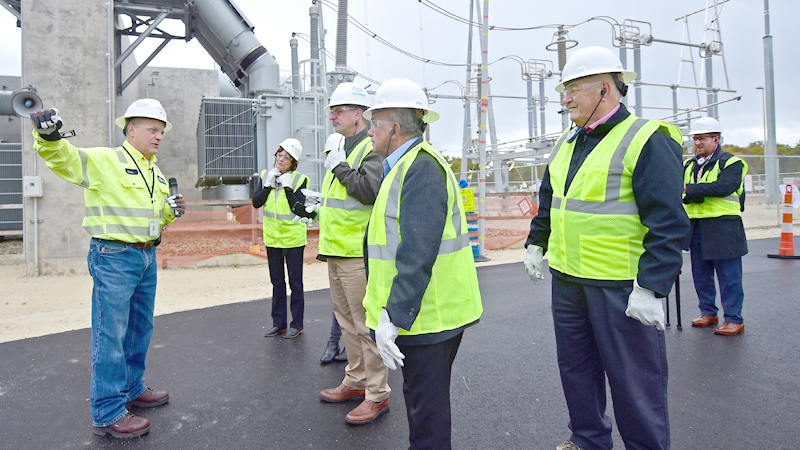 ---
LORDSTOWN
It's not every day that the Mahoning Valley, or even the state of Ohio, gets a $1 billion project.
That made the recent opening of the Lordstown Energy Center, a 940-megawatt, natural gas-fueled energy plant, all the more exciting for Mahoning Valley officials.
"This is a great day for the Mahoning Valley. It's a great day for Lordstown," said James Dignan, Youngstown/Warren Regional Chamber president/CEO, during an open house at the plant Wednesday. "We're proud to have the Lordstown Energy Center call the Valley home."
Dignan, as well as other chamber representatives, Trumbull County commissioners, and Lordstown village and school district officials were invited to tour the energy center, which sits on 16 acres in Lordstown Industrial Park.
Those who were on the tour saw the two gas turbines and steam turbine that are capable of generating enough energy to supply about 850,000 households in the PJM electricity grid. The plant's supply will primarily serve customers in Ohio, Pennsylvania and West Virginia.
Plant Manager Drew Schneider pointed out some of the other features of the plant, such as safety showers, a fire-safety system and containment mechanisms under all of the plant's tanks.
The group also saw what Schneider called the "nerve center" of the facility – the control room where operators monitor and run just about every aspect of the plant. There, they can do everything from starting the turbines to monitoring emissions, security and megawatt output.
Aside from the nearly $1 billion invested in building the plant, local officials have lauded the estimated economic impact of the facility – about $13 billion over the next 40 years.
"This is a project where everybody benefits," said village Mayor Arno Hill. "We're all happy they're here."
More like this from vindy.com