Austintown senior citizen completes Panerathon race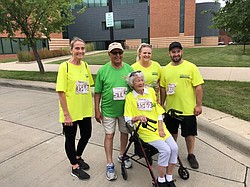 Photo
Neighbors | Submitted.The visionary behind the Joanie Abdu Comprehensive Breast Care Center, Dr. Rashid Abdu, joined Doris Stilgenbauer (front) and her family on the 2-mile Panerathon walk. Others pictured are, from left, (back) Terri Johnson, Dr. Abdu, Anna and Frank Trickett.
At 90 and one half years young, Doris Stilgenbauer was determined to take part in Panerathon 2018 and finish the 2-mile walk.
The Austintown resident was inspired by her daughter, Terri Johnson of Niles, and granddaughter, Anna Trickett of Austintown. Both are employed by Greenwood Chevrolet in Austintown, and were eager to join Greenwood's Panerathon team.
While they have no history of breast cancer in their family – Stilgenbauer is a survivor of colon cancer – they recognize the importance of the Joanie Abdu Comprehensive Breast Care Center and Joanie's Promise in the health of our community and wanted to do something to help.
With encouragement from her daughter and granddaughter, and a little help from her granddaughter's husband, Frank Trickett, Stilgenbauer finished the race.
Youngstown police officers trailed behind, ensuring that all roads used in the event remained closed until the last walkers crossed the finish line.
Monies raised during Panerathon benefit the Joanie Abdu Comprehensive Breast Care Center and the Joanie's Promise fund at Mercy Health Foundation Mahoning Valley. Joanie's Promise ensures that anyone in need of diagnostic breast services has access to the best care available regardless of ability to pay.
For information on how to help, call 330-729-1180.
More like this from vindy.com