Something for everyone at annual Fall Festival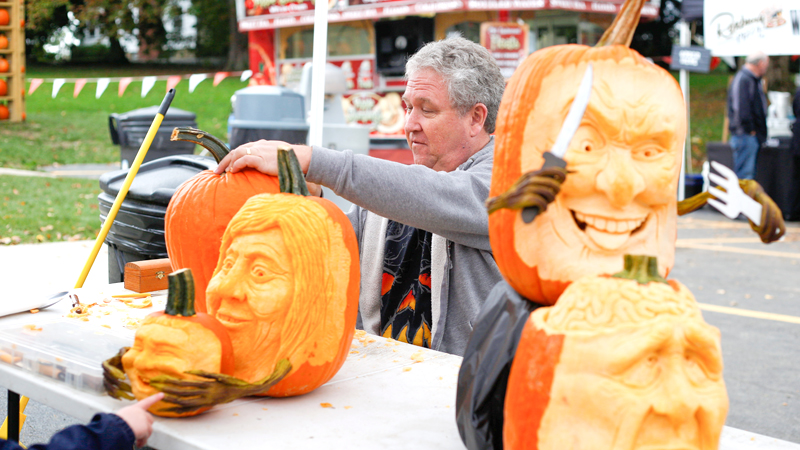 ---
By SEAN BARRON
news@vindy.com
CANFIELD
Whether creating something melodramatic, macabre or mischievous, Ron Roberts is neither shy about nor technical when explaining the secret behind his sharp creativity.
"Patience, practice and tools," the Salem man said to a youngster who inquired about how he had come up with precise and detailed ridges, grooves and curves that added a thick layer of realism to faces he carved in several pumpkins.
Roberts' talents were among the attractions that drew the interest of many people who attended the yearly Fall Harvest Festival on Saturday afternoon at White House Fruit Farm, 9249 Youngstown-Salem Road (U.S. Route 62).
The fun-filled and family-oriented event continues from 11 a.m. to 5 p.m. today, next weekend and Oct. 27 and 28 at the fruit farm.
The festival is mainly to celebrate the fall apple harvests, and apple season is generally from early July to early November, noted Debbie Pifer, a White House Fruit Farm co-owner. The business has 35 varieties of apples, and most are stored all year, she said.
Roberts, who's also a mechanical engineer, explained his longtime woodcarving hobby morphed into a similar interest with pumpkins about five years ago, which has led him to gather ideas on the internet, then give them his own touches.
Roberts uses a series of pottery tools to gouge the pumpkins, combined with ordinary and special knives to create faces that have an unmistakable 3-D look, he explained.
For the fest Saturday, Roberts had on a display table a pair of pumpkins in which one appeared to be ready to eat the brains of another. He also had a large pumpkin with a face resembling an elderly grandmother coupled with paper arms and hands that seemed to pinch the cheeks of a child's face carved on a smaller one.
Also part of his set-up was a tent with a plastic covering on one side that allowed attendees to peer into a dark enclosed area that showed how some of his finished pumpkins look when lighted.
Among those intrigued by what he saw in the tent was Harrison Ulrich, 4, of Tallmadge, who came with his parents, Patrick and Heidi Ulrich, as well as sisters London, 2, and Brynn, 8 months. Also in the mix were family members who are visiting from Sacramento, Calif., Patrick said.
"We come here so many times because we love it," an excited Harrison added.
"I'm planning to make a unicorn to be kid-friendly," Roberts said about another of his ideas.
Roberts, who used to compete regularly at the Jack Hanna Pumpkin Contest at the Columbus Zoo, added one of his ambitions is to be on "Halloween Wars," a reality competition series on the Food Network.
Another new festival feature – arguably more challenging to one's ability to stay focused than the pumpkins – is a small bird sanctuary in which people paid $2 apiece to feed a variety of colorful budgies, a type of parakeet. They were given wooden sticks to hold that contained birdseed that the birds ate.
"Kids, teenagers or adults, everybody seems to love it," said Lindy Young of Austintown, who added the birds are about 4 months old, came from Texas and will spend the winter in an adjacent heated room.
Few attendees likely left disappointed because of a lack of merchandise. Items for sale in a nearby barn include magnetic artwork, sports memorabilia, autumn-themed paintings and scented candles. Also available were the usual pumpkins of all sizes, along with wood-fried pizza, roasted corn, apple dumplings, hot dogs and other foods.
Also part of the festivities is a scarecrow contest that includes about 35 entries, the proceeds of which are to benefit the Rescue Mission of the Mahoning Valley, Pifer noted.
Voting is to take place until next Sunday and the winning entry will be announced the following day.
Providing the entertainment was Leo D'Angelo, a local duo that plays what the members call "blues-fueled Americana music."
More like this from vindy.com