SDSU too much for Penguins in 36-7 victory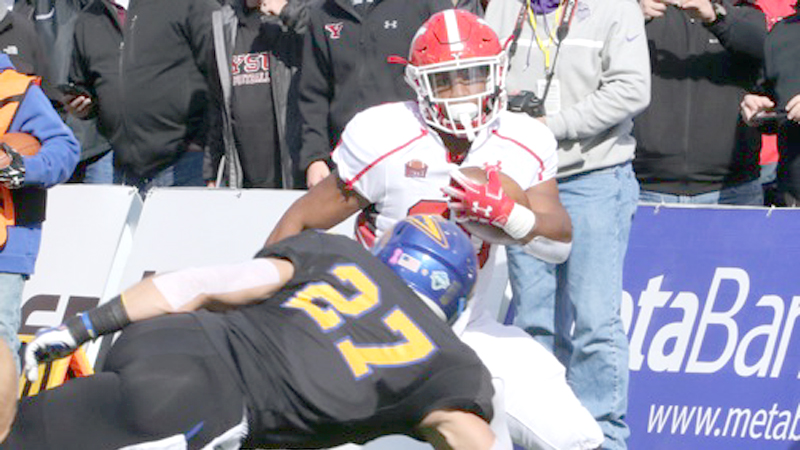 ---
By BRIAN DZENIS
bdzenis@vindy.com
Youngstown State's offense left the Penguins out in the cold for a 36-7 loss to No. 2-ranked South Dakota State.
Despite outgaining the Jackrabbits 344-331 in total yardage, three scoreless trips to the red zone doomed the Penguins (2-4, 1-2 Missouri Valley Football Conference).
"We just blew opportunity after opportunity in the red zone. If you don't take advantage of opportunities, then [the game] will get away from you," YSU head coach Bo Pelini said. "We probably tried too hard late in the game trying to make something happen."
After Montgomery VanGorder hit Christian Turner on a wheel route for a 27-yard touchdown in the first quarter, South Dakota State (4-1, 2-1) scored 30 unanswered points.
Saturday was marred by poor special teams play with Zak Kennedy going 0 for 2 on field-goal attempts, making him 5 for 12 for the season. The Penguins' opening drive ended with a Kennedy's field goal getting blocked. The Jackrabbits recovered and returned the ball at the YSU 25 and scored a touchdown two plays later.
Kennedy missed a 38-yard attempt in the second quarter after the team was backed up from SDSU's 6 to the 21 after Pelini was called for an unsportsmanlike conduct penalty. The call came after Pelini argued with officials over a missed timeout call.
"We had 12 guys yelling timeout and [the referee] acknowledged me, but didn't blow the whistle," Pelini said when asked what happened with the penalty. "Your guess is as good as mine."
The contest was close through the first half with the Jackrabbits' Mikey Daniel punching in a 1-yard touchdown run with 50 seconds left in the first half for a 16-7 halftime lead.
YSU got the ball back to start the third quarter, but went three and out and SDSU's C.J. Daniels broke off a 48-yard touchdown run on the ensuing drive. The contest went downhill from there.
VanGorder was 14 of 27 for 208 yards. He threw to interceptions in the second half, with one coming in the end zone. The Penguins mustered 99 yards in the second half and aside from the turnovers, they punted to end every drive. Kennedy punted four times for a 41-yard average in place of starter Mark Schuler.
Running back Tevin McCaster rushed for a team-high 60 yards and fellow back Christian Turner had 38 yards on the ground and was the team's top receiver with three catches for 60 yards.
"We came out and stunk on offense in the second half," Pelini said. "We just blew too many opportunities."
SDSU's Taryn Christion, the MVFC's all-time leading passer, was 7 for 16 for 78 yards and a touchdown while rushing for 89 yards and two additional TDs. Wilson ran for a game-high 119 yards.
YSU starting linebacker Christiaan Randall-Posey was carted off with a neck injury in the fourth quarter.
"Any time there's something with the neck, you're scared," Pelini said. "He had movement in his hands and arms. He said he had numbness in his arm and that's a little scary."
South Dakota State lost starting running back Issac Wallace to a hip injury in the first quarter. He was carted off and left the stadium via an ambulance.
YSU is in eighth place in the MVFC, sitting in front of Indiana State and Southern Illinois, both of which have yet to win a conference game.
More like this from vindy.com