Growing a beard led Bill Grischow to grow a business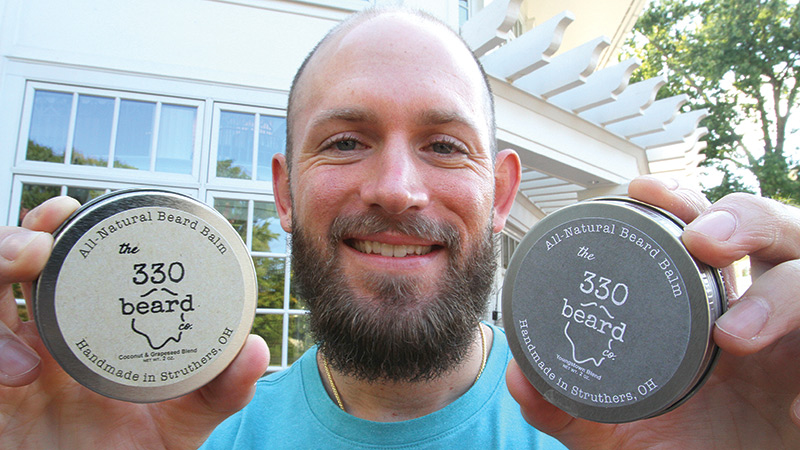 ---
By JORDYN GRZELEWSKI
jgrzelewski@vindy.com
STRUTHERS
When Bill Grischow started growing out his beard last summer, he invested in some products to keep his facial hair looking nice.
He tried different types of balms and oils, but was dissatisfied with all of them. Some were too oily; others weren't oily enough.
So, Grischow decided to take his beard care into his own hands.
He bought ingredients and started mixing concoctions in his kitchen. After some experimentation, he had a recipe that provided what he had been looking for – the best of both beard-grooming worlds.
The mixture was so effective Grischow decided to sell it – and that is how the 330 Beard Co. was born.
Now six months into his entrepreneurial venture, Grischow is a little amazed at how his idea has taken off.
"I set out doing this not to start a business, but to make it for me. Now I have hundreds of customers," he said.
Grischow started 330 Beard Co. with no prior experience in business.
In fact, the lifelong Struthers resident is a teacher. After graduating from Youngstown State University, he started teaching at Youngstown City Schools. He's been at Beaver Local School District for 11 years, where he teaches eighth-grade science.
"I have no business background. So after teaching and grading papers, I was researching how to create a business," he said.
His research led him to the Ohio Small Business Development Center at Youngstown State University, which provides assistance to entrepreneurs. He followed the steps the center recommended. In April, he officially started the 330 Beard Co.
Grischow now offers a line of four different beard-balm blends, priced at $11.99 per tin: hempseed and sweet almond, apricot kernel and pumpkin seed, coconut and grapeseed, and the "Youngstown" blend, made with argan oil.
Each blend serves a different purpose, Grischow said, with hempseed oil promoting hair growth and reducing irritation, for example.
"Each can has shea butter and beeswax, which gives the beard a nice hold," he explained. "The essential oils are organic. ... It's great for your skin, great for your beard."
All the balms are handmade and use all-natural ingredients.
Another feature of 330 Beard Co.'s products: All are made with local ingredients.
"All of my ingredients are sourced locally, within the 330 area code," Grischow said. "Not only is my name 330, all of my ingredients are, as well."
Youngstown-based Minuteman Press makes the balm labels; the beeswax comes from Kline Honey Bee Farm in Rootstown; and Bulk Apothecary in Streetsboro supplies the oils.
Grischow's business aspirations are local, too.
"One day, having a small factory here locally, providing jobs and having a storefront is my dream goal," he said.
The 330 Beard Co. sells its balm online at www.the330beardco.com and at markets in the area. Grischow, whose wife, Melissa, helps sell at events, will be at the Butler Museum of American Art for a holiday sale Dec. 1 and 2.
Visit "The 330 Beard Company" Facebook page for up-to-date information about where you can purchase some balm.
More like this from vindy.com