Trials and tribulations transform East's football program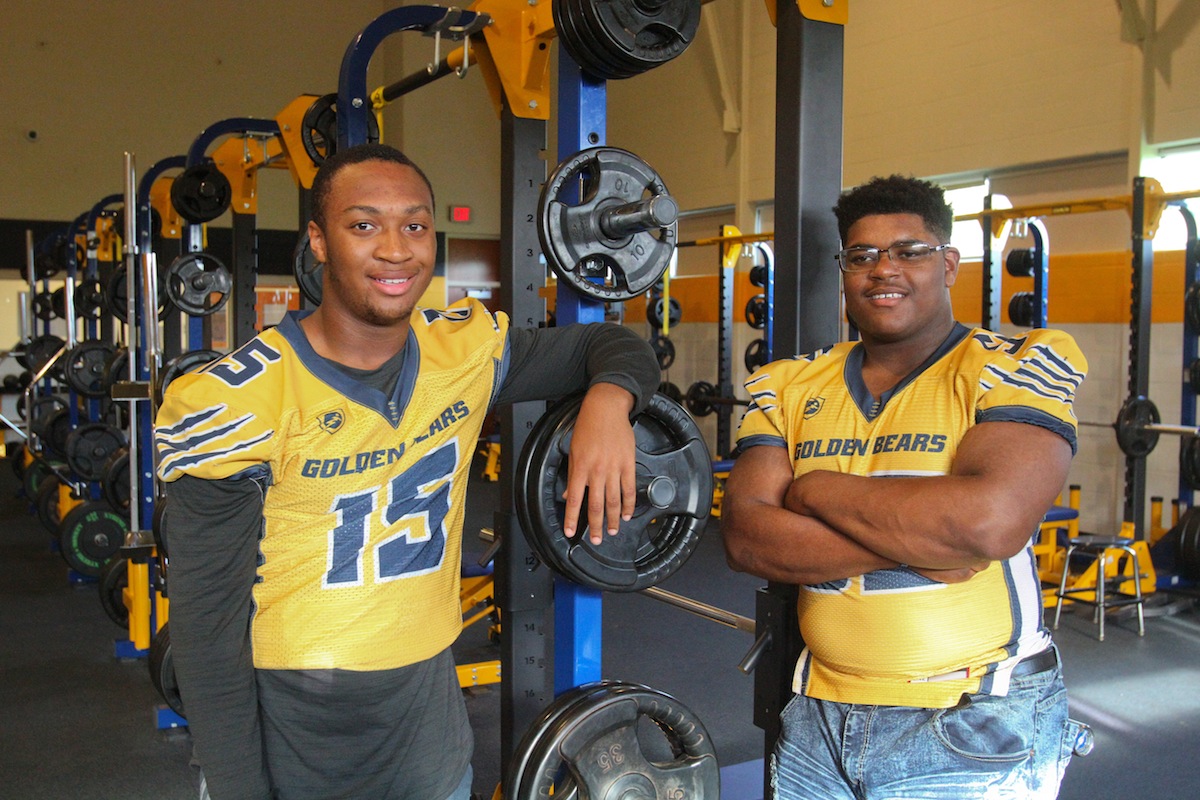 ---
Trials & tribulations transform East football
By Steve Ruman
YOUNGSTOWN
In many ways, the East High football program hardly resembles the program it was just three short years ago.
For starters, today's seniors were Panthers for the first half of their high school careers. They became Golden Bears in August of 2017 when district leaders decided to reintroduce the mascot of the original East High School, which existed from 1926 until its closure in 1998.
The football program has also been guided by three different coaches since 2015. P.J. Mays resigned at the end of the '15 season. Jerron Jenkins coached in 2016, then was replaced by current head coach Brian Marrow just before the start of the '17 campaign.
Less than a month ago, the Golden Bears were reassigned in midseason from Division II to Division IV. The move was a result of the return of sports to Chaney, and for a time it also jeopardized the eligibility of 12 football players.
Also this month, the program hit a snag when two assistant coaches were temporarily placed on leave pending background checks, a mix-up which has since been resolved.
From 2015-17, the program posted a 4-26 record.
Given the chaos and the struggles, it would have been easy for the current senior class which had to endure the many changes to just throw up the white flag on the 2018 season.
Then again, what appears to be chaos and struggles for some is just another day at the office for others.
"Most of us, we have had nothing but ups and downs our entire lives," said senior standout lineman Christopher Fitzgerald. "We face a lot outside of football, we always have. So whatever happens on the football field, it ain't going to bother us. It actually just brings us closer together and makes us stronger."
In fact, even with all of the madness — or perhaps because of it — East (5-2) is off to its best start since the 2007 team was 6-1 en route to an 8-2 finish. Last week's 10-0 win over Poland propelled the Golden Bears to a seventh-place standing in the Division IV, Region 13 computer ratings. The Golden Bears are one of just four teams in the region who currently control their playoff fate.
East is a perfect 3-0 in the Red Tier of the All-American Conference.
"My main goal has always been to change the community, to change the lives of these young men through sports," Marrow said. "If success on the football field is a by-product of our mission, then great.
"I know a lot of fans are surprised at what we're doing this year. Why? There always has been and there continues to be a wealth of talent, Division I talent in Youngstown. If we can keep these kids in Youngstown, we should succeed."
East began its season with a 26-6 loss to Boardman. The Golden Bears then reeled off three straight wins, spearheaded by a 34-7 victory over Ursuline.
"Against Boardman, we shot ourselves in the foot, we made mistakes that shouldn't have happened but I was really pleased with our effort," Marrow said. "Ursuline, that was a big win. Yeah, Ursuline is very young, they are down, but they are Ursuline. That win was big in the eyes of our community."
East suffered a hard-fought 13-0 loss to Austintown Fitch, then rebounded with a 42-10 trouncing of Howland. That was followed with the victory over Poland, which entered the game at 5-1.
Ironically, it was the loss to Fitch that may have set the table for the rest of the season, according to senior wide receiver/safety Marcus Finkley.
"We lost that game, but we came out of it feeling as though we could play with any team in the area," Finkley said. "We have three really huge games left. Most people won't give us a chance because of our history, but this is a different team. We know we belong, we know we can play with these teams."
Finkley, who has recorded a pick-six interception this year, is part of a Golden Bears defense which has greatly improved from a year ago. In 2017, the Bears allowed an average of 34 points per game. This year, they have surrendered just 80 points through seven games — an 11.4 average. Since giving up 26 to Boardman in Week 1, the Bears have surrendered just 54 points.
Marshall Herron leads the team with five interceptions. Delshawn Petrosky has three picks (two for touchdowns).
Fitzgerald has a team-high 44 tackles (nine for loss, three sacks). Jarail Jenkins (32 tackles, five for loss) and Blaine Spires (21 tackles, eight for loss, four sacks) have also contributed to East's stingy play.
"We hang our hats on defense, it's where everything starts and ends," Marrow said. "Last year, through no one's fault we all got a late start and had trouble catching up. This year we had the entire offseason and all of summer to work things out. We have the play makers. We just had to put everything in place."
Offensively, East is paced by senior running back Gei'vonni Washington, who has carried the ball 80 times for 484 yards through five games. Washington missed two games due to an injury. Zane Cylar (30 for 70, 639 passing yards, 417 rushing yards with seven touchdowns) guides the East offense from the quarterback position. Cylar's favorite target is Marquan Herron, who has 15 receptions for 308 yards.
"Everything revolves around our line, and we've added some nice pieces, some nice weapons to the skilled positions," Marrow said. "We've been steady offensively, and we're still growing. We still have room to improve."
Washington and Cylar are both Youngstown natives who attended Warren Harding High last year, but returned home this fall.
"We have to give the young men of our city a reason to stay in Youngstown," Marrow said. "You look at some of the top programs in the Valley over the past couple of decades, and a lot of those teams were led by players who were either originally from Youngstown, or who lived in Youngstown but went elsewhere."
Marrow believes that the perception of East High is changing, and the change of attitude is also bringing new life to the football program.
"I get that there are family ties to Ursuline and Mooney, I get that," Marrow said. "But to lose kids to other cities and other counties, that's hard to accept. Some people have a misconception about East. The reality is that it is a fantastic school, great administrators, a fantastic principal and athletic director.
"From a football standpoint, we have a beautiful stadium, a new weight room, new uniforms, our numbers are up (70 players). People who do come to East are like, 'Oh wow, I had no idea ...' This school and this football program has a lot to offer our kids from the city."
Marrow himself is a product of the Youngstown City Schools. He graduated from South in 1980, and began his coaching career at Wilson. Offensive coordinator Kevin Cylar is an East graduate, while defensive coordinator Chris Amill held the same role at Cardinal Mooney for 15 years. Other coaches such as Tamron Smith (former Youngtown State running back), Frank Rutherford (a former YSU lineman) and John Thompson all have ties to Youngstown.
"Kevin, Chris and myself all coached very successful little league teams in the city," Marrow said. "We've seen firsthand that there is a wealth of talent in Youngstown. People say that Youngstown City high school football can't be what it once was, but that's just not true."
Tonight, East will face the unenviable task of hosting Canfield — the state's top-ranked Division III team which has won 18 consecutive regular-season games. Next week, the Golden Bears travel to Warren (5-2), then they end the regular season Oct. 26 at Hubbard (7-0).
History suggests that East will be viewed as a rather large underdog in all three games. But the underdog role is something that is welcome, according to Finkley.
"We've been underdogs our whole lives," Finkley said. "That just gives us more motivation. It gives us an edge to prove the doubters wrong. We should be the underdog because all those schools have been strong for a long time. We still have a lot to prove, but I think we will surprise some people."
With the five victories, the senior class has already surpassed its win total of the past three years combined. Still, Fitzgerald said he and his teammates aren't satisfied.
"All the way back to last winter in the weight room we sensed a different mentality," Fitzgerald said. "Our goal has always been the playoffs. We proved to ourselves that we can play with anyone on our schedule. We just have to stay focused and trust our coaches and follow through on our game plan."
East can win the AAC Red Tier title outright tonight with a win over the Cardinals. The last East team to win a league title was the 1997 squad which posted a 3-0 record in the City Series. The '97 squad was also the last East team to qualify for the playoffs. That year, the Golden Bears defeated Jackson 20-14 in a Division III regional semifinal. The Bears then lost to crosstown rival Chaney 20-6 in the regional title game.
More like this from vindy.com