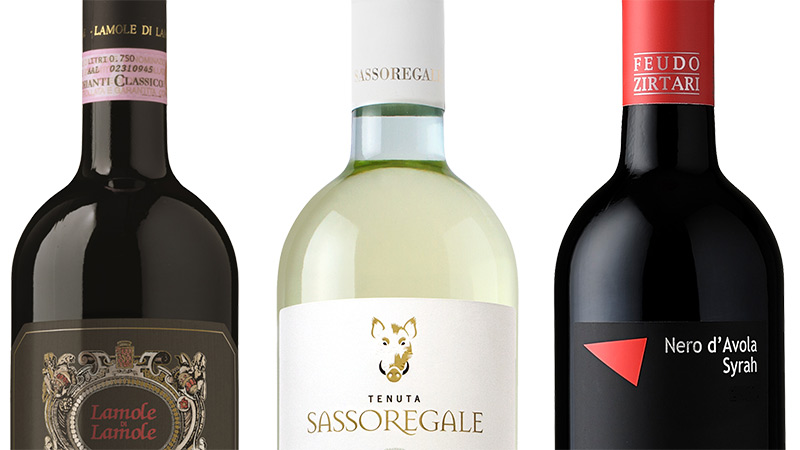 ---
By BRIAN FRY
myvalleyvino.com
Santa Margherita is one of the most recognizable Italian wine brands, with a high level of name recognition among Valley wine lovers. It's their Pinot Grigio that's the showpiece of the portfolio and the brand that helped build one of Italy's most comprehensive wine portfolios and has allowed the company to expand their impressive portfolio.
Santa Margherita's history dates back to it's founding by Count Gaetano Marzotto in 1935. Gaetano was a pioneer in his day, simultaneously cultivating vineyards in three regions he identified as having viticultural potential: Eastern Veneto, the Adige River and the hills of Valdobbiadene.
Their first wine was a Prosecco Superiore, which came before the more famous Pinot Grigio. Over the years, the Marzotto family has carried forward the Count's passion, creating an intriguing wine mosaic reflecting some of Italy's most important wine regions including Alto Adige, Veneto, Prosecco, Chianti Classico, Toscano Marrema, Sardegna and Sicily.
Caitlin McKenney, Santa Margherita's District Manager for Ohio and Kentucky, will be visiting our Valley later this month to showcase the portfolio. She's witnessed the evolution of her company from a front row seat, including two key acquisitions in 2018.
"In 2018, Santa Margherita USA we added two new wineries to our stateside portfolio; Ca' Maiol from Lugana and Cantina Mesa from Sardegna, upon our parent company's investment and acquisition of the estates. These two regions (Lombardy and Sardegna) both have unique terroir, winemaking history and native varietals that appeal broadly to wine lovers who are seeking beyond the "usual suspects" of Pinot Grigio and Chianti Classico.
The addition of these wineries to the already impressive mosaic has further secured Santa Margherita's position as one of Italy's most important wine companies. Importantly, these new additions add some really unique varietals that offer something truly different to lovers of Italian wines. It can be a challenge to find something new in "old world" Italy, but Santa Margherita has succeeded in keeping it fresh for consumers.
"Ca' Maiol works with Trebbiano di Lugana to create very elegant white wines with notes of orange blossom and a touch of minerality, which really pairs well with food. Cantina Mesa, on the island of Sardegna, crafts a few amazing wines from Cannonau (Grenache), which has a very savory flavor profile and can stand up to a variety of cuisines and cooking styles, such as slow roasted meats, which makes it perfect for fall and winter. With the addition of these two estates, we have broadened our offerings, by bringing our customers more choices, but also kept our portfolio interesting and affordable."
Here's a look at five wines from the Santa Margherita Portfolio:
2017 Tenuta Sassoregale Vermentino
The elegant and expressive nose is dominated by citrus and stone fruits framed by fresh herbs and minerality. Robust and round on the palate with generous concentration of fruits. It tastes rich but is utterly fresh with a persistent mineral-driven finish.
2015 Feudo Zirtari Nero d'Avola - Syrah Blend
Deep ruby red in color, it offers perfumes of fresh red fruits and a delicate, but appealing spiciness. On the palate, it is elegant yet full-flavored, with a supple and pleasantly refreshing texture.
2016 Cantina Mesa Primo Scura Cannonau
A quite intense nose, with hints of ripe red fruits and berries, as well as violet notes. The entry on the palate is long and refined. The wine has tremendous body with round acidity, supple tannins and a warm finish.
2013 Lamole di Lamole Chianti Classico Riserva
On the nose, the initial sweetish woody sensations make way for the elegant perfumes that are typical of Chianti Classico, such as hints of iris and spicy tones. On the palate, the tannic austerity of Sangiovese is truly traditional, and accompanied by the warm, savory notes of a wine destined for long aging.
Non-Vintage Santa Margherita Brut Rose'
Provides a full bouquet of pleasing floral aromas with hints of red berry, artfully crafted with a blend of white wine made from Chardonnay and Glera grapes and a red varietal, Malbec. Its flavor is delicate, but vibrant and well rounded, remaining on the palate and making this a deliciously easy-drinking wine.
Brian Fry is president and founder of the Valley Vino Wine Club and owner of Barrel33, a restaurant, bar and retail store in Howland, Ohio.
More like this from vindy.com