Substance turned a Canfield Township stream a cloudy white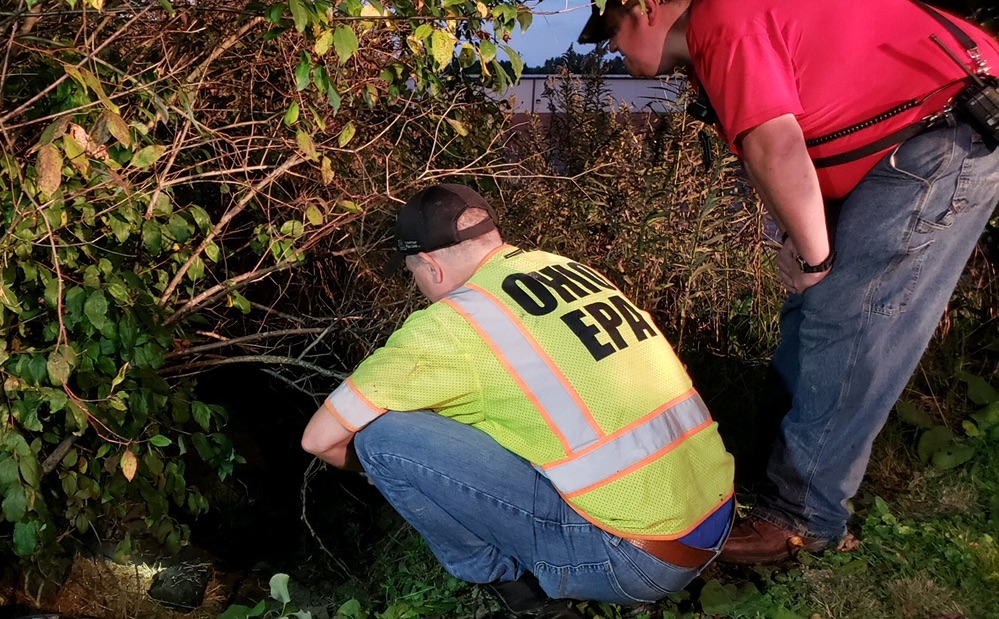 ---
By JUSTIN DENNIS
jdennis@vindy.com
CANFIELD
Local responders and Ohio EPA officials worked Monday night to locate the source of an unknown substance found in a stream behind Canfield High School earlier in the day.
Adam Noble, deputy chief of the Mahoning County HazMat Team, said residents living along South Briarcliff Drive at about 3 p.m. Monday reported the stream had turned a cloudy white. "It's a really heavy, whitish-gray, milky color — that was what caught people's attention," he said.
Acidity tests showed the water was slightly acidic near the high school — where the stream intersects a bike trail — but closer to neutral farther down the stream's path, he said. He noted Monday evening the cloudiness had dissipated since crews had arrived hours earlier.
Crews didn't turn up any evidence during interior and exterior searches of nearby factories, Matt Rarick, Cardinal Joint Fire District deputy chief, said late Monday.
He said the fire department flushed the stream, as Canfield City public works department workers continued to vacuum water from the stream Monday night. Responders also placed three more filter dams along the stream.
Responders will resume searching for the source of the contamination this morning, he said.
Responders fanned out from the high school to locate the stream's exposed entry points, marked by pairs of black, plastic corrugated piping. The stream forms a box-like shape around Cardinal Drive to the area of St. Michael Church to South Briarcliff Drive, Noble said.
The stream catches a large amount of storm water from U.S. Route 224, Noble said.
Responders on Monday evening placed small bales of hay in the stream's path to act as a filter. Rarick said he did not notice any affected wildlife, later adding a retention pond downstream was also uncontaminated.
An Ohio Environmental Protection Agency agent arrived at the high school Monday evening to assess the contamination and plan a response.
More like this from vindy.com