Poland hosts Big Dog Little Dog mentorship program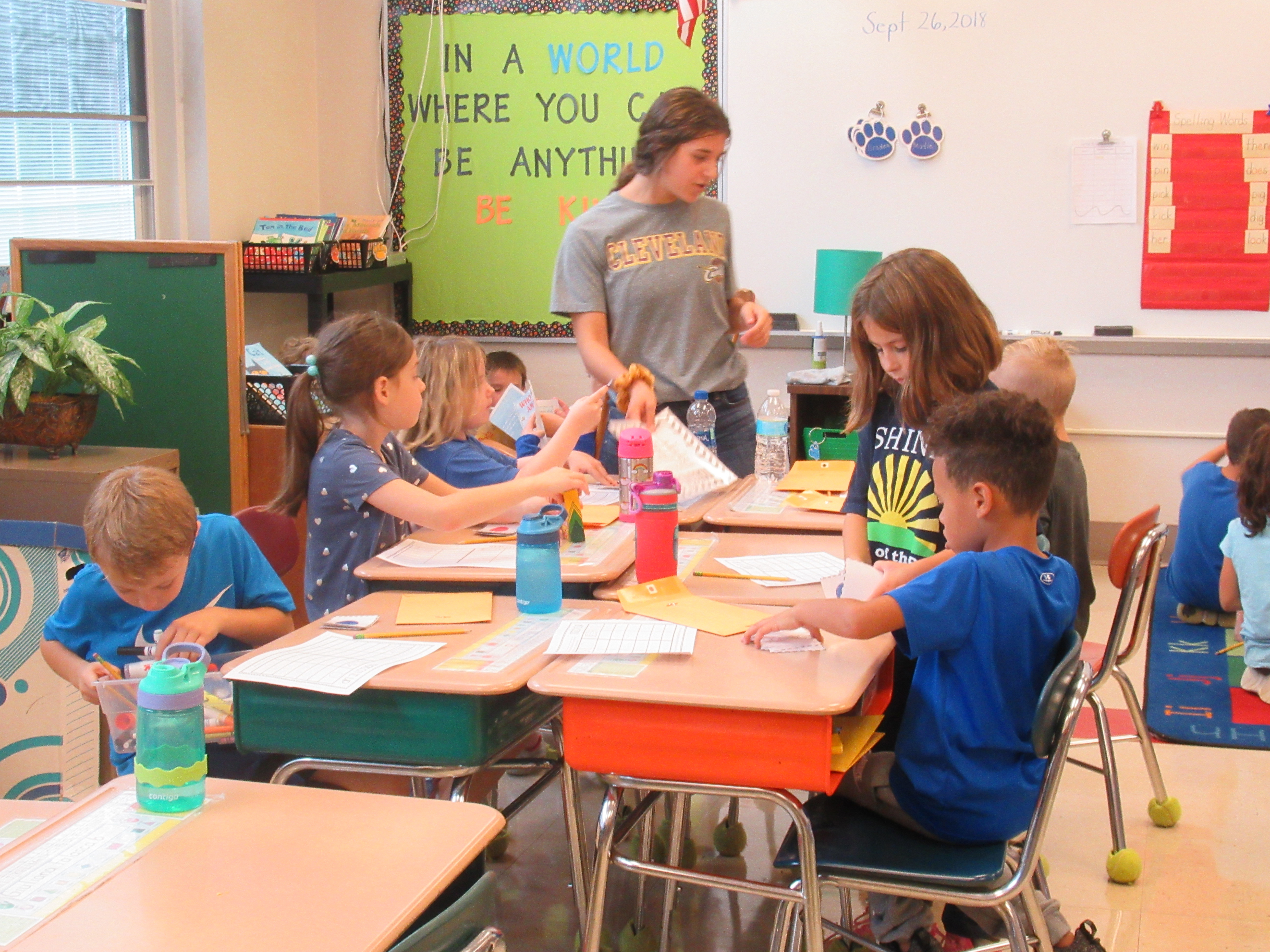 ---
By JESSICA HARKER
Poland schools kicked off the fourth year of their Big Dog Little Dog mentorship program Sept. 26.
Students from Poland Seminary High School took time out of their school day to go to Poland Union Elementary and spend time assisting in classes.
Students from any grade level at the high school are welcome to volunteer for the program, and spend the day helping students with class work, and even in gym class.
"Its a great program, all of the elementary school kids love it," Mike Masucci, principal at Poland Union Elementary School, said. "Its one of the highlights of our school year."
High school students visit the elementary school multiple times a year to volunteer. Hannah Balash, a senior at Poland Seminary High School, has volunteered for the program for four years.
"Its fun, I mean you get out of class and its great to see them," Balash said. "Everything is very different from when I was in elementary school and its so much fun."
Balash spent a portion of her day helping students during the gym class. She said she has volunteered in a different capacity every year. Balash said she helped one year in the guidance counselor's office, helped with one on one tutoring and even got to assist in the special needs classroom.
"They get excited, and have a million questions always," Balash said. "They have so many cute personalities and they are all your best friends instantly."
Hannah Masucci, a freshman at Poland Seminary High School, also attended the program for the first time.
"Most of my siblings did the program, and they encouraged me to do it," she said.
She was even able to volunteer in the classroom that she used to attend when she was a student at Poland Union.
"It was weird but cool to be able to come back here and see everyone who practically saw me grow up," she said. "They all know me and its great to be able to give back to a place that means so much to me."
She spent the day helping students learn colors and do homework assignments in a first grade class room.
"It's a lot of fun and the kids always love it," she said.
The beginning of the program coincided with Start with Hello week at the Poland school district.
Start with Hello is a program started from the Sandy Hook Promise that works to honor the children effected by the mass tragedy by working to end social isolation in schools.
Mike Masucci said that to reward students who participate in the program the schools give away four or more $400 scholarships to graduating seniors.
"The students have to have participated in the program, and write an essay about how the program effected them and the impact they think they had on the younger students," he said.
He said that he hopes to expand the amount of money the scholarship gives out as the program continues to grow.
"It's all about community and this idea of having positive role models and mentoriship," he said.
Balash said that she hopes to see more people participating in the program in the upcoming years.
"I definitely look forward to it, its a lot of fun. More people should do it, we need more high school students," Balash said.
More like this from vindy.com