Fifth annual Survivor Run raises cancer awareness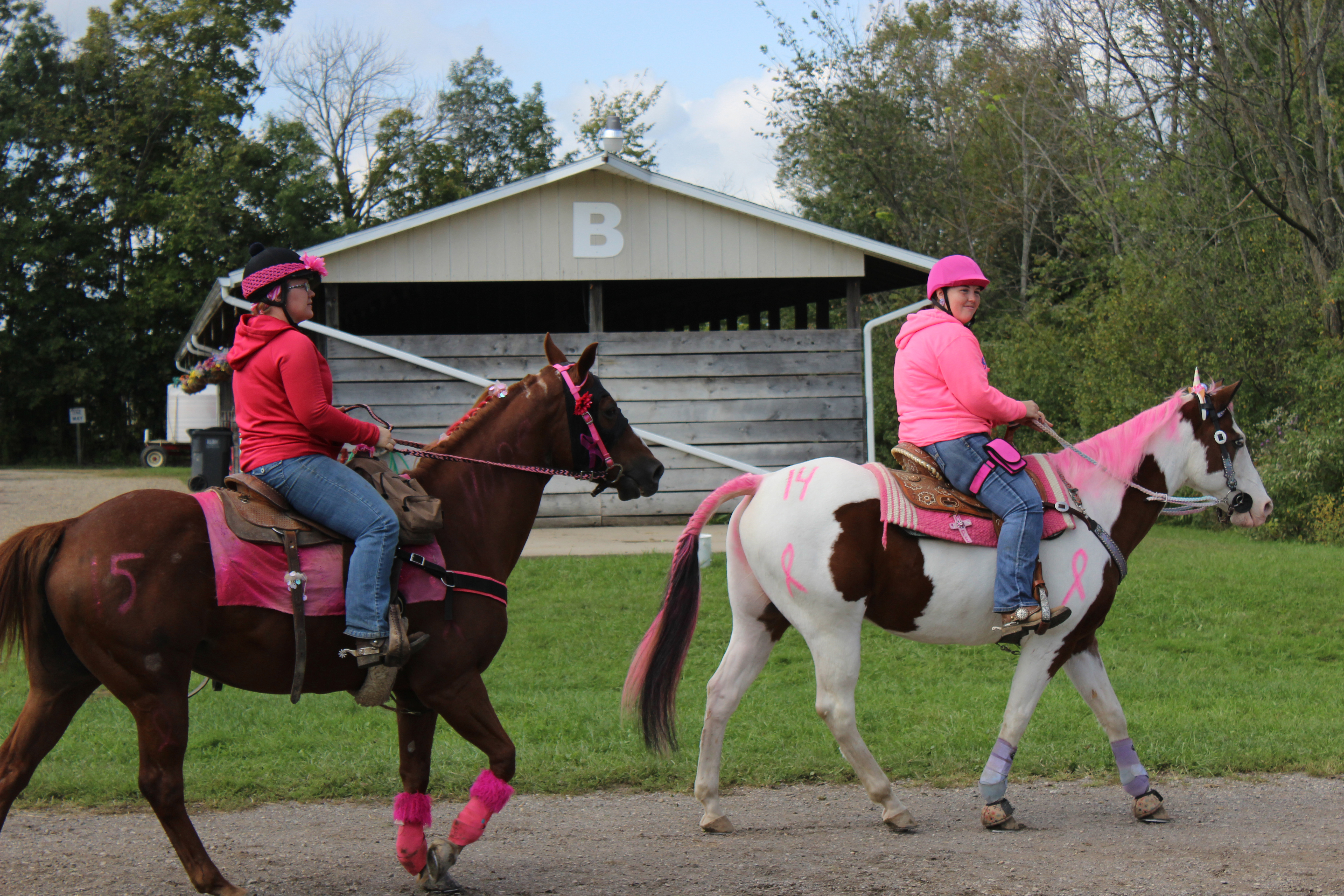 ---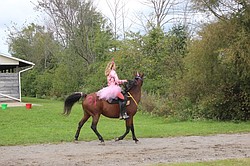 Photo
Neighbors | Abby Slanker.A rider and her horse headed out on the trail, decked out in pink, at Buckeye Horse Farm to participate in the fifth annual Survivor Run on Sept. 29.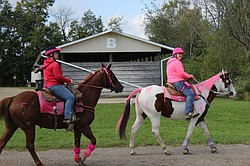 Photo
Neighbors | Abby Slanker.Participants in the fifth annual Survivor Run at Buckeye Horse Farm got into the spirit of the day by dressing in pink to show their support of breast cancer survivor Sallie Sullivan before hitting the trail.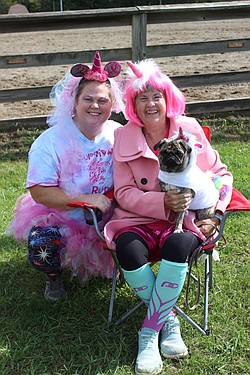 Photo
Neighbors | Abby Slanker.Sallie Sullivan (right) a breast cancer survivor, and her daughter, Megan Hruska, were joined by Sullivan's dog Penny while decked out in their best unicorn gear in support of the fifth annual Survivor Run Hruska organized to honor her mother and other breast cancer survivors and to help spread awareness of early breast cancer detection on Sept. 29.
By ABBY SLANKER
The fifth annual Survivor Run, organized by Megan Hruska, took place at Buckeye Horse Park on Sept. 29.
Hruska, a life-long horse enthusiast, started the Survivor Run in honor of breast cancer survivors, including her mother Sallie Sullivan. Proceeds from the ride are donated to the Joanie Abdu Comprehensive Breast Care Center to support Joanie's Promise Fund.
The Survivor Run consisted of a six-mile trail ride and a 12-mile trail ride to help spread awareness of early breast cancer detection and to get others involved in Sullivan's passion for riding. This year's theme was unicorns.
Approximately 50 riders, decked out in pink and some in unicorn costumes, participated in this year's Survivor Run. Riders and volunteers showed their support and many embraced the unicorn theme with headbands, T-shirts and wigs. Not to be left out, several horses were decked out in pink, with the added touch of a unicorn horn.
"This year's event is our biggest with 50 riders. Over the past five years, we have grown quite a bit. We are here to introduce the sport of endurance riding to people who may have an interest in it and want to learn more about it. We are also here to raise awareness and want to encourage people to be aware of their own bodies and be their own health advocate. That's how early detection occurs and it occurred with my mom, which was a definite help to her and her process. Through this event, we are raising awareness and we are out here to have a good ride, a good time and spend time with family and friends," Hruska said.
The event also featured a Chinese auction, with donations from members of the riding community. Food was also provided for the riders throughout the day and apples were provided for the horses. Each rider also received a 2018 Survivor Run T-shirt.
Hruska and Sullivan moved to South Carolina, but returned to Buckeye Horse Park to continue the Survivor Run.
"I moved to South Carolina at the end of last October. My mother had already moved, as she was diagnosed with bone cancer. She has a great team down there and they have given her hope and have given many options. It was a good move for her. But we wanted to come back and raise money for Joanie's Promise Fund. And with all of our connections here in the riding community and all the help of our volunteers, it makes it easier for us to continue this very important event," Hruska said.
More like this from vindy.com