Evolution of breast cancer treatment means more survivors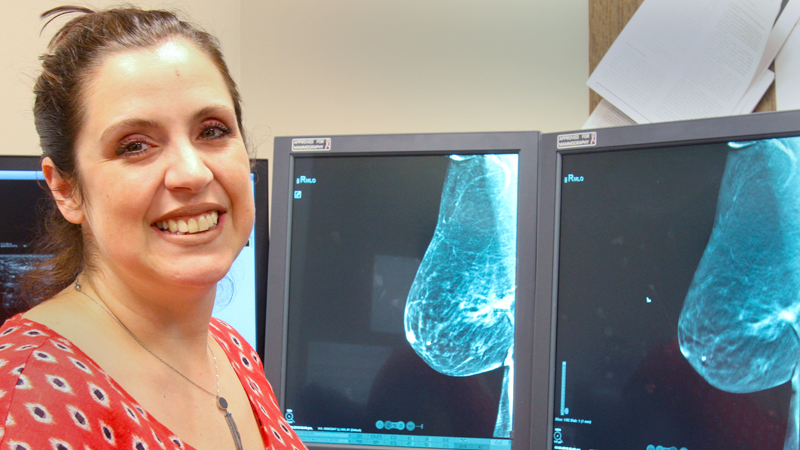 ---
By SAMANTHA PHILLIPS
sphillips@vindy.com
YOUNGSTOWN
Kathy Flickinger of Youngstown was diagnosed with stage four breast cancer when she was 41 years old in 1998.
Doctors told Flickinger, a mother of four, she had only five years to live.
Her daughter had just gotten married, and she prayed she could experience being a grandmother before she died.
"I thought I was going to die," she said. "It was very emotional. I didn't know if I would see my kids grow up."
After six surgeries and several chemotherapy treatments over a year and a half, the cancer was gone.
Now, the cancer-free Flickinger volunteers with the American Cancer Society to help put on events such as the Mahoning County Relay For Life, and she enjoys spending time with her 14 grandchildren.
"Every day is a miracle," she said.
Studies show one in eight women will be diagnosed with breast cancer.
October is Breast Cancer Awareness Month, and it's a good time to be refreshed on the facts.
Alexis Smith, co-medical director of the Joanie Abdu Comprehensive Breast Care Center on Belmont Avenue, debunked a couple of breast cancer myths.
First, she explained that breast cancer in its early stages is not always painful. In fact, sometimes there will be no symptoms.
That's why it's vital that women older than 40 get yearly screenings and diagnostic screenings if they notice symptoms, she said.
"A cancer can grow to a very big size before you feel any symptoms," she explained. "That's why women were dying more often before mammograms came along. They wouldn't find something until it was advanced."
Second, not having a family history of breast cancer doesn't mean a person is risk-free. A majority of women who are diagnosed don't have a family history of breast cancer, Smith said.
Symptoms include nipples inverting or pulling in, skin getting red or dimpling over the breast, nipple discharge and hard lumps in the breast or armpit.
She advised if the lump is hard like a rock and doesn't move, it should be checked immediately.
There is a 97 to 98 percent cure rate for women with stage-one breast cancer, Smith said.
Nancy Gantt, co-medical director at Joanie Abdu, pointed out the biology and genetics of the tumor will determine how aggressive it is, not necessarily the size. She said the staff will do as many mammograms or biopsies as needed to assess the patient thoroughly.
"We're like dogs with bones. We don't let go ... until we figure out what's going on," she said. "Women leave here empowered. They have this whole team behind them."
Alexandra Houser-Vukoder, spokeswoman for the Ohio branch of the American Cancer Society, said self-examination is important so women can recognize when there are abnormalities, but it doesn't replace the need for mammograms.
"If you get further testing and there's no cancer, then there's peace of mind," she said. "If it is cancer, then you can start a treatment plan and get prepared."
Treatment and screening options are advancing.
Tomosynthesis is a 3-D mammography method, and it helps medical professionals more accurately find and diagnose patients.
There are also drugs that can provide a more directed approach to chemotherapy for certain types of tumors with fewer side effects.
The program Joanie's Promise covers screenings financially for women who qualify, and the center's mobile mammogram van travels to different sites to perform screenings.
More like this from vindy.com