VanGorder steady despite YSU's 1-3 start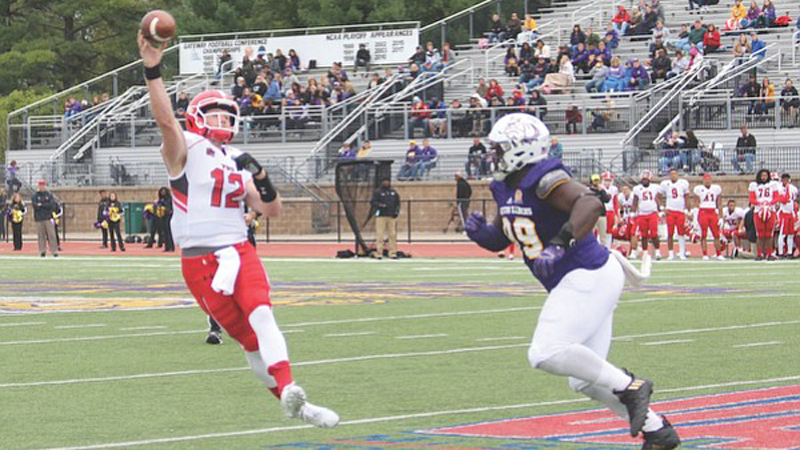 ---
YSU quarterback's
play has been steady
despite 1-3 start
By Brian Dzenis
YOUNGSTOWN
Montgomery VanGorder had a record-setting day against Western Illinois because he was asked to do it.
The senior signal-caller set three program records during last Saturday's 45-38 defeat at the hands of the Leathernecks. His 57 attempts, 33 completions and 418 passing yards are the new marks. He couldn't recall a time where he's seen that much usage.
"I was joking with the guys that I threw more in that game and I did when I was a junior in high school," VanGorder said. "We do whatever [offensive coordinator Brian Crist] thinks we need to do to win and that involved trying to throw the ball that many times. If that's what we need to do, it's what we need to do."
The original record holders were Brandon Summers with 32 completions in 2008 and YSU's yardage and attempts record went as far back as Denny Klembara in 1968.
Bo Pelini called VanGorder's outing as one of "necessity." It was a product of falling behind 30-10 midway through the third quarter and the running game struggling. The Penguins (1-3) managed just 55 yards on the ground. Pelini has never won a game with YSU when his teams have mustered less than 100 yards on the ground.
"In the run game, we mis-targeted some things. We left some big plays out there in the run game. Big plays — monster plays — where if one guy did what he was supposed to do, we would have been in the secondary in a heartbeat," Pelini said. "We end up with no gain or a loss of one and that's killing us right now."
In addition to the yardage, VanGorder passed for three touchdowns. He had two picks, one of which Pelini said wasn't his fault.
"The first interception wasn't on him. It was the route. It was on the receiver," Pelini said. "He made the right read and the right throw but [the receiver] ran the wrong route — the wrong split.
"We came back to that play later in the game and we scored a touchdown on it. Those are things that really irritate you as a coach."
Approaching the halfway point of the season, VanGorder has been a steady presence. His 10 passing touchdowns are one short of tying for the Missouro Valley Football Conference lead and his 1,011 passing yards are fourth. In four games, VanGorder has had just three interceptions and three sacks. Of the four quarterbacks who have either more yards or TDs, he's tied for the least amount of turnovers.
"I feel comfortable, but a quarterback will be judged on the record of the team and we're 1-3, so I'm not feeling good about that," VanGorder said. "In terms of getting into a rhythm, I feel good. I feel like I should start games in more of a rhythm. I could get better as the game progresses.
"We've kind of done that as a team. I was happy that we scored more points in the fourth quarter than we have all season," he added. "It was one of our goals that we score more points in the first quarter and the fourth, but in terms of myself, I haven't been consistent enough early on."
While the Penguins are trying to fix various issues heading into Saturday's Homecoming contest against Southern Illinois, VanGorder isn't considered to be one of them.
"I think he's playing pretty good football," Pelini said. "We have to play better around him. I can tell you that."
More like this from vindy.com