Mansion in Minerva offers fine dining in an elegant setting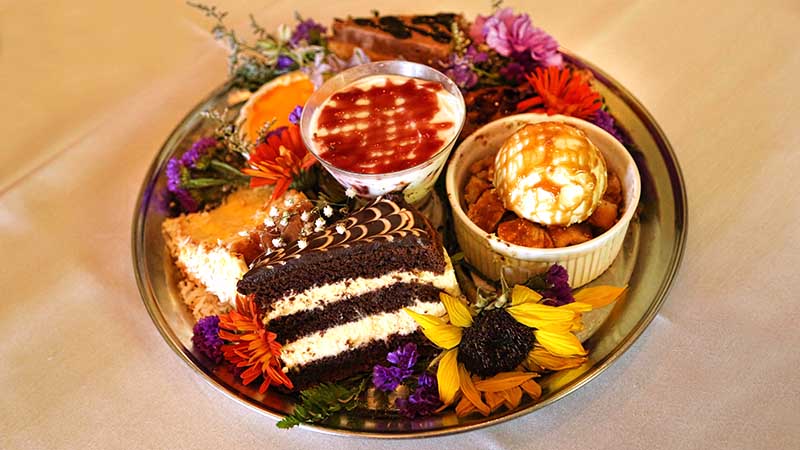 ---
MINERVA
I first discovered Hart Mansion Restaurant while browsing social media and noticing a photo of a beautiful Victorian mansion high on a wooded hilltop. The headline above the image promised fine dining in an elegant, historical setting, and immediately my interest was piqued.
With a little help from Google I learned the circa-1869 Italianate home was located in Minerva, which is about 42 miles southwest of Youngstown, and the restaurant was renowned for its sumptuous cuisine and romantic atmosphere.
IF YOU GO
What: Hart Mansion
Where: 411 N. Main St., Minerva, OH.
Hours: Wednesdays and Fridays 11:30 a.m. to 9 p.m.; Thursday 5 to 9 p.m.; Saturday 3 p.m. to 10 p.m.; Sunday 11:30 a.m. to 2:30 p.m.
For more info: Call 330-868-4278 or online at https://hartmansionrestaurant.com/
Reservations: Requested by email must be 2 weeks prior to date.
Please call for parties of 8 or more
How had I never heard of this place? Intrigued, I was determined to visit.
It took me another year to fit it into my busy schedule, but finally a few weeks ago I dined at Hart Mansion Restaurant. It was pretty much as wonderful as I had imagined it would be. Anyone seeking a special dining experience beyond the usual neighborhood eateries or chain restaurants should definitely add it to their destination list.
Maybe it's the way the mansion sits up on a hill all by itself overlooking quaint downtown Minerva, but there's a definite aura of mystery and regality about the place.
When you step through the front doors, a grand staircase and graceful dining rooms with high ceilings, tall windows and Victorian fireplaces greet you, leaving an immediate impression of opulence.
But manager Vicki Phillips, who is also one of the mansion's owners, said it's the food that keeps people coming back.
"People come here the first time for the atmosphere, but they come back for the food," Phillips said.
After sampling some of what's offered on the menu it didn't take me long to see why.
The first item to please my palate was an appetizer medley consisting of bruschetta, Maryland crab cakes and spinach and artichoke dip.
Lightly crisp with generous lumps of crab meat and drizzled with a sublime lemon cream sauce, the crab cakes were amazing. The cheesy spinach and artichoke dip, which was perfectly paired with a warm pita bread, was the best I've ever had. The bruschetta looked as beautiful as it tasted—the ciabatta bread crowned with fresh tomatoes, pesto and parmesan cheese.
Appetizers range from $8 to $12 each and other options on the menu include shrimp cocktail, stuffed banana peppers, stuffed portabella and crab stuffed shrimp.
After the appetizers, the server brought a sampling of soups and salads. I tried a Caesar salad and a house salad with a light, refreshing raspberry vinaigrette.
The mansion serves wedding soup year-round, and during the fall the pumpkin soup is renowned seasonal favorite. The hearty wedding soup is perfect for a chilly fall afternoon, but unfortunately I visited the mansion before the popular pumpkin soup had made it back on the menu.
If I haven't already made you hungry, the mansion's list of entrees will have you salivating.
Patrons can select from seafood delicacies such as orange roughy and shrimp al forno ($26), caribbbean mahi mahi ($25), and horseradish salmon ($25).
Steak lovers will adore the Tuscan filet medallions ($27), balsamic Delmonico ($25), filet mignon ($25), or hand cut ribeye ($26).
The menu also includes chicken, pork and pasta dishes.
I had the caramel apple pork ($22), a savory dish featuring tender pork medallions saut ed with sweet caramelized apples and crunchy pecans and served alongside a colorful potato medley.
I also tried the horseradish salmon, a house favorite featuring Atlantic salmon baked to flaky perfection with a coating of horseradish breadcrumbs and a slathering of lemon cream sauce.
Both of these entrees were phenomenal. Phillips's husband, executive Chef Chuck Rollins, is the mastermind behind Hart Mansion's superb culinary creations. With a background in the restaurant industry, Rollins is a self-taught chef who has a knack for combining spectacular tastes and textures.
Speaking of spectacular—if you visit Hart Mansion Restaurant do not leave without indulging in dessert! The lavish dessert menu offers decadent concoctions such as cr ®me brulee, coconut cream cake, white chocolate cheesecake, brandy Alexander chocolate torte, chocolate peanut butter mousse and apple brown betty.
Hart Mansion Restaurant opened in October 2008 and celebrates its 10-year anniversary this month.
"My aunt, Pat Miller, bought the mansion at auction in 2003 with the intention of donating it to the historical society, but the historical society couldn't afford to maintain it, so we eventually turned it into a restaurant. We had never owned a restaurant before, but both my husband and I had backgrounds in the restaurant industry," Phillips said.
A Minerva landmark, the mansion sits on four acres. George Yengling, its original owner, had a dry goods store and became one of the area's largest dealers in grain and wool. In 1899 when he died, his wife sold the home to Hiram Hart. It then remained in the Hart family for 93 years.
If you plan to dine at the mansion, reservations are strongly recommended. Dinner attire is business casual.
More like this from vindy.com