Girard looks to finish the job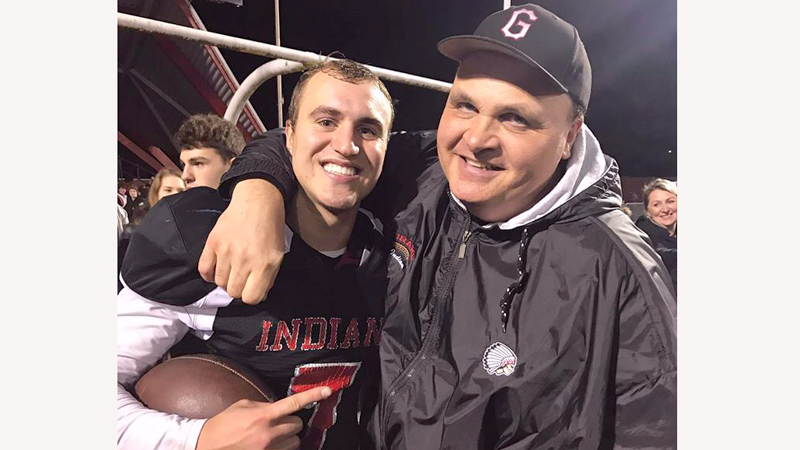 ---
It's Cowboys and Indians in D-IV
state final Saturday in Canton
By BOB ETTINGER
GIRARD
Girard football coach Pat Pearson has found a way to keep the Indians from looking too far into the distance and play each game for the right to come back for one more Monday as a group.
Now the Indians have run out of Mondays to play for in reaching the Division IV state championship game, so Pearson was forced to change his message to the team as it prepares for one last battle.
"We talked about that [Monday] at practice," Pearson said. "This is the last Monday. We're still always trying to get better day to day. We're still always trying to win the day. We want to go out and make each other and the community proud. We want to finish on our feet. We want to finish standing tall. We want to stay together. We want to stay a family. What a special ride this season has been. We want to finish it the right way."
Girard (13-1) will go to war with Wyoming (14-0) at Tom Benson Hall of Fame Stadium in Canton on Saturday at 8 p.m.
"(The Cowboys) are big and they're really skilled," Pearson said. "They play really, really good defense. They have some really explosive kids in the skill positions. We'll have our hands full."
Pearson's message to the team has been so well-received, he believes the Indians would be all too happy to come back with another Monday together as the prize given the option of that or the trophy that awaits.
"We weren't chasing rings or banners when this all started," Pearson said.
"Our cause was playing for the guy next to us. I'll be honest. If you gave the guys the choice of winning the game and getting a ring or winning the game and they get to keep going, they'd choose to keep going. That's what we've done since Week 7. We knew we couldn't afford another loss after losing to Hubbard in Week 2. We've been playing for the guy next to us. Now, we're playing for the Mahoning Valley, too. These are hard-nosed, tough kids who are family-oriented. We're proud and we're blessed to be a part of all that. In my mind, these guys are champions either way. We're just going to play Girard football and how it ends up is how it ends up."
Wyoming's main threat will be quarterback Evan Prater, who has passed for more than 1,500 yards and run for nearly 2,000 more.
"It will be a heck of a challenge," Pearson said.
"We've played some really good [quarterbacks] over the last few weeks. We have to try and get the ball out of his hands and make the other guys make plays. I feel good about our defense. The best thing is there will be 11 of us [on defense] and just one of him."
Quarterback Mark Waid might be the first Indian to fire an arrow, but there's a pride behind him waiting for their chance to play the hero.
"Mark Waid drives the train," Pearson said.
"Our offensive line is amazing in the way it blocks and opens holes. We have seven or eight guys who touch the ball every game. In my opinion, we have the best quarterback in the state of Ohio, seven or eight guys who make plays and an amazing offensive line. For those guys, it's a matter of whose turn is it now."
Pearson has been telling the Indians for half of their season they'd either be state champions, or they'd get beaten. Turns out, he couldn't have been more right.
"To be honest, I'd said that in Week 7 to take out the fear and nervousness," Pearson said.
"I told there is one of two ways this was going to end. We would be state champions or somebody was going to beat us. If somebody beat us, they were going to be worthy of being the state champions. We had the vision we'd get here, but it wasn't about this game. It was about earning the opportunity to get here. It was just about getting that next Monday together. This week, we want to take care of each other, make the community proud and earn the respect the boys feel like they deserve but haven't gotten to this point."
More like this from vindy.com