---
Friday, November 30, 2018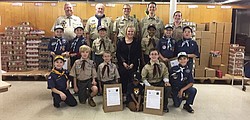 Photo
Neighbors | Submitted.Some of the members of Cub Scout Pack 25, chartered to Canfield United Methodist Church, recently paid a visit to the Canfield Operation Blessing food pantry to learn about their efforts to feed those in need in the community, as well as to establish their first food drive to benefit the organization. Pictured are, from left, (front) Sammy Burkey, Jamie Jarvis, Alex Bort, Victor Flowers, Zach Bostocky, Adam Nastasi; (middle) Drew Jursa, Noah Jursa, Aidan Kerns, Julie Kercher - Operation Blessing director, Kaden Flowers, John Styranec, Scott Burkey; (back) Jason Henry - Cubmaster, Gary Yankowski, Tim Styranec, Michael Bort and Hazel Jarvis.
All of the families of Canfield's Cub Scout Pack 25 will be working hard on their first food drive to benefit the Canfield Operation Blessing this Christmas season.
They hope to host the food drive every year.
They will be collecting food three different ways to reach out to the community finishing up on Dec. 15 at Canfield United Methodist Church. Beginning the week of Nov. 27, they will be distributing paper bags to all their neighbors, families and friends and picking up the bags by Dec. 14. They will be distributing flyers to the congregation of Canfield United Methodist Church on Dec. 2, asking the congregation to bring a donation to the church services on Dec. 9. They will also distribute flyers at Hilltop Elementary School on Dec. 7, asking anyone who can help to bring their food donations to Canfield United Methodist Church on Dec. 15 between the hours of 11 a.m. until 1 p.m. Anyone wishing to donate that did not receive a bag or flyer can simply bring their donation to the church on Dec. 15 from 11 a.m. until 1 p.m. Canfield United Methodist Church is located at 27 S. Broad St. (on The Green) in Canfield.
Apple sauce (25 ounce jar), corn (15.25 ounce can), dish soap (16 fluid ounce), green beans (14.5 ounce can), jelly (32 ounce jar), macaroni and cheese (16 ounce box), pancake mix (2 pound), peanut butter (18 ounce jar), Park-n-Beans (16 ounce can), potatoes (13.3 ounce instant), rice (14 ounce instant), soup (10 ounce canned or 6 ounce Ramen noodle packs), spaghetti (1 pound), spaghetti sauce (10.5 ounce) and syrup (24 ounce) are the items given out each month by Operation Blessing. They place an order approximately 3-4 times a year and purchase these with the monetary donation they receive. If you would like to make a food donation, use this list as a guide; however, any and all food items are greatly appreciated.
For questions, call Shannan at 330-727-0247. For more information about the efforts of Canfield's Operation Blessing, check at their Facebook page at Canfield Operation Blessing.