Canfield High School commemorates Veterans Day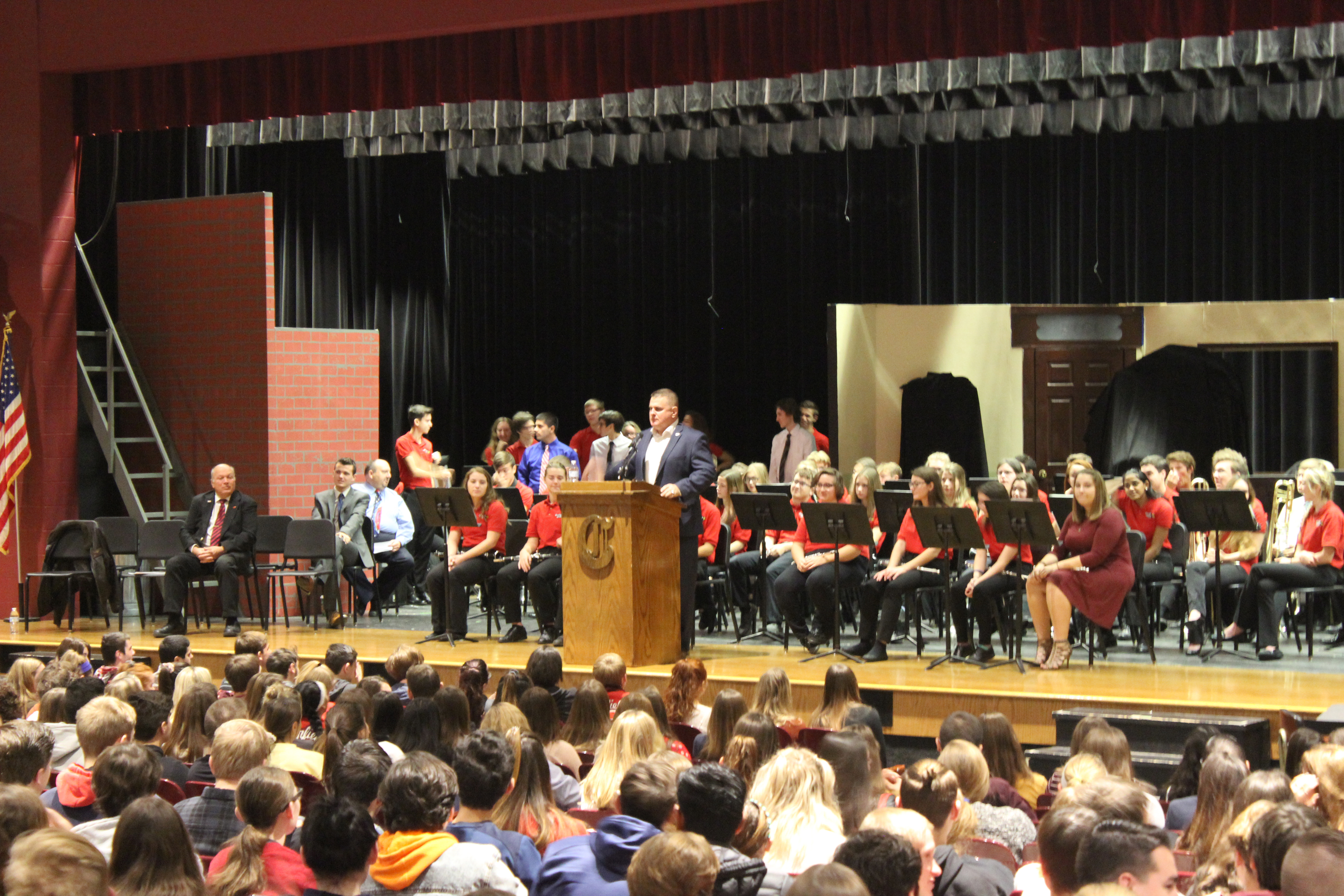 ---
By ABBY SLANKER
Canfield High School students, faculty and staff honored veterans at the school's annual Veterans Day Assembly on Nov. 12.
The assembly featured guest speaker Brian Kennedy, U.S. Marine Corp.
Canfield High School Principal Mike Moldovan welcomed everyone to the assembly.
"Welcome to our many guest veterans and community members. It is an honor and privilege to honor all vets. Today we take time out of our day to recognize and thank veterans. They protect the freedoms of American life. They have unselfishly placed their lives on the line for our freedoms. We owe them our deepest respect and unwavering gratitude," Moldovan said.
After the posting of the colors, Moldovan led the auditorium in the Pledge of Allegiance. Under the direction of Kelly Scurich, CHS choir director, the One Octave Higher choir then performed "The National Anthem" followed by "Give Me Your Tired, Your Poor." The Canfield High School concert band, under the direction of Band Director Mike Kelly, followed the choir with "The National March."
Vince Patierno, senior class president, introduced guest speaker Brian Kennedy, U.S. Marine Corp.
"We are tremendously honored to have this great man with us, Colonel Brian Kennedy. It is a distinct honor and privilege to welcome him to our great school this morning," Patierno said.
"Thank you. I greatly appreciate the warm welcome. Veterans Day and Memorial Day sometimes get confused and wound together. But that's okay because at least we are remembering somebody. It doesn't matter. When you remember someone, it's okay to do it everyday, along with Veterans Day," Kennedy said.
Kennedy continued by focusing on how everyone can work together.
"What can we give to one another? We need to put aside our differences - our different backgrounds, our different political views - and work more together in unison. This is the key issue of what faces us today. Do we have the capability to look after each other? There is one vital, simple concept that can help us, and that is the emotion of love. The concept of love draws us on the battlefield to do things for one another. We don't want to let them down," Kennedy said.
Kennedy then spoke about the students' generation.
"With all these electronics today, it is difficult to show love through electronic media. You can show more hate than love that way. My generation can learn more from you than you can learn from us. We have no answers for the opioids epidemic and the current political discord. My generation won't solve these problems. Your generation can solves these problems and we can follow you. What you do for one another is what matters. It's wonderful to look out and see the youth of America and as years go by, we are, I feel, in good hands. Thank you," Kennedy said.
The Canfield Chamber Ensemble, under the direction of Scurich, then performed "America the Beautiful." The concert band then played "Armed Forces on Parade," during which veterans were asked to stand during their branch's song, to resounding applause. The assembly ended with the playing of "Taps."
More like this from vindy.com