Girard football team captures community's imagination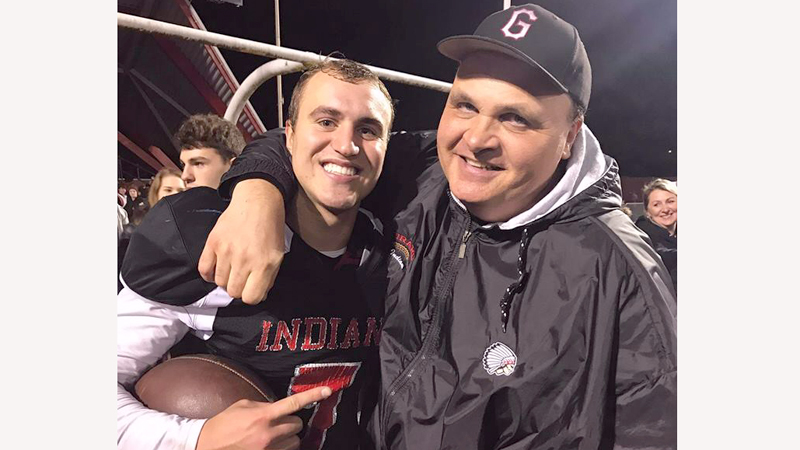 ---
Football team captures city's imagination
By Steve Ruman
GIRARD
For Girard High football fans, last Saturday's 53-48 win over Licking Valley in the Division IV state semifinal provided enough thrills and memories to last a lifetime.
From the opening kickoff to the game-winning, 22-yard touchdown pass from Mark Waid to Nick Malito, the contest provided more twists and turns than a bag of pretzels.
Still, as far as Girard superintendent David Cappuzzello is concerned, the highlight of the night occurred when the Indians trailed by 14 points, and in fact it didn't happen on the football field.
"There was a moment right after halftime when the student section emptied out, the students all gathered near the 50-yard line in front of the rest of the Girard fans, and they started leading the crowd in cheers," Cappuzzello said. "It was like our entire community was all gathered together, all cheering as one.
"I'm on the sidelines, and I turn around and see this and it just gave me chills. I watched with great pride, it was something to see."
Indeed, Indian Fever has gripped Girard. The town has seemingly turned into a sea of black and red as the Indians prepare for Saturday's Division IV state title game against Cincinnati Wyoming.
The game, which will kick off at 8 p.m. at Tom Benson Hall of Fame Stadium in Canton, marks the first state championship appearance in Girard High history.
Longtime Girard football supporters are reveling in the team's success.
"I remember going to my first Girard games back in 1964, watching [former Girard great] Russ Hake gallop down the sidelines," Mark Zuppo said. "I was 8years old, my dad was a police officer who worked the games, and I was in heaven. I've followed the program my entire life."
Zuppo is the Girard School Board President, and has been the public address announcer at Girard home football games since 1997. He easily recalls past league titles and playoff appearances. He refers to the mid-80s as "The Cochran era," and talks about the "power football of the '90s."
Zuppo also recalls the 2001 season when the Girard offense went to the spread formation in mid-season and changed the way the game was played in the Mahoning Valley.
"We've had some great teams, some really great players every decade," Zuppo said. "There are so many memories when it comes to Girard football, but we've never seen anything like what we're seeing right now.
"I've watched this team build over the past four years. And with each win, it has created more buzz. Every week, we have been seeing new faces in the crowd. Saturday, it's going to be like a giant Girard reunion. People will come to Canton from everywhere."
Zuppo said the success of the team has united the Girard community.
"You can't put a price tag on what is happening here," Zuppo said. "In this day and age, it's almost impossible to get through a conversation without having disagreements over politics and such. Girard football has created a common bond. Last week after the game I was hugging a lot of people, and I had no idea who most of them were."
Bill Rafferty played for Girard, and graduated from the school in 1971. For the past 30 years, he has been part of the chain gang working the sidelines at Indians home games. He will be in attendance in Canton on Saturday, wearing the same hat he has worn for all but one Girard game this year — the lone loss in week two at Hubbard.
"You better believe I'll wear that hat, and I'll do whatever else it takes to bring home a win," Rafferty said with a laugh. "Seriously, this has been a fun year. All around town, you see the G on cars, in yards, everyone has fallen in love with this team.
"The coaching staff and players always talk about this team being one family. They really are that close, it's not just talk. And I think the whole family concept has carried over to all of Girard. It's very easy to like these players and coaches, they are a great group of men. And you have to appreciate what they have accomplished."
Rafferty noted that the admiration has spread beyond Girard.
"Anywhere you go throughout the Mahoning Valley, people are talking Girard football," Rafferty said. "It's pretty neat to see that type of support from our neighbors who are usually our rivals."
Virginia Cochran has followed the Indians since moving to Girard in 1973. She is the mother of Girard athletic Director Nick Cochran.
Virginia spent Monday evening watching a replay of the state semifinal contest. She attended the game, but admits she missed a good portion of the action.
"Most of the time, I had my eyes closed and my ears plugged, I was that nervous," Virginia said. "I cried Saturday night, and I was crying all day [Monday] while reliving the game. Tears of joy.
"I went to Canton McKinley. People think they are crazy about football there, but there is something special about Girard. This is such a close-knit community."
Joe Cappuzzello spent 39 years in the Girard school system, including 16 as its athletic director before retiring in 2013. He believes that the Indians' underdog role has helped create a special bond with Girard citizens.
"Everyone outside of Girard was questioning this team all year long, then I am pretty sure they were viewed as the underdog in each of their four playoff games," Joe Cappuzzello said. "The fact that they have gone this far is a testament to the players and coaches, and it has also made this team fun to watch."
Joe Cappuzzello noted that his grandson, who plays high school football in Virginia, spent time with the Girard team while on vacation two years ago when he first took up the sport.
"He really took a liking to the team, and he has been following them ever since. I think you'd be surprised at how many people from outside our area are paying attention," Joe Cappuzzello said.
Rob Kermec has served as the Arrowhead Stadium maintenance and groundskeeper for 33 years. He too says the personality and character displayed by the current cast of players and coaches makes it easy for fans to latch on to the team.
"I have been telling fellow Girardians for the past five years that this team was going to be special," Kermec said. "I've seen a lot of football in Girard, but this team has a work ethic like no other. They came early to practice, worked hard and then stayed later and worked out.
"And they are great kids. Any time this old guy needed help at the stadium, they didn't flinch. They would just say, 'We got you, Coach Kerm.'"
Kermec said the team has provided the community with a boost when it needed it most.
Last October, the city of Girard was rocked when police officer Justin Leo was shot and killed in the line of duty.
"This city has been down and heartbroken ever since," Kermec said. "I saw Justin's father Dave after the [semifinal] game, and I told him, 'You know who this win was for, and you know who was looking down on this team.' Dave looked at me with a tear and said, 'I know.'
"This team has been the heart and inspiration of the city and it has given the Girard family a reason to come together."
Girard is aiming to become the 10th school in the Mahoning Valley to win a state football title.
More like this from vindy.com