The Manor burger offerings get all-around praise and rave reviews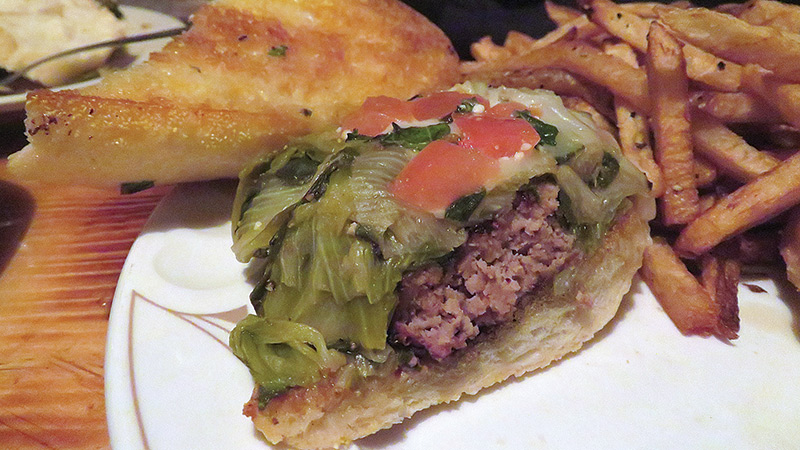 ---
By Eric Tranovich
Sitting somewhat quietly on the corner of Kirk Road and state Route 46 in Austintown, The Manor has been a staple of the Valley for many years. After numerous suggestions that we would not be disappointed by their offerings, we were finally able to put those claims to the test. But we didn't want to tackle this challenge alone. Knowing it was also his birthday, we sent out an invite to our good friend and fellow burger enthusiast, Steve Vesey of 21 WFMJ-TV, The Vindicator's broadcast partner. He happily accepted and took his place among us as we readied to conquer our latest review.
The Manor Restaurant and Bar is owned by two Austintown residents, Don Perkins (11 years), Craig McCartney (six years) and silent partner Mike Deutchlander of Canfield. It features casual Italian cuisine and has recently added smoked brisket and a variety of crepe dishes to make its new breakfast/lunch menu unique. It also recently expanded the kitchen hours to include 10 a.m. to 7 p.m. Sundays; 10 a.m. to 9 p.m. Monday through Thursday; and 10 a.m. to 10 p.m. Friday and Saturday.
I asked manager Chrissy Keeling to tell me a little about what she thinks is the best of what The Manor offers.
IF YOU GO
What: The Manor
Where: 3104 S. Canfield Niles Road, Austintown
Phone: 330-318-8060
Menu: Build your own burger daily, and Tuesday burger night burger menu, seven burgers ($7.99)
Hours: 10 a.m. to 7 p.m. Sundays; 10 a.m. to 9 p.m. Monday through Thursday; and 10 a.m. to 10 p.m. Friday and Saturday
Website: manorfood.com
Rating: 4 stars
She stated, "We work hard to incorporate and support local offerings to our guests – such as farm-to-table during summer months, booking a variety of artists and highlighting craft brewers. Five of our six taps include Penguin City, Numbers, Birdfish, Biker Brew and Paladin. We have live local music each Saturday evening and Sip N Paints led by a local artist several times a year. Our banquet facility hosts a variety of events including weddings, graduations and holiday parties."
All of that sounded amazing, but this night we were here to focus on the burgers.
According to Keeling, Executive Chef Ronaldo George, who came to The Manor seven years ago, makes the 100 percent ground beef patties in house. The daily menu allows diners to build their own burger starting at $7.99.
On Tuesday nights, they have Beer, Boots and Burger night, which features either an open jukebox or local country bands, and seven offerings of specialty burgers each for $7.99, served with fresh-cut fries.
These include the Rodeo Burger (topped with American cheese, bacon, onion straws and BBQ sauce on a kaiser bun); the Southern Rancher (topped with Swiss cheese, grilled onions, pickles and cajun ranch on rye bread); Country Classic (topped with mushrooms and Swiss cheese on a kaiser roll); Prairie Burger (split patty topped with Italian greens, provolone cheese and bruschetta on a hoagie bun); Black N Bleu (topped with melted Bleu cheese crumbles on a kaiser bun); Hillbilly Burger (topped with American cheese, coleslaw and a fried egg on a kaiser bun); and the Fire Pit burger (topped with pico de gallo, hot pepper cheese, jalapenos and sriracha chili sauce on a kaiser bun).
When asked what her favorite pick is, Keeling stated, "From my serving experience, I believe a hidden gem is the Hillbilly Burger. People who get it without messing with it, love it, but most are scared of the description and alter or skip it."
Upon arrival, our waitress Amber Smith led us to our booth and pleasantly took our drink orders.
While we perused the menu, we were treated to some of The Manor's signature Italian greens and a sampling of smoked brisket, both of which were a huge hit with everyone at the table.
Once we all gave our burger selections to Smith, there was almost no wait for our meals to be delivered. She was even kind enough to bring Vesey his burger adorned with a lit candle and led the restaurant in a rousing rendition of "Happy Birthday."
Vesey picked the Fire Pit Burger. He said it is a "really solid burger, but I have to admit I was a little jealous of Eric's pro move to order double toppings. The jalapenos added some nice heat and crunch, but I think I could have used a little more overall flavor from the toppings."
I also went with the Fire Pit burger, and as Vesey mentioned, opted to not only double up on all the toppings but also add the Hungarian hot pepper that came with the Italian greens.
I found the beef to be extremely flavorful, and the additional toppings really gave my burger a nice rise in the temperature.
A small part of me wishes I had saved some of my brisket and added it as well, really taking the flavor to the stratosphere.
This was my second visit to The Manor, but I know it won't be my last.
Anthony Fuda saw a page full of good burger options, remarking, "I took a long look at Tuesday night's Burger Night Burger menu, and the Prairie Burger jumped out at me. I like Italian greens, and when they are done well, they make any sandwich that much better. And these were done very well. The greens were tender and extremely flavorful, so much so that each bite packed a punch of those tender greens and perfectly seasoned beef. Add a nice slice of provolone cheese to keep it all together, and my taste buds were happy with this burger. I chose the hand-cut fries to accompany my meal, and they filled up the last spot in my stomach. A great burger from a great restaurant."
Scott Long echoed the positivity. "I had the Rodeo Burger. It was cooked to a perfect medium just as I ordered. The barbecue sauce was tangy, and the onion tangles and American cheese complemented each other quite nicely. I was especially happy with the generous portion of bacon that was atop my burger. All the ingredients melded together perfectly to make a fabulous tasting burger."
Jerry Tranovich couldn't say enough, exclaiming, "I have to say, I must have driven past hundreds of times, oblivious to the tasty fare awaiting within. It's clean, the music is good, the beer is cold, and the menu is excellent. I ordered from the build-your-own, the standard; a medium-well patty with lettuce, tomato and onion. What I got was a solid meal. A well-seasoned, perfectly cooked burger with crisp, fresh toppings on a grilled roll with a portion of fair-style fries so hearty, I wasn't able to finish. And as for the brisket: amazing. Well done, Chef George. I'm your newest fan."
Whether looking for a great meal with the family or a fun-filled Saturday night out with friends, The Manor will surely fit what you need.
Keep reading the Valley food section each Wednesday for the best food the Valley has to offer. Next month we reveal the 2018 Burger of the Year. Four restaurants stood out this year, so who will take the title? If you think you know where the next Burger of the Year is, send the info to BurgerGuyz@hotmail.com, or on our Facebook page BurgerGuyz
More like this from vindy.com