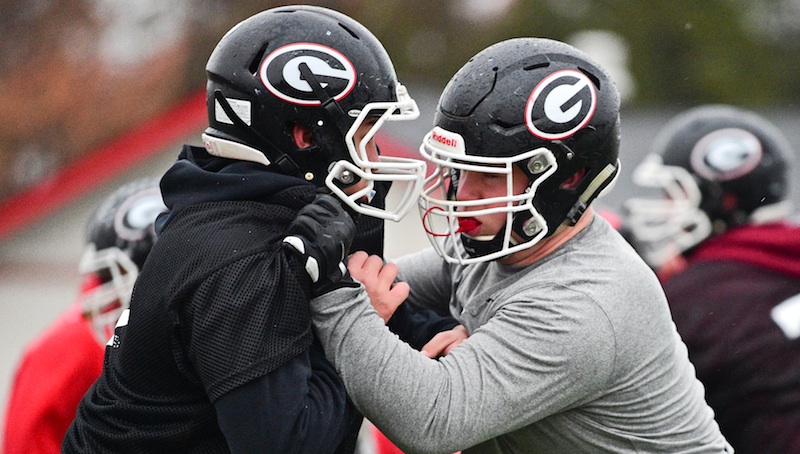 ---
By BRIAN DZENIS
bdzenis@vindy.com
GIRARD
The scenes following Girard's state semifinal victory against Newark Licking Valley last Saturday were jubilant. Fans and parents stormed the field, rushing to hug their kid or pose for a selfie. While a lot of players were quick to join in the celebrating, Jack DelGarbino was different.
The senior left tackle walked under the goal post and sat down in the end zone where minutes earlier, Mark Waid threw the game-winning touchdown pass to Nick Malito. He took in the scene while he waited for his teammates and coaches to join the marching band in singing the alma mater.
"I thought about how we're going to state as a family. We're going to bring everyone with us," DelGarbino said. "I actually sat on the ground and thought about all the years of work are paying off and now we can work for a state title."
There are few athletes in the nation who can match DelGarbino's wits or talent. On the football field, he's a first-team All-Ohio selection who plays as a two-way lineman and almost never leaves the field. On the wrestling mat, he's the reigning Division II heavyweight champion who is considered to be among the nation's best. He's going to continue wrestling at Princeton. He's done all these things because of how he approaches both his work and the results of said work.
"I say this very often: He's wired different from most kids," said his father, J.T. DelGarbino. "Things that worry other people don't bother him. He's more interested in doing the right things at the right times."
When Jack does the right things, he never revels in it. He won his first state championship by pinning Steubenville's Tyler Ely in 38 seconds and afterward didn't smile when the referee raised his arm to signal him as champion.
"He gave a very light fist pump that I think only I saw," wrestling coach Jim Cardiero said. "He hugged me. He hugged his dad and then he was ready to go home."
Jack did manage a smile at Crater Stadium in Dover.
"We did this with the whole community — with my whole family," he said. "The community helps you a lot and you want to do it for those people. I want to do it for my family and our locker room. I go out and do everything I can for them."
He views celebrating any individual success for himself as selfish, everything he does is to give back to those that helped him. Seeing the football team's collective joy at making the state final was a reward he never received as a wrestler. It's part of a process his family laid out for him — and J.T. extends to other Girard kids as he serves as an assistant coach to both the football and wrestling teams.
J.T. knows what it takes to be an elite athlete as a former state champion wrestler with Liberty and a former defensive lineman for Youngstown State in the early 1990s. In addition to his own experiences, he placed a heavy emphasis on academics.
"There's no gray area in schoolwork. We get it right or we do it again," J.T. said. "You build relationships with your teachers in class — which Jack is pretty good at doing. He never settles, he just keeps pushing."
Jack also isn't afraid of paying a physical price for success. In his sophomore year, he had to drop 50 pounds so that he could wrestle at 220.
"Obviously, I wanted to compete at the state level and try to win a title," Jack said. "I wanted to do it for [Cardiero] and my dad because they supported me since third grade."
The thinking behind it was that Jack would learn to wrestle in a style that heavyweights don't deploy. He uses agility in addition to his strength to score points. It made coaches in the Ivy League excited.
The DelGarbinos took visits to Penn and Cornell while Brown sent representatives to Girard to meet the family.
"It was little intimidating with all those people wanting me," Jack said. "You still want to go out and perform, but you don't want to show off and do something stupid."
Princeton was the last visit and proved to be the best one. The Ivy League doesn't hand out athletic scholarships, but Jack could receive need-based financial aid.
For football coach Pat Pearson, Jack has been a starter since his freshman season and his smarts manifest itself in multiple ways.
"His intelligence is off the charts. He asks a lot of questions about our coverages. If you ask him, he'll tell you he's the best 'Madden' player because he can read defenses better than Mark Waid," Pearson said. "He's a super-intellectual when it comes to understanding the game plan. He's been the quarterback of our offensive line and defensive line."
Should the Indians emerge victorious against Cincinnati Wyoming on Saturday, don't look to Jack for the epic fist pump or to lead the singing of the alma mater — he admitted he doesn't know the words. He'll take his glory in seeing the community that's propelled him the highest tiers of academics and athletics in ecstasy.
And that's the perfect reward.
More like this from vindy.com