LORDSTOWN CLOSING | Sadness felt as news hits town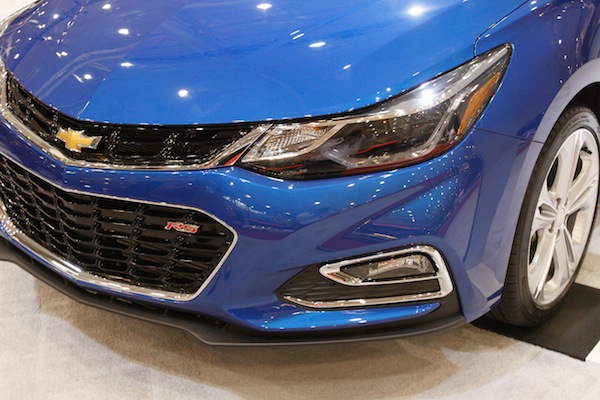 ---
11:57 a.m.
LORDSTOWN — As the news continues to filter out about the closing of the GM Lordstown plant, sadness is the primary emotion being expressed this morning at Nese's restaurant on Salt Springs Road in the village.
"I hope the plant doesn't close down," said Jason Dickey of Newton Falls, owner of a construction company. "If it does close down, the effect on the community will be [widespread].
"It's going to affect everything, housing, development, it's going to affect small businesses. There's going to be ripple effect. Nothing will get better without that plant out there."
Donna Himes of Lordstown says the news of the closing is "heartbreaking."
Her son is still employed at the plant but has seen so many of his co-workers relocate to Tennessee and other places that he's had to consider it himself.
She fears this could be the news that sends her son to another part of the country.
"If he relocates and leaves, that would break my heart," she said. "I just lost my husband two years ago, and Matt has been my rock."
11:44 a.m.
LORDSTOWN — At this hour, Dave Green, UAW 1112 president, is having a news conference at UAW offices.
Green said he is still hopeful for a chance to get a new product for the Lordstown plant.
"We have to convince GM to grow jobs here in the Mahoning Valley," he said.
11:42 a.m.
YOUNGSTOWN — James Dignan, president and CEO of the Youngstown/Warren Regional Chamber of Commerce, said the news is disappointing.
"We understand the business decision made by GM as they move forward executing their strategic plan ... we knew consolidations would be coming, but the timing is disappointing," he said.
Dignan said he is hopeful the "Drive at Home" campaign will continue and that the area will remain open to not only GM but also others for future investment.
"We have the capability and the capacity for workforce and development," he said. "We have to be hopeful [with] eyes opened and prepared for the next opportunity."
11:40 a.m.
COLUMBUS — Gov.-elect Mike DeWine and Lt. Gov.-elect Jon Husted, both Republicans, released a statement noting they plan to attend the Detroit Auto Show in January "to make our case in-person to GM about the future of the plant."
"The auto workers there are second to none," DeWine said. "A week ago I was proud to be part of the 'Drive it Home' rally in Warren. The message remains the same - we want GM to know that the auto workers at Lordstown are the best at what they do and that the Lordstown plant needs to be part of the future of GM and the American auto industry," Husted said.
One week ago today, United Auto Workers members, the Youngstown/Warren Regional Chamber and Valley elected officials launched the "Drive It Home" campaign to rally support for the plant.
11:35 a.m.
WASHINGTON — U.S. Rep. Tim Ryan said in a statement "Today our generation is facing a new Black Monday in the Mahoning Valley.
"GM's announcement is devastating for the men and women working at Lordstown and everyone here in the Mahoning Valley. For decades, workers have devoted their lives, working day and night, to produce some of the finest cars in the country for General Motors. We fought together to keep GM afloat and the American taxpayers bailed them out when they were on the verge of bankruptcy. Thousands of families have sacrificed to build GM into what it is today. And in return, GM has turned its back on us when we need them the most.
"This is a bad combination of greedy corporations and policy makers with no understanding of economic development. I implore President Trump to keep his word when he came to the Mahoning Valley last year and promised jobs were 'all coming back. They're all coming back. Don't move. Don't sell your house.'"
"My office is standing by to assist all those who are impacted by this closure. Our community has always banded together in difficult times, and this will be no different," Ryan said.

11:27 a.m.
CLEVELAND — U.S. Sen. Sherrod Brown, D-Cleveland, released a scathing statement on General Motors, saying, "The workers at Lordstown are the best at what they do, and it's clear once again that GM doesn't respect them. Ohio taxpayers rescued GM, and it's shameful that the company is now abandoning the Mahoning Valley and laying off workers right before the holidays. Even worse, the company reaped a massive tax break from last year's GOP tax bill and failed to invest that money in American jobs, choosing to build its Blazer in Mexico."
Headded: "GM owes the community answers on how the rest of the supply chain will be impacted and what consequences its disastrous decision will have on the Mahoning Valley and our state. My office stands ready to do everything we can to help these workers. This decision is corporate greed at its worst."
11:22 a.m.
LORDSTOWN — Jim Graham, Warren City Council president, said the news comes as a shame.
"The hard work of the people of Lordstown have put in throughout the years and the quality of product they've put out ... they were a building block for General Motors," he said. "For GM to turn their back on that plant it just doesn't seem fair."
The former UAW 1112 chief added that he hopes President Donald Trump "wakes up and smells the coffee."
"He won this area — a largely democratic area and he has not said a word yet and that's just pathetic," he said.
11:15 a.m.
CINCINNATI — U.S. Sen. Rob Portman, R-Cincinnati, has issued a statement saying "I am deeply frustrated with General Motors' decision to shut down its Lordstown plant and disappointed with how the hardworking employees there have been treated throughout this process.
"During frank conversations with GM CEO Mary Barra after the announcement that GM cut a shift at the plant due to the weakening market for the Chevy Cruze, I urged her to look to the Lordstown plant for production of other vehicles and to make a public commitment to the plant and its workforce. During today's conversation, I pressed GM again to provide new opportunities to the Lordstown workers and take advantage of the skilled workforce there. I once again urged GM to make a commitment to bring a new product to the plant, especially since GM is proposing to build a number of new electric vehicles. In the short term, I urged GM to at least reallocate some of the production and employees to the Toledo GM plant. I will continue doing everything I can to help the Lordstown workers during this transition. For decades, workers in the Mahoning Valley have made a commitment to GM, and today GM let Northeast Ohio down."
11:09 a.m.
LORDSTOWN — Schools superintendent Terry Armstrong said he is devastated by news that Lordstown's GM plant will close in March.
"Like everyone in the Mahoning Valley we at Lordstown Schools first thoughts are with the workers and their families at GM Lordstown," he said. "We have already seen school families negatively impacted by the elimination of the first and second shifts and now this news is just devastating. Our school community will be here for them and work with all area agencies to assist in any way we can. Our thoughts are with all GM Lordstown employees, their families, and all other area workers and their families impacted by recent job losses."
11:02 a.m.
DETROIT (AP) — General Motors will lay off 14,700 factory and white-collar workers in North America and put five plants up for possible closure as it restructures to cut costs and focus more on autonomous and electric vehicles.
The reduction includes 8,100 white-collar workers, some of whom will take buyouts and others who will be laid off. Most of the affected factories build cars that won't be sold in the U.S. after next year. They could close or they could get different vehicles to build. They will be part of contract talks with the United Auto Workers union next year.
Plants without products include assembly plants in Detroit, Lordstown and Oshawa, Ontario. Also affected are transmission factories in Warren, Michigan, as well as Baltimore.
About 6,000 factory workers could lose jobs in the U.S. and Canada, although some could transfer to truck plants.
10:59 a.m.
COLUMBUS — Ohio Gov. John Kasich said in a statement, "Lordstown has been part of the GM family for more than 50 years so it's painful to see this happen to the plant's workers, their families and the community.

"We'll work with GM to see if anything can be done to preserve a future for the plant and in the meantime we've set up a jobs center to help employees find new work as quickly as possible. Even though this is frustrating news, hardworking, skilled men and women are in demand, and we're going to do everything we can to help the families affected have access to other opportunities."
10:44 a.m.
LORDSTOWN — In a news release this morning, General Motors announced some significant changes to its global operations, billing it as a strategy to "accelerate its transformation."
The announcement includes the news that three assembly plants will be "unallocated" next year to increase capacity utilization: GM Lordstown, the Detroit-Hamtramck plant in Detroit, and the Oshawa plant in Ontario, Canada.
"In the past four years, GM has refocused capital and resources to support the growth of its crossovers, SUVs and trucks, adding shifts and investing $6.6 billion in U.S. plants that have created or maintained 17,600 jobs. With changing customer preferences in the U.S. and in response to market-related volume declines in cars, future products will be allocated to fewer plants next years," the company said. "These manufacturing actions are expected to significantly increase capacity utilitization," the announcement states.
The news release does not mention the Chevrolet Cruze or state that those plants will permanently close.
"The actions we are taking today continue our transformation to be highly agile, resilient and profitable, while giving us the flexibility to invest in the future," said GM Chairman and CEO Mary Barra. "We recognize the need to stay in front of changing market conditions and customer preferences to position our company for long-term success."
"Actions are being taken to reduce salaried and salaried contract staff by 15 percent, which includes 25 percent fewer executives to streamline decision making," according to the announcement.
Industry analysts said that ahead of the announcement GM just made, shares of GM had halted trading.
10:25 a.m.
LORDSTOWN — Mayor Arno Hill says he has seen information saying the GM Lordstown plant is "ceasing production," but has not heard the words "permanently shuttered."
"If I hear permanently shuttered, then I'll start worrying," Hill said this morning.
10:13 a.m.
LORDSTOWN — Sources confirm to The Vindicator that plant workers were called into a meeting this morning at which an announcement about the future of the plant was made.
A source with knowledge of the meeting said workers were informed that as of March 1, 2019, the Chevrolet Cruze production at Lordstown will end.
The source said no word was given on whether the plant will close or whether a new product will be allocated to the plant.
In at least one previous announcement about the end of a product, the announcement of a future product allocation was made before production of the previous vehicle ended.
In the case of the transition from the Lordstown-built Chevy Cavalier to the Cobalt, a source who worked at the plant during that time said it was "nothing like this. They already knew they were going to be building another product."
An announcement from General Motors is expected later this morning. A spokesman for the GM Lordstown plant directed questions to GM's corporate office.
9:48 a.m.
LORDSTOWN — The Vindicator has confirmed from multiple plant workers that they were informed in a meeting this morning that the plant will close its doors sometime after March 1, 2019.
9:44 a.m.
LORDSTOWN — The Vindicator's print partner 21 WFMJ-TV is reporting that sources are telling them that General Motors plans to close the Lordstown plant in March 2019.
9:40 a.m.
LORDSTOWN — The Vindicator is following reports that all General Motors workers have been called to the Lordstown plany, where the Chevy Cruze is built.
Earlier today the Associated Press reported GM is closing a Canadian plant at the cost of about 2,500 jobs, but that was apparently just a piece of a much broader, company-wide restructuring that will be announced as early as Monday.
9:11 a.m.
DETROIT (AP) — General Motors is closing a Canadian plant at the cost of about 2,500 jobs, but that is apparently just a piece of a much broader, company-wide restructuring that will be announced as early as Monday.
A person briefed on the matter told The Associated Press that the plant being shuttered in Canada is just the beginning as GM prepares for the next economic downturn, shifting trade agreements under the Trump administration, and potential tariffs on imported automobiles.
The official spoke on condition of anonymity because the announcement hasn't been made public.
In the fall, the Detroit automaker offered buyouts to 18,000 white collar workers, but it has yet to say how many accepted, or if it's close to meeting the staff reduction goals it set to better withstand leaner times.
The Monday closure of GM's plant in Oshawa, Ontario, was confirmed late Sunday by an official familiar with the decision. The official spoke on condition of anonymity because they were not authorized to talk publicly ahead of the announcement.
GM needs to reshape the company as it shifts its focus to lower emitting hybrid vehicles, technology that is not at the forefront at the Canadian plant.
Too many GM factories are devoted to making slow-selling cars and the company can no longer afford to keep them all operating without making some tough decisions. But the political atmosphere might limit realistic choices for the Detroit automaker.
Industry analysts are already plotting out possible targets for GM, including its sprawling Lordstown plant in northeastern Ohio. The car produced there is also is built in Mexico. The once-bustling factory already has lost two of its three shifts and 3,000 union jobs since the beginning of last year.
But moving that car, the Chevrolet Cruze, south of the border brings the risk of provoking a backlash from President Donald Trump. And GM also isn't sure whether he'll make good on threats to impose 25 percent tariffs on vehicles imported from Canada and Mexico.
What's more, the Cruze plant just outside Youngtown is in a Democratic and labor stronghold, where Trump won over a surprising number of voters two years ago by reaching out to what he called America's "forgotten men and women."
At a rally near the plant last summer, Trump talked about passing by big factories whose jobs "have left Ohio," then told people not to sell their homes because the jobs are "coming back. They're all coming back."
Altogether, GM has five car factories with plenty of unused capacity in Kansas City, Kansas; Lordstown; and Detroit-Hamtramck, Lansing, and Orion Township, Michigan.
GM opened its factory in Oshawa, near Toronto, in 1953. The plant is used to make the Cadillac XTS and Chevrolet Impala sedans as well as the Chevrolet Silverado and GMC Sierra trucks.
A GM spokesman declined to comment. GM had been expected to close plants because of struggling sales.
Unifor, Canada's largest private sector union, said in a prepared statement that it does not have complete details of Monday's announcement, but it has been informed that there is no product allocated to the Oshawa plant past December 2019.
"Based on commitments made during 2016 contract negotiations, Unifor does not accept this announcement and is immediately calling on GM to live up to the spirit of that agreement," the union said in a statement on its website.
"Unifor is scheduled to hold a discussion with General Motors (Monday) and will provide further comment following the meeting."
Oshawa Mayor John Henry said he had not spoken to anyone from GM. Jennifer French, who represents Oshawa in the provincial legislature, said she finds the news "gravely concerning."
"If GM Canada is indeed turning its back on 100 years of industry and community — abandoning workers and families in Oshawa — then this is a callous decision that must be fought," she said in a statement.
More like this from vindy.com