Girard QB Waid earns Trumbull POY Award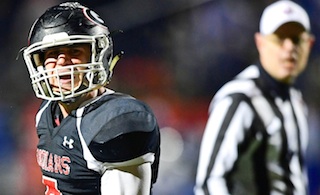 ---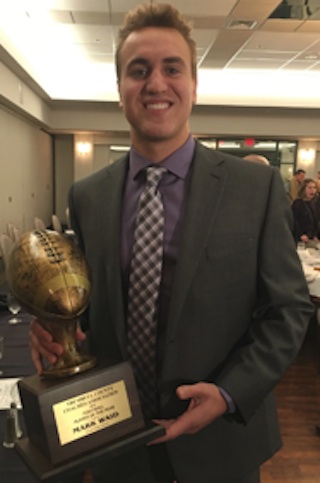 Photo
By STEVE RUMAN
sports@vindy.com
HOWLAND
When asked to describe Mark Waid's greatest asset as a football player, Girard High athletic director Nick Cochran doesn't talk numbers, he doesn't throw out statistics, he doesn't bring up talent.
Instead, Cochran reverts to the many phone calls he received from Waid over the course of the past four years.
"Late at night, early in the morning, it didn't matter, Mark always wanted to work to get the team better," Cochran said. "He would call up and tell me, 'I know it's 30 degrees out there, but we're going to have to play in this weather one day, let's go throw in it.' His work ethic and desire to improve really defines his career."
Waid's hard work, not to mention his record-breaking numbers, were recognized Monday night when he earned the Trumbull County Player of the Year Award.
Waid was presented with the honor at the 44th annual Trumbull County Coaches Association Player of the Year Banquet, held at Leo's Ristorante.
Each school in Trumbull County nominated one senior player for the award. Waid was selected by a media panel.
Cochran, who earned the TCPOY award in 1987 for his outstanding quarterback play at Girard, has since helped develop numerous Indians players at his old position. He acknowledges that Waid "is in a class by himself."
"You take all of our great quarterbacks, some had the smarts and the speed, some had the toughness and the arm, Mark is all of them put together," Cochran said. "There is nothing missing in his game.
"On top of it all, he is the ultimate team player. For him, it's all about team success."
Waid has led Girard to its most successful season in school history. The Indians (13-1) will make their first appearance in a state title game Saturday when they play Cincinnati Wyoming (14-0) for the Division IV championship.
Waid's contribution to the team has garnered attention far beyond Trumbull County. He currently ranks second in the nation in all-purpose yards (5,926), trailing only San Bernardino (Calif.) Cajon High senior Jaylon Daniels (6,056).
Daniels' season ended this past weekend.
Through 14 games, Waid has set Trumbull County single-season records for all-purpose yards and passing yards. He has completed 256 of 380 passes for 4,182 yards and 47 touchdowns. He has rushed for 1,744 yards and 26 TDs, all while saving his best performances for the biggest stage. In four playoff games, he has racked up 2,054 all-purpose yards while accounting for 22 touchdowns.
Waid currently ranks fourth all-time in Ohio with 11,464 career passing yards.
"This is a huge honor, especially when I look at the list of past winners and see so many names that I looked up to while growing up," Waid said. "But this award should say 2018 Girard Indians on it. This is a team award that was won by all of my teammates and brothers.
"My coaches made me who I am. My offensive line is the best at what they do. Our receivers, I can go down the list from top to bottom, every one has made huge plays and has made me look better than I am at some point this year."
Waid said his "ultimate prize" is the fact that he gets to spend another week on the practice field with his "family," and has yet another opportunity to don the Girard uniform.
"Just the fact that we've had a chance to stay together as a group all the way to December is a dream come true," Waid said. "And playing in the title game, this is what you always dream about. This is what all of the hard work and dedication is all about."
In addition to his success on the football field, Waid has excelled in the classroom. He owns a 3.9 grade point average.
"My mom always told me that the student comes first in the term 'student-athlete,'" Waid said. "It's not easy. I put in countless hours watching film, lifting, practicing. But I put in the same amount of dedication to my school work. I take it very seriously."
Waid becomes the fifth Girard player to win Trumbull County Player of the Year honors. Others include; Sal Ponzio (1976), Cochran (1987), Dustin Helle (2002) and Dan Graziano (2011).
More like this from vindy.com