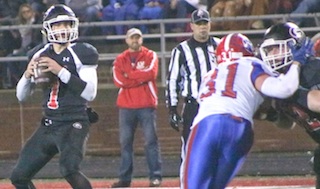 ---
Girard v. Licking Valley football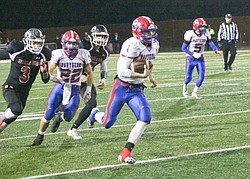 Gallery
By BRIAN DZENIS
bdzenis@vindy.com
DOVER
The Girard High School football team is winning the long game.
The 2018 Indians feature several four-year starters that were part of the 2015 Girard team that won two games.
That group has joined the state's best, advancing to the Division IV state final with Saturday's 53-48 win against Newark Licking Valley in Crater Stadium.
Nick Malito caught the go-ahead touchdown pass from Mark Waid with 1:44 left to play.
"This is what we've been working for all these years. We've all been together since sixth grade working hard and playing together," Girard two-way lineman Jack DelGarbino said. "We've become closer as the years go on.
"We're not just a team. We're a family."
Girard advances to play Cincinnati Wyoming on Saturday at 8 p.m. at Canton's Tom Benson Hall of Fame Stadium.
Girard's 2018 seniors have experienced everything and a 14-point halftime did nothing to faze the Indians.
"We're used to being underdogs, we had that with East and Perry," Girard wideout and defensive back Aiden Warga said. "Perry scored on their first three possessions [and we came back].
"We can come back from anything," Warga said. "After Week 2, we really connected as a team. We connected with each other and became more of a family."
Trailing 34-20 at the midway point, the Indians (13-1) marched down the field and Waid capped the drive with a 5-yard touchdown run.
The signal-callers for both teams had a field day. Waid put up 414 passing yards, 162 rushing yards and produced seven touchdowns. Chase Whisner had 149 yards passing, 135 rushing and five TDs for Licking Valley (10-4). With that sort of production, any defensive stop was critical.
The Indians made that crucial stop on the ensuing Panthers drive when Jamil Bannister forced a fumble that made its way to Warga.
"That just shows that you never give up on a play," Warga said. "[The runner] was heading out of bounds and Jamil made a play."
Girard made the best of the opportunity with another touchdown drive courtesy Waid's legs.
The Indians' defense forced a punt on the next Panthers drive and the Indians completed a 20-0 third quarter with Waid throwing a 26-yard touchdown pass to Jimmy Jones.
"We knew we could get what we wanted all day. We just needed to execute," Waid said. "We were kicking ourselves — beating ourselves.
"We needed some stops and we got big stops and kept punching it in the end zone. We didn't take our foot off the gas pedal."
Trailing 40-34 heading into the fourth quarter, Licking Valley tied the game with Conor McLaughlin's 29-yard touchdown run. But DelGarbino blocked the extra point to keep the game tied at 40-40.
Two minutes later, Waid had a 5-yard touchdown run.
McLaughlin gave the Panthers the lead with 3:40 left with his second rushing touchdown and by catching a pass from Whisner for the two-point conversion. That was plenty of time for Girard to mount one final drive. Even after getting stuck in a 4th and 15 at Licking Valley's 22, Waid hit Malito for the game-winner.
"I'm confident and our entire offense is confident that we can overcome anything. We can put points on the board whenever and that just comes from how hard we worked," Waid said. "We've been in this scenario before. We've been down. We've been counted out. We don't let it faze us.
"We're a family. Girard is a family and that's what led us to victory tonight."
More like this from vindy.com