YSU squanders lead vs. Yale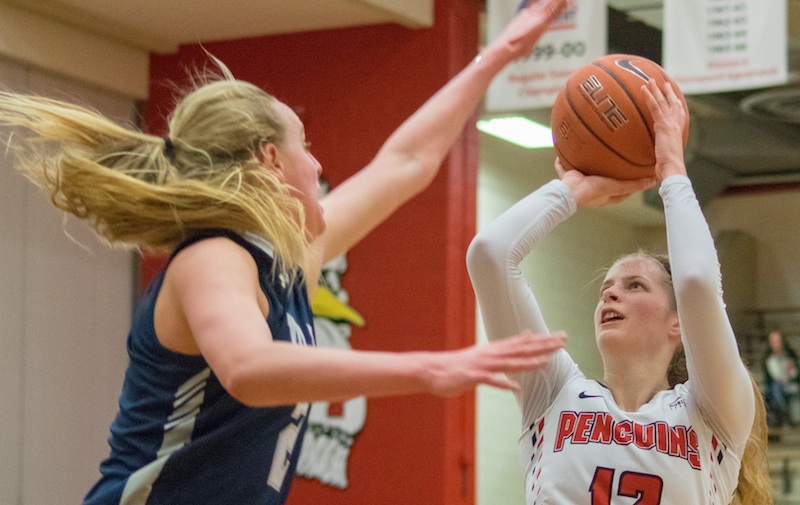 ---
By Bob Ettinger
sports@vindy.com
Youngstown
Trying to hold on to a lead after an opponent has grabbed momentum is much like trying to maintain balance while walking across a sheet of ice. Catch yourself after the first little slip and all ends well. Fail to get your footing and a bruised ego waits on the other side of a fall.
The Youngstown State women's basketball team found a bruised ego on the wrong side of a 58-56 loss to Yale at Beeghly Center on Friday night.
The Penguins (4-2) led, 49-33, following a 3-pointer from McKenah Peters with just less than a minute to go in the third quarter before a cold spell and a few turnovers had them sliding on the proverbial ice.
"We had two really good looks at the end," YSU coach John Barnes said. "We didn't make them. Like the rest of the night, they just weren't going in."
Camilla Emsbo was the catalyst for a 14-0 run with a tally at the 6:52 mark of the fourth period for the Bulldogs (3-3). She later scored on a putback with 3:36 remaining to put Yale in front, 54-53, with just more than three and a half minutes to play. Roxy Barahman scored on the next possession to put the Bulldogs up, 56-53, with just more than two minutes left.
"That was tough," Barnes said. "I thought we got a great stop, then we had a foul away from the ball. That was a monstrous call. That really took the air out. Then they went down and got a basket."
Peters gave the Penguins hope with a triple to knot the score, 56-56, with 2:02 remaining, but it was short-lived as they didn't score again over those final two minutes.
"I think the biggest thing was we got complacent," YSU post Mary Dunn said. "It might have been only one or two possessions, but the complexion of the game changed in the blink of an eye."
Megan Gorman's jumper from just outside the lane gave the Bulldogs the lead with 42 seconds to play. YSU missed its final five attempts from the field and was 0 for 3 from beyond the arc in the final 20 seconds in netting just seven fourth-quarter points.
Sarah Cash finished 17 points and Mary Dunn added 14 as the Penguins used the inside game to outscore Yale, 20-9, in the second period.
"In practice, we focused on getting it inside," Dunn said. "Our shots from the inside weren't falling against Kent (on Tuesday). We knew we had to put the ball in the basket from the inside. (Yale) changed to a zone [late in the third quarter] and we didn't adjust quick enough."
YSU's scoring output in the second half — 21 points — was not enough to offset the Bulldogs' 22-point fourth.
"They went into a zone," Barnes said. "And we couldn't make a shot. That's it. We played well for two or three quarters. Then we panicked down the stretch. We have to try and learn from it and move on."
More like this from vindy.com