Student donates costumes to help others in need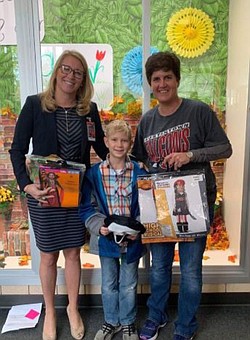 Photo
Neighbors | Submitted.Austintown Intermediate School Principal Angel Owens posed with student Cody O'Connell and Counselor Lisa Fitzgerald while holding costumes O'Connell collected to donate to other Austintown students.
By JESSICA HARKER
A student at Austintown Intermediate School collected Halloween costumes for other students this holiday season.
Cody O'Connell, a third-grade student, collected donated costumes the week before Halloween for students who may not have been able to afford a costume at the intermediate school and Austintown Elementary School.
"Cody's love of giving back doesn't stop there. He has made an impact in the community in many ways," said Brittany Bueno, Communication Engagement Specialist at Austintown.
O'Connell has a number of charitable projects that he has taken on, including a neighborhood library he created.
"Cody's Little Library" is an outdoor library box Cody and his family set up for the community.
"Now people of all ages can come take a book or leave a book whenever they please," Bueno said.
Principal Angel Owens said that O'Connell spends a lot of his time helping other students.
"He cares a lot about other people, which is something we always encourage in Austintown," Owens said.
More like this from vindy.com