High school students honor veterans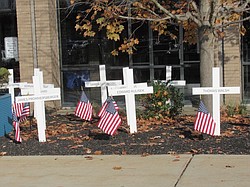 Photo
Neighbors | Jessica Harker.Students Serving Veterans volunteers placed 17 crosses made by Jim O'Neil in front of Austintown Fitch High School commemorating every Fitch student who has been killed in combat.
By JESSICA HARKER
Austintown Fitch High School will celebrate veterans and their families with two new student groups.
The Students Serving Veterans group at AFHS was started last year by then senior Seth Welsh.
The group is student run with no advisor, though they are assisted by Special Education Department Head Kristen O'Neill.
"I am the unofficial advisor, I just help and kind of just give them resources and put it all on them," she said.
O'Neill explained that the group is very involved throughout the year, planning a multitude of events for local veterans.
The group also plans events for Purple Star students, a group of Fitch students who have active military family members.
Austintown Fitch recently created a Purple Star room, dedicated to active service members and their families.
Student members of the Purple Star group are given access to that room, where they are able to Skype with family members serving over seas.
"It's a great resource we have for students, and together it makes the process easier," O'Neill said.
On Nov. 8, the Student Serving Veterans group planned a pizza party for Purple Star students.
According to O'Neill the groups also overlap, with Purple Star students also becoming members of SSV.
The group also has a spaghetti dinner planned for veterans in February.
The group assisted in the organization of the Veterans Day assembly on Nov. 10 and the Lunch with a Veteran event organized by Ken Jakubec on Oct. 24.
O'Neill said they have a fundraiser every year for the group.
"They try to make sure they have money every year for the various programs they have going on," O'Neill said.
For the rest of the year, students are planning events for memorial day and a Skype performance with the choir for service members.
According to O'Neill, students contacted representatives from Camp Lejeune, where they are currently working to schedule a Skype performance for the holiday season.
"I looked up Camp Lejeune and had contact information handed to a student, and by the end of the day they had contacted them," O'Neill said. "They are very motivated."
O'Neill said that there are 14 students involved in the Students Serving veterans group, and 10 Purple Star students.
"You're getting very active kids," O'Neill said. "You got kids on there who are in the drama club, in sports and in honors classes. It's amazing what they have done."
More like this from vindy.com