AIS introduces cup stacking to school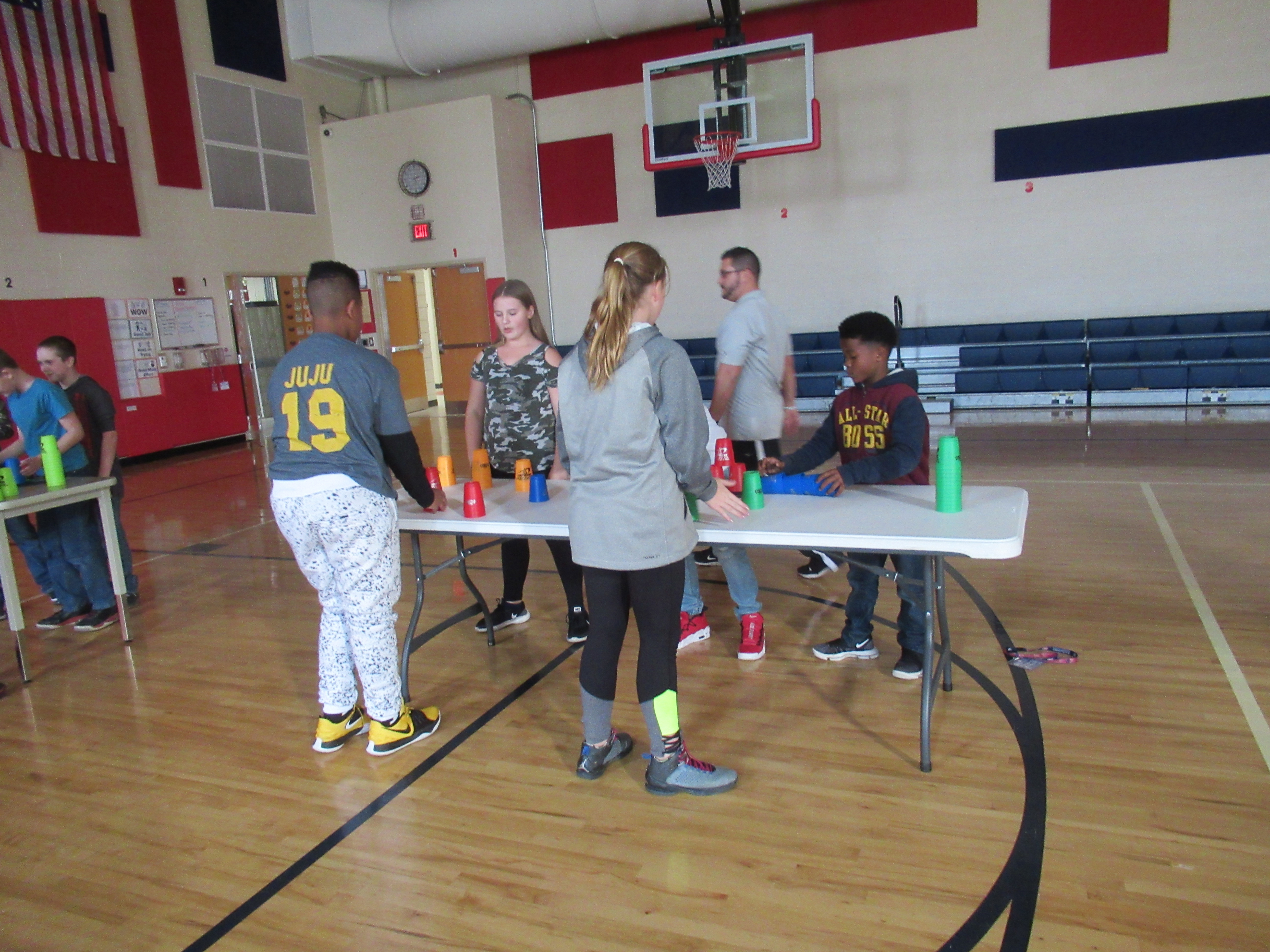 ---
By JESSICA HARKER
Austintown Intermediate School is bringing cup stacking to students.
Gym teacher Jason Stroh said that he initially brought cup stacking into his gym class as a way to interest all students, but it has grown into so much more.
The school participated in an attempt by Stack Up! to help break the world record of 630,000 people stacking for 30 minutes or more on the same day.
"It's a fun thing. Any student, no matter their physical ability, can do it and do it well, it's just about concentration," Stroh said.
He said that the world record was just the first step, and that the school was actually looking to start a sports stacking club.
Principal Timothy Pappagallo brought the idea to Stroh, who said that it was stacking's effect on his son that inspired him to start the group.
"You don't have to be the most athletic, you have to be the most accurate," Pappagallo said.
He explained that his son, Dominic, got interested in cup stacking when he brought home a set of cups from school.
Dominic began competing in sports stacking and found it not only enjoyable, but that he has a natural talent.
"When he first started we didn't know anyone at competition, but if you would have looked in the room they are all talking like they are best friends," Pappagallo said.
He said there are a number of benefits to the sport, including a rise in work ethic, concentration, academics and more.
"The work ethic is unbelievable. These kids wake up early and they practice. My son is a great example of that," Pappagallo said.
It was these benefits that Pappagallo saw in Dominic that inspired him to create this group.
He said that the goal of the group is to compete nationally, with the first competition coming up in February.
Pappagallo said that Dominic will help coach the students who are interested in joining the group.
"It's going to be an after-school activity, keeping students engaged and its something for everyone," Pappagallo said.
Stroh said that more than 200 students are interested in the club already.
"I don't really do traditional football, baseball or basketball. I try to find different activities," Stroh said. "This is a great way to get them thinking that I don't have to do this sport or that I can do something else."
More like this from vindy.com