Bistro 1907 offers delicious food for breakfast, lunch and dinner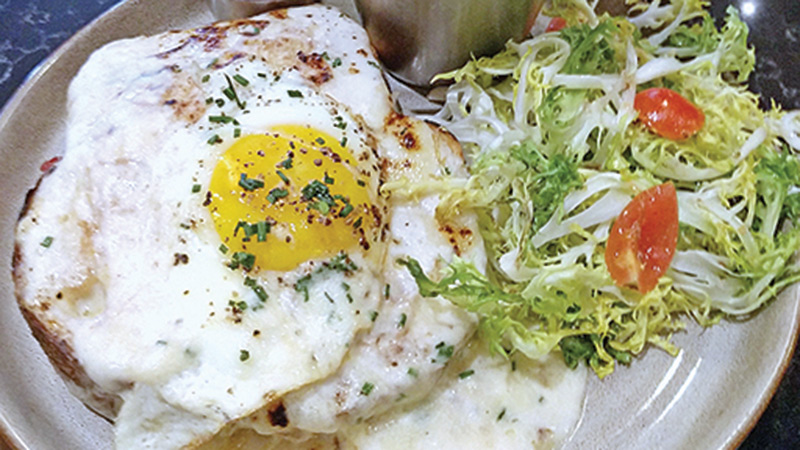 ---
By Mike Vallas
Special to The Vindicator
YOUNGSTOWN
Snow flurries, early sunsets, and family gatherings. Christmas decorations for sale before Halloween. It's hard to believe we are entering another holiday season.
It seems like only yesterday we were carving turkeys, unwrapping gifts and popping the cork at midnight. And here we are again. Perhaps Claudia Hammond's "holiday paradox" explains why time flies by as we get older, but it doesn't make it any easier.
Hammond advises that people who complain about time passing with increasing speed could slow things down a bit by making the most of their weekends and breaking up their daily routine. If you fall into this category of people, we have a modest suggestion to help you out.
Situated in downtown Youngstown within the DoubleTree hotel, Bistro 1907 opened up in May 2018. "It took about 5 ½ months from conception to build before we opened up the restaurant," said owner and executive chef Mark Canzonetta.
Stepping through the doors takes you to a retro-stylish atmosphere with a big-city feel. We visited on a Sunday morning about 11:30 a.m., coincidentally after the Bloody Mary bar opens for service, and after all, what better way to start brunch?
As we've met Canzonetta before, we were certain two things would be coming our way – enthusiasm and good food in abundance. And after a few sips of our morning elixir, our breakfast dishes began to appear.
First up was Croque Madame, a classic French brunch comfort food. Composed of thick-cut brioche bread, stuffed with gruyere cheese and thinly sliced ham, all get toasted in a pan with butter. It is then plated and topped with béchamel sauce, a sunny-side up Lamppost farm egg and served with twice-fried Kennebec potatoes on the side.
Crispy bread, melted cheese, smoky ham, creamy sauce and a runny egg. Is not this the perfect breakfast food?
The next plate, Chicken and Waffles, met our high expectations. Chicken thighs are pickle-brined, breaded and fried crispy. These are set atop a buttermilk cheddar waffle alongside a jicama and cabbage slaw. The chicken was juicy and the waffle cooked nicely. The slaw provided texture. What pulled the dish together, however, was the Sriracha maple syrup. It provided the sweetness and the background spice to compliment all the individual components of the dish. A wonderful brunch entree.
In 1894, Lemuel Benedict, a Wall Street broker, reportedly while suffering from a hangover, ordered some buttered toast, crisp bacon, two poached eggs and some hollandaise sauce thus giving birth to Eggs Benedict.
Canzonetta pays homage to Lemuel with his own version. Buttered and toasted English muffins topped with ham, a poached egg and ancho chili hollandaise sauce. It is served with fries and a blistered tomato frisee salad topped with a house made vinaigrette. The eggs were poached perfectly. The hollandaise had just a little kick from the ancho chili. Another tasty, well-executed brunch favorite.
What is brunch without pancakes? Bistro 1907 serves buttermilk flapjacks topped with whipped butter and Ohio maple syrup alongside sweet sage breakfast sausage.
The sausages were thicker and denser than regular breakfast sausage resembling more of an English Banger. The pancakes had the blueberries in the batter giving the dish a good fruit flavor. A solid offering.
Our fifth, but not final, tasting was a serving of Pain Perdu – thick- cut brioche bread dipped in a vanilla custard and sautéed in butter until golden brown. This is topped with warm caramel sauce and powdered sugar and served with thick slices of bacon. Everyone loves French toast, but the star of this dish was the caramel sauce. Perfectly sweet with a deep caramel flavor.

Our last savory brunch dish was a New York City bagel, lox and cream cheese. Canzonetta brings in "everything" bagels from Brooklyn. These are covered with chive cream cheese, Scottish cured salmon, thinly sliced red onion and capers.
This dish is so simple, but it has so much flavor. Saltiness from the spices on the bagel, brininess from the capers, fishiness in a good way from the lox, are all brought together by the creamy cheese.
Canzonetta insisted we needed to something sweet before we left – espresso and star anise infused Crème Brulee. A touch of Sambuca (anise-flavored liquer) is added. Caramelized sugar topped the delicious custard. Served with a first-rate cup of coffee, it was just amazing.
Quite honestly as we sat at the kitchen-side table, overlooking the patrons (including a well-known Hollywood star), among the raucous melody of plates and cutlery and conversation, it didn't feel like we were in Youngstown. Now, don't get offended. We are Youngstown through and through, but somehow, looking through the large panes of street windows, Youngstown felt bigger. That seat will give you a perfect view of Christmas downtown, with lights, snow, and people.

If you want to savor these upcoming weeks before, during and after the holidays, stop by for brunch at Bistro 1907. It will be time well-spent. Wishing you and your family a blessed holiday season.
More like this from vindy.com