Backup QB powers Purple Raiders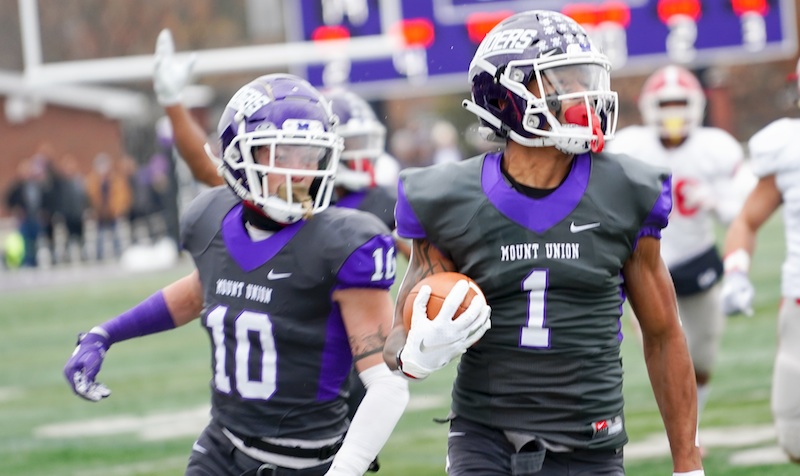 ---
By JEFF ZUPANIC
sports@vindy.com
ALLIANCE
Mount Union cruised to a 60-0 win over Denison in the first round of the NCAA Division III playoffs with a backup quarterback, another defensive touchdown and a wide receiver who gained more yards than the entire Big Red team.
In other words, it was the Purple Raiders being the Purple Raiders when it comes to this time of the year.
Mount Union's 100th all-time playoff win looked like many of the other ones throughout the years. It was all Purple Raiders.
Backup quarterback Jake Keeney didn't show any nerves in making his first career start in place of the injured starter D'Angelo Fulford. The sophomore from Alexandria, Va., completed 11 of 15 passes for 287 yards and four touchdowns. All four went to senior Jared Ruth, who outgained Denison (8-3) by himself with 209 receiving yards to the Big Red's 116 yards.
"My teammates helped me out all week and I felt very confident going into the game," Keeney said.
Mount Union made it easier with a long touchdown run by Josh Petruccelli on its first possession to take a 6-0 lead. Petruccelli surpassed the 100-yard mark before the first quarter ended and the Purple Raiders were on their way to another postseason blowout.
Denison head coach Jack Hatem said he felt good being down 13-0 after the first quarter.
"I thought we weathered the storm being down just 13-0 because we didn't give up any special teams touchdowns, turn the ball over or give up any big plays," Hatem said.
He spoke too soon.
In the second quarter alone, Keeney hooked up with Ruth for a 16-yard touchdown, Justin Hill returned a punt 63 yards for a touchdown and Lou Berry picked off Denison quarterback Canaan Geble and returned it 9 yards for his fifth career pick-6.
"Then all three happened," Hatem said.
Mount Union led 32-0 at halftime. Keeney and Ruth hooked up three times in the third quarter from 20, 67 and 61 yards to lead 53-0 going into the fourth. Third-string QB Kyle Moore capped the scoring with a 41-yard screen pass to Demarco Haynes to push the Purple Raiders over the 60-point mark for the third time this season.
"Guys like Jared make it easy for me," Keeney said.
Mount Union head coach Vince Kehres praised Keeney's preparation during the week and felt good with him under center. Kehres was also glad to see the offense return to its balanced state after an unusual week 10 where the defense scored three touchdowns.
"We thought Jake gave us the best shot to become balanced by throwing the ball and helping us run it. He did a great job preparing and had a very good week of practice," Kehres said. "I am pleased with our balance today."
Mount Union finished with 495 yards. Meanwhile Denison's experienced quarterback Canaan Gebele was sacked seven times and finished 8 of 27 for 68 yards and two interceptions. Gebele had accounted for more than 10,000 yards of total offense in his career.
"We knew he was a pretty smart quarterback and he got our attention when we watched him on film," Berry said. "We feel that if a team gets our respect it's going to be hard for them to make big plays."
Mount Union will face Centre (Ky.) College in a second-round game next Saturday.
More like this from vindy.com