Students win prizes for non-violence posters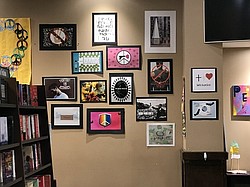 Photo
Neighbors | Submitted.Winners of the anti violence poster competiton were put on display at the Boardman Barnes and Noble.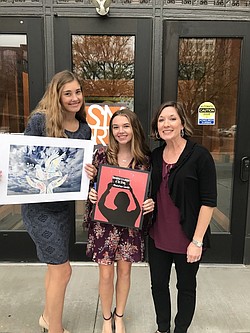 Photo
Neighbors | Submitted.Emily Olexa held her art work, "Peace in the Air," which recieved honorable mention, and Jenna Hughes held her first place submission, "Anti Violence," along with art teacher Jenna Hudock.
By JESSICA HARKER
jharker@vindy.com
Six Boardman High School students were chosen as winners in Youngstown's annual Non-Violence Week poster competition.
Jenna Hudock, an art teacher at Boardman High School, instructed the students who entered the competition.
"One of the benefits of taking an art class is the opportunity for complex visual problem solving, as well as an opportunity to communicate visually through creative endeavors," Hudock said.
Hudock gave entry into the competition as an assignment for her Graphics 1 class where students use Adobe Illustrator and Adobe Photoshop.
She said that for the competition students individually contemplated the theme, which was "non-violence."
"Students first brainstormed, then sketched out ideas, they worked on their design for about two weeks with teacher feedback being ongoing," Hudock said.
The finished artwork created through the Adobe programs was printed on an Epson Stylus Pro printer before being submitted to the competition.
Students who won included sophomore Jenna Hughes, who won first place and a $50 prize, Fatima Rehman in second place and third place to Migel Santiago.

Tyler Williams, Emily Olexa and Andrew Gibson also received honorable mentions.
Additional to cash prizes winners were put on display at the Soap Gallery in downtown Youngstown.
They were also treated to an honorary reception on Oct. 11 at SMARTS in Youngstown.
Hudock said this is the first time since working at Boardman High School that she has had students enter the competition, but that in 2016 she taught a student at the Boardman Intermediate School who won.
The competition was open to any student in elementary, intermediate and high school in Mahoning Valley.
More like this from vindy.com