Austintown hosts annual Veterans Day Assembly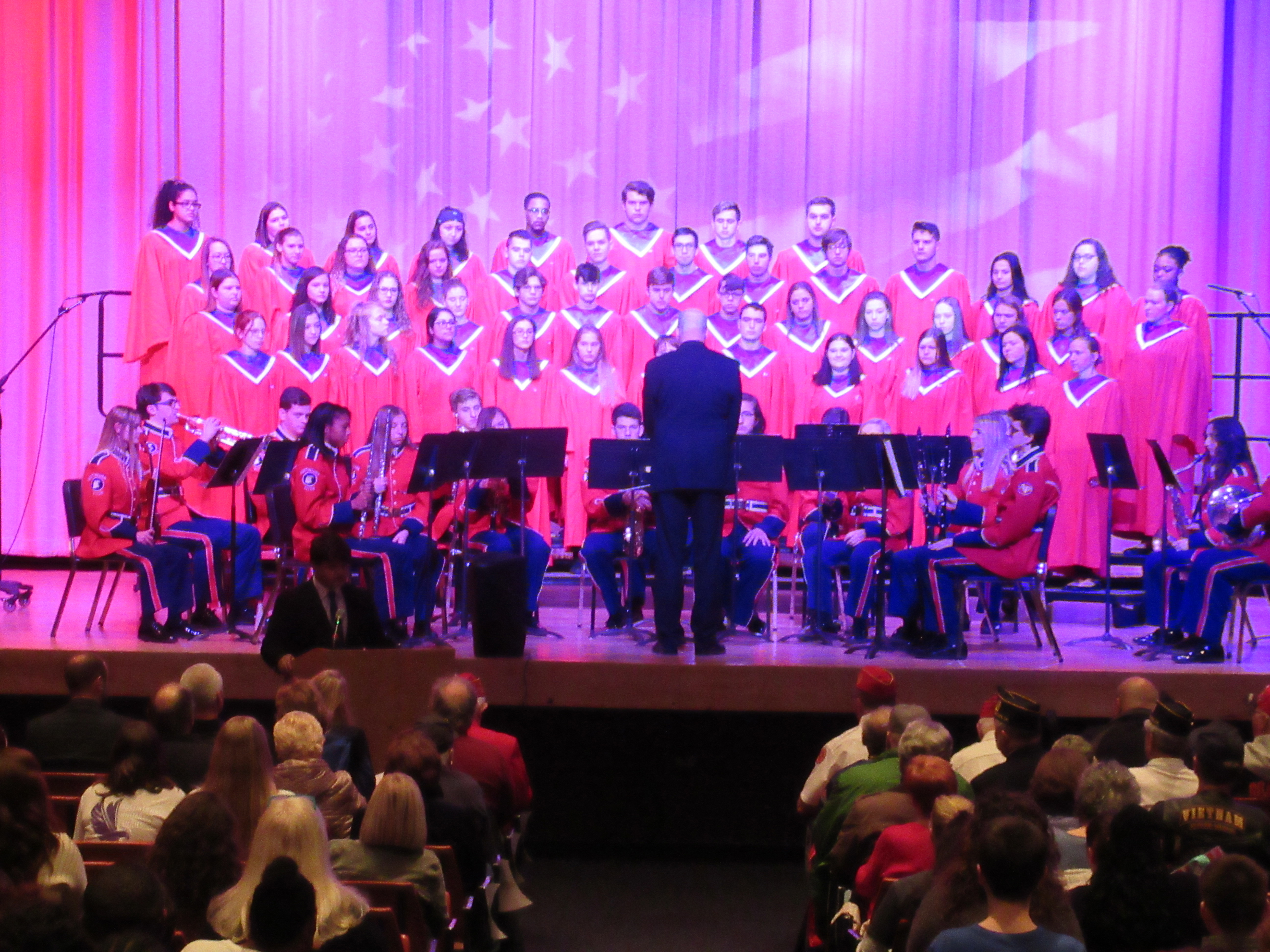 ---
By JESSICA HARKER
Austintown High School hosted its annual Veterans Day Assembly Nov. 12 at the schools auditorium.
Over 800 students were in attendence at the event, where the Veterans Day Committee organized a series of performances and speeches for veterans.
The choir, led by director Bill Kline, performed "God Bless the USA" among other songs.
They were accompanied by members of the schools Symphonic Band and Orchestra.
During the beginning of the event members of the color guard presented the flag to a standing ovation.
Dan Bokesch, a member of the board, then began the assembly by recognizing faculty and staff members at Austintown that are veterans.
Each branch of service was also individually recognized.
Two speakers presented at the event.
Delmas Stubbs, an Army Veteran, spoke to students about his time in the service and the lessons he learned.
Vietnam Veteran Roger Bacon also spoke at the event, addressing the crowd gathered about the effects of serving in the Vietnam war and the effects on the families of service members.
"Does the non veteran understand the importance of Veterans Day? Maybe not," Bacon said, "For those of us who survived we see the faces of the fallen and we hear their names."
The speakers were awarded plaques by the Veterans Day Committee for their time.
During the event Paul Schultz was recognized as an honorary guest by board member Kristen O'Neil.
Schultz served with fallen solider and Austintown graduate X who is O'Neil's father.
"He and his wife came to see me this summer twice," O'Neil said, "Now we talk once a week or so."
O'Neil outlined the story of their reconnect ion, mentioning how she invited Schultz to the event after meeting him for the first time and bringing him to the multiple memorials around the school.
Schultz lives in New York and traveled for four hours to attend the event in honor of his friend.
He said that he has never attended a Veterans days celebration like the one at Austintown Fitch.
"I have never experienced this show of thanks to Veterans," Schultz said.
He referred to O'Neil as his un-adopted daughter, saying that their relationship has grown very strong in the past few months.
"One of the greatest things he has ever said to me was your dad would be so proud of you. One of the greatest compliments I have ever got," O'Neil said.
More like this from vindy.com